"iOS 13 beta 5 brings features such as smoother transition to Dark Mode, UI tweaks, redesigned Share Sheet, etc"
Apple has released the latest beta versions of iOS 13 and iPadOS to developers. The iOS 13 beta 5 and iPadOS 13 beta 5 are available over-the-air and bring some new features to supported devices. Every new beta has included some minor changes to the UI, additional features, and system improvements. The final version of Apple's next mobile OS is still a couple of months away, but the latest iOS 13 beta 5 pretty much includes all the new features that are expected in the final build. The previous update was released earlier this month and included a fix for a major security flaw.
In the latest iOS 13 beta 5, Apple has added some new UI elements and design changes. There's a new Dark Mode switcher that asks if you want to enable Dark Mode when downloading the update. Also, when you turn on Dark Mode, the transition is much smoother than before. Apple has also made changes to the network icon, which is now larger on the iPhone. The Activity app now gets better achievement goals with badges rewarded for every goal till 2,000. The update also brings improved volume adjustment to the slider with 34 available points. It also offers taptic feedback for every adjustment.
Coming to the changes in the latest iPadOS 13 beta 5, there's a new icon customisation option. This lets users adjust the number of icons that can be placed on the home screen of the iPad. There's a new 6×5 layout that has small icons or you can choose the 4×5 layout, which has larger icons. The beta also includes new customisations for the cursor on the iPad. The cursor size can now be adjusted as per your liking. Apple has changed the design of the share sheet on the iPad, which now has better icons and typography. Users can now reopen a previously closed window on the iPad.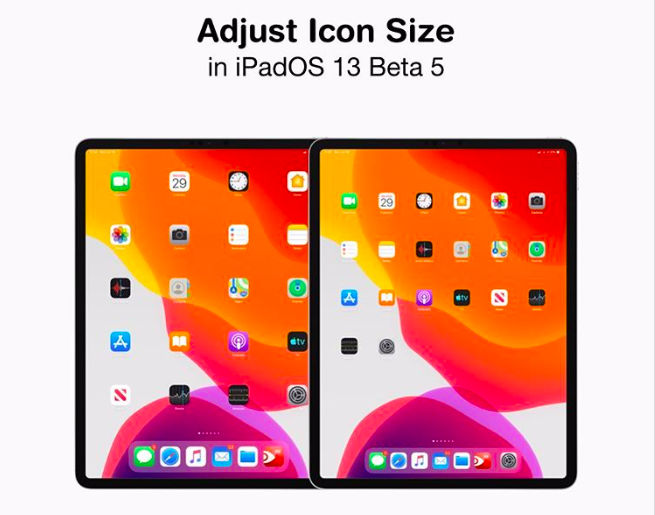 The updates also bring changes to the CarPlay feature, which now gets the option to enable/ disable the album art. The Automations tab is no longer available in the Shortcuts app. The Home app gets new minimal wallpapers to choose from. Siri for Everyone can now recognise different voices, but you will need HomePodOS 13 to try this feature.