Highlights
iPhone 12 is the best-selling 5G phone globally in October, while 12 Pro was in the second spot
Samsung Galaxy Note 20 Ultra 5G slipped from first position in September to third spot in October
Among the top 10 5G phones in October, two models were Apple's and three of Samsung's
iPhone 12 became the world's best-selling 5G phone in October despite being on sale for just half a month, according to the market research firm Counterpoint. The latest iPhone has captured 16 percent of the total global market, while the iPhone 12 Pro gained 8 percent of the total market. The closest competitor to the Pro model was the Samsung Galaxy Note 20 Ultra 5G, with a 4 percent share. The top ten list comprised of phones such as the Huawei Nova 7 5G, Huawei P40 5G, OPPO A72 5G, Huawei P40 Pro 5G, Samsung Galaxy Note 20 5G, Samsung Galaxy S20 Plus 5G, and OPPO Reno4 SE. The 5G smartphone market witnessed the highest ever share, of 24 percent, in the global sales in the month of October.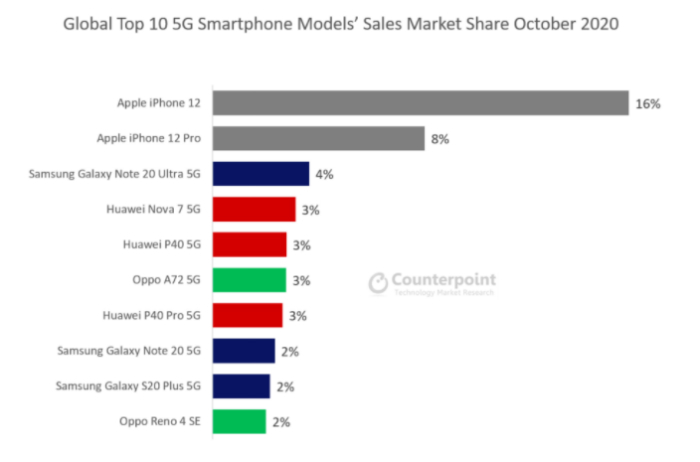 Furthermore, Counterpoint says there was a huge demand for a 5G upgrade, especially among iPhone users. This seems to be converting into sales now that Apple has released its first set of 5G-capable iPhones. Additionally, the demand was well complemented by strong carrier promotions in the US, which then accounted for over 1/3rd of the iPhone 12 and 12 Pro sales in the month. China and Japan also witnessed strong initial demand for the iPhone 12 series. Compared to other 5G models that have a more regional presence, the latest iPhones have a wide coverage as they're available in over 140 countries.
Notably, Samsung Galaxy Note 20 Ultra 5G, which was the top-selling 5G phone in September, slipped to third position the following month, behind the iPhone 12 and 12 Pro. Counterpoint also highlighted that iPhone 12 was also among the top 10 5G phones for the Jan-Oct 2020, despite just 2 weeks of sales.
The iPhone 12 series' mmWave push also paid off, according to Counterpoint. Both the standard iPhone 12 and Pro models support mmWave and, as a result, the penetration of mmWave capable smartphones increased to 12 percent in October compared to 5 percent in September. The more numbers of iPhones 12 units in the US means that carriers have an incentive to deploy mmWave infrastructure rapidly.
The iPhone 12 series demand is likely to stay strong through Q4 2020, mostly during the festive season in December. This will also push the premium segment. Thanks to the delayed launch, the demand for the iPhone 12 series is expected to maintain the momentum in early 2021 as well.