"The prices are the highest in Brazil, where the iPhone XS cost is equivalent to $2050 in the US"
The Apple iPhone is not a cheap phone, yet it sells like hot cake. In some places, Apple's flagship iPhone XS costs twice as much as the US pricing. Even in India, the iPhone XS is priced much higher than what it costs in the United States. The difference in pricing is mainly because of all the import duties and taxes. If you were to purchase the iPhone XS in India, you would be paying around $1600, which is around Rs 1,12,000.
A new report from Deutsche Bank sheds more light on the current scenario. In the 'Mapping the World's Prices 2019′ report that it released recently, the Bank also lists down the prices of renting a car, five-star hotels, Coca-Cola, Haircut, and others. However, the highlight point of the report is that India has the fourth highest pricing for the iPhone XS in the world. The first place goes to Brazil, where the phone is priced at around $2050. Turkey and Argentina the other places where the iPhone is exorbitantly priced.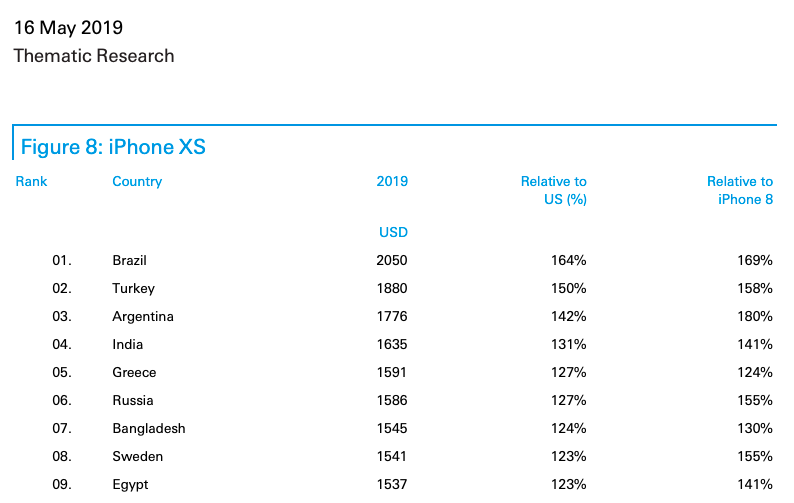 Surprisingly, the cheapest place to buy an iPhone XS is not the United States, but Nigeria. In the US, the iPhone XS is priced at $1251 after taxes, whereas in Nigeria, the phone will cost you $1178 after taxes. Apart from these two places, you can get the iPhone for its original pricing in Japan and Hong Kong. The premium pricing in some of the places isn't stopping people from buying the iPhone though. However, sales figures are down compared to last year.
Apple has also lost its market share in India, where it used to be one of the top premium smartphone sellers. Now, thanks to brands such as OnePlus and Xiaomi, which are offering more VFM products, Apple seems to have lost its touch. The fruit company is already manufacturing several iPhones in India but even that hasn't really helped in growth. It plans to further expand its plants in the country and build the latest iPhones locally. We will see how that story develops.