"Despite a good second fiscal quarter, Apple's iPhone shipments were down 16 percent"
Apple recently posted its earnings report for the second quarter of 2019. While profits were up from Q1 2019, the company did not do as well as the same quarter last year. It posted a total revenue of $58 billion in the quarter and came close to several estimations by analysts. Apple's shares also saw a 6 percent jump after the earnings report was released. iPhone sales accounted for most of the profit, but Apple doesn't reveal the number of units shipped. As per a new report by IHS Markit, Apple is estimated to have shipped about 43.8 million iPhones in fiscal Q2 2019.
Analyst and research firms have tried to estimate iPhone sales numbers before, but we can't know for sure. Even this new report from IHS Markit cannot be 100 percent accurate. However, these numbers are higher than what others have estimated. IHS believes that Apple sold more iPhones than what other analysts are saying. The 43.8 million iPhones during the quarter is still a 16 percent drop year-over-year. If these estimates are true, then Apple gets a 14 percent share of the global smartphone market.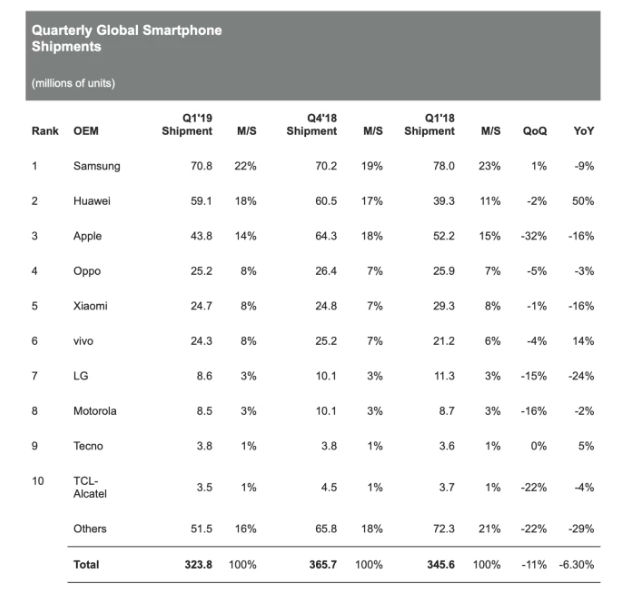 As per estimates, 2018 saw around 323.8 million smartphones shipped globally. The shipments have dropped 6.3 percent year-over-year, but numbers are expected to grow this year. Apple shipped 52.2 million iPhone units during the same fiscal quarter last year. According to IHS, Apple started the trade-in and discounts due to excess inventory left over from its poor Q1. The report also states that Huawei lead the race when it came to units shipped. The Chinese manufacturer shipped about 59 million smartphones during the same quarter, a 50 percent increase from last year.
Huawei managed to stay behind Samsung in the global smartphone market with 18 percent share. Samsung, on the other hand, still leads the race with 22 percent market share. It shipped about 71 million smartphones during the quarter, which was still down 9 percent compared to last year same quarter. Thus, both Samsung and Apple had bad quarters. The next quarter should be better for both companies, especially Samsung, as it has released several great budget phones. The flagship Galaxy S10 series has also been doing quite well.