While the iPhone 11 (first impressions) India launch has happened, its predecessor – iPhone XR (review) – is available at an enticing price on Amazon's Great Indian Festival and Flipkart's Big Billion Days sale, making it a great option for someone who's looking to buy a capable smartphone around the Rs 40,000 mark. However, it goes up directly against the latest offering from OnePlus. That's because the OnePlus 7T price in India is set at Rs 37,999 for the base variant. Considering these festive sales start today (and continue till Oct 4th), you could also avail several discounts and bank offers that make the deal on the iPhone XR sweeter. Now if you're already in either iOS or Android camp, then choosing between the two is an easy task. But if you aren't, then read on to find out which phone should you go for.
Related read: Best deals on smartphones in Flipkart and Amazon sales
iPhone XR vs OnePlus 7T: specifications comparison
Let's get one thing clear: the OnePlus 7T (review) goes all out in terms of specifications, while the iPhone XR is the exact opposite as its specs don't even tell half the story. Yet, if you are a spec nerd, then we've decided to give you a spec-by-spec comparison of the two. However, if you want to know how these two device compare in real-life, then skip ahead.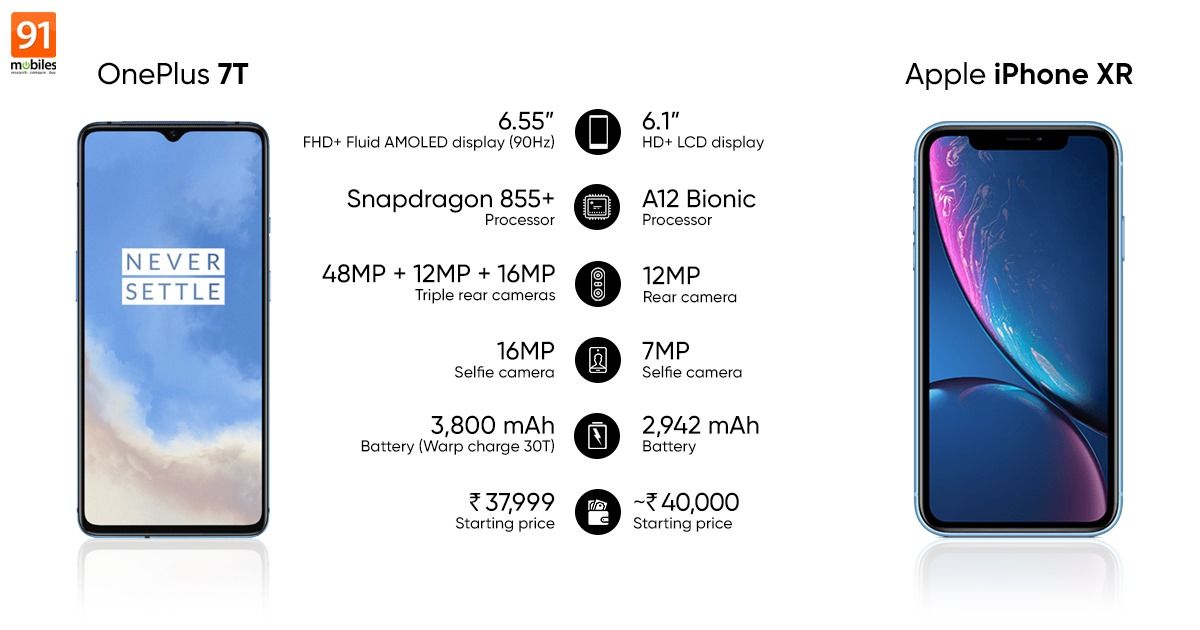 iPhone XR vs OnePlus 7T: design
Both the iPhone XR and OnePlus 7T follow different design aesthetics. On one hand, Apple has stuck with a notch-toting fascia and a glossy back. On the other hand, OnePlus has opted for a small waterdrop notch up front and a glass-sandwich design with a smooth finish on the rear. Now there's no doubt that the OnePlus 7 is a better device between the two with a higher screen-to-body ratio. Both the phones have protruding cameras too and slippery rear panels. However, the 7T's finish manages to keep fingerprints at the bay and its circular module for holding cameras lend it a distinguishing character. Both are quite heavy too, with Apple's phone weighing 194g and the OnePlus 7 tipping the scales at 190g. That said, iPhone XR seems to have done a better job in terms of uniform weight distribution.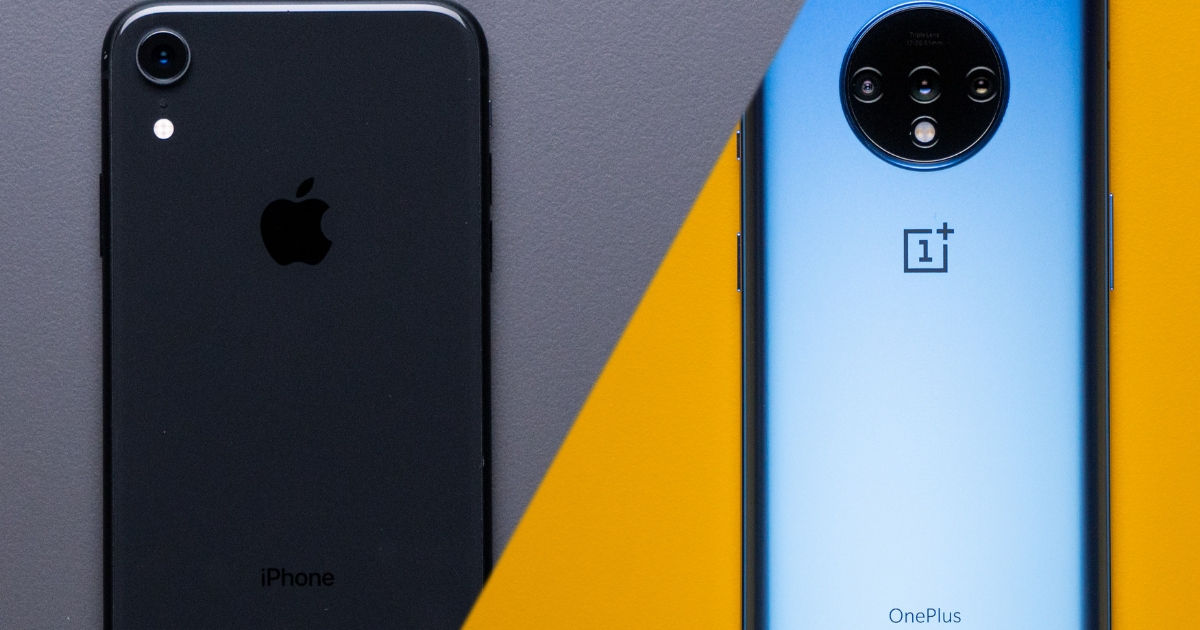 As far as ports and buttons are concerned, both devices feature volume rocker on the left, and the power button is placed on the right spine. The handsets have something in common too; they have a ringer for changing the sound profile (present on the left side on the XR, and on right on the 7T). Another similarity is that they both have skimped upon the 3.5mm headphone socket. The Apple phone has the lightning port on the bottom sandwiched between the speaker grille, and while the OnePlus phone also has it at the base but it's accompanied by a single speaker grille. With regards to durability, the XR scores higher as its IP67 rated, making it impervious to dust and water.
Winner: OnePlus 7T
iPhone XR vs OnePlus 7T: display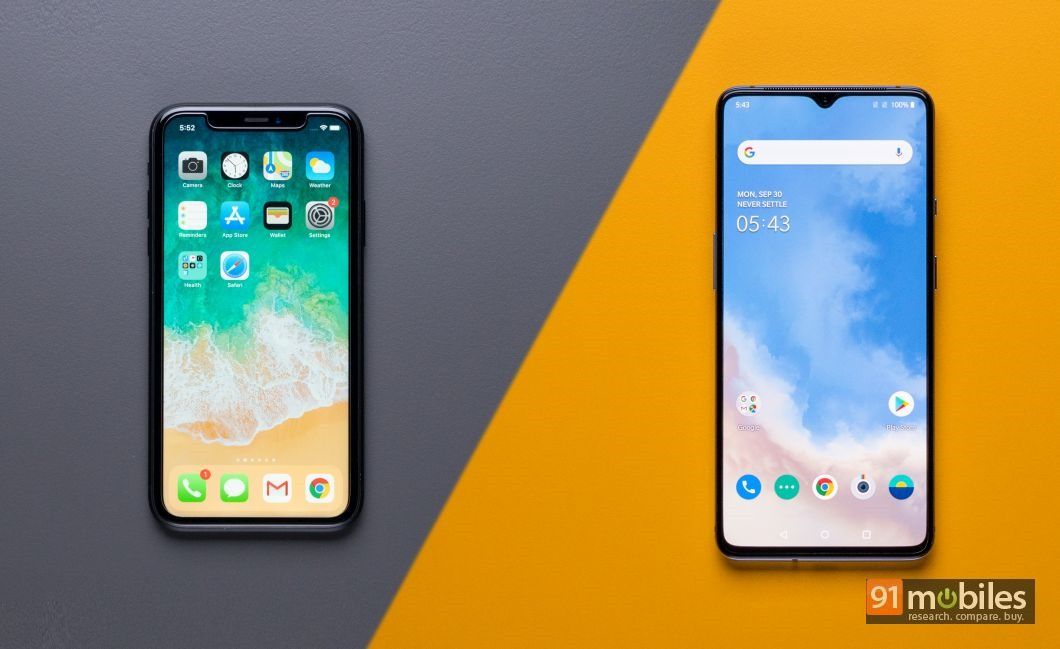 This is another aspect where the two are poles apart. Whilst iPhone XR is among the rare premium phones that feature a 720p display, the 7T features full HD+ resolution with a high refresh rate of 90Hz, something that's not available on high-end offerings from Samsung too. Yet, in real life Apple's Liquid Retina display – as it's being dubbed – looks quite gorgeous and consuming multimedia on the phone is a joy, save for the wide cut-out which is distracting. Having said that, OnePlus' Fluid AMOLED display simply comes out ahead since the OLED tech is known for its contrast levels and deep blacks, while the high refresh rate ensures smooth animations and superior gaming experience (with compatible titles), not to mention that it also offers a larger screen real estate.
Winner: OnePlus 7T
iPhone XR vs OnePlus 7T: performance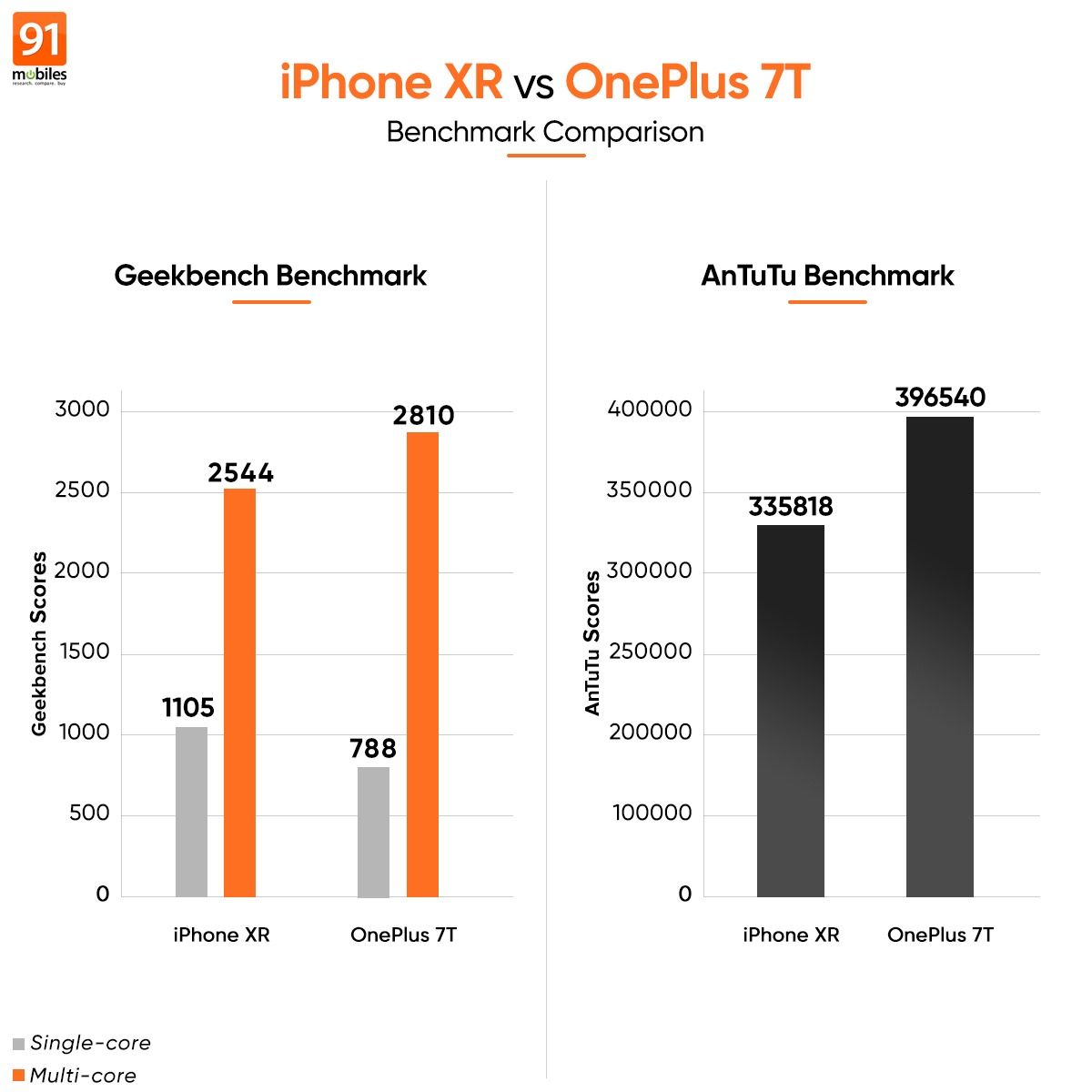 Well this is an area that Apple dominates comprehensively. The iPhone XR is fuelled by the A12 Bionic chipset, which has two high-performance cores and four efficiency cores. In contrast, OnePlus is no slouch either as it's powered by the top-of-the-line SoC from Qualcomm – the Snapdragon 855 Plus, which is an octa-core SoC with its prime core clocked at 2.96GHz. In the RAM department, the XR is paired with 3gigs of RAM, whereas the 7T is available with up to 8GB RAM. But don't let the capacity fool you. Thanks to Cupertino giant's excellent optimisations, the multitasking experience on its phones is second to none and so is its performance. While benchmarks highlight the fact that the XR runs on an year-old processor as the 7T has bettered the former on AnTuTu as well as Geekbench multi-core tests, if long-term performance is being considered, iPhone XR should serve you better.
Winner: iPhone XR
iPhone XR vs OnePlus 7T: rear cameras
One look at the spec sheet, and many would say that it's an unfair battle. While the OnePlus 7T features a triple-camera setup highlighted by a 48MP primary shooter, the XR gets a single snapper of 12MP. The IMX 586 sensor on the 7T is accompanied by a 16MP wide-angle camera and a 12MP telephoto snapper (offering 2x optical zoom). In comparison, the iPhone XR only has software-based bokeh effect. In real-life usage however, the iPhone XR does manage to hold on to its own, especially if you're talking about the usual scenarios. The landscape shot has more dynamic range and is sharper too, and so are the close-ups. In low light as well, the XR is able to come out ahead, but that's till you use the Nightscape mode on OnePlus handset. Sadly, if you're looking for versatility that the telephoto or wide-angle lenses offer, then the XR fails to compete. Same remains the case in the portrait mode as OnePlus is able to utilise the additional cameras to capture depth info. And for that reason alone, I'd chose the 7T over iPhone XR.
Winner: OnePlus 7T
iPhone XR vs OnePlus 7T: selfie cameras
The iPhone XR features an 8MP true-tone camera, whereas OnePlus' smartphone sports a 16-megapixel IMX 471 sensor on the front. But as usual, don't go by specs as in terms of the quality, the XR seems to be better will well-defined edges as compared to the 7T which turns softer and seems unnatural. The same remains the case in indoor or low-light scenarios.
Winner: iPhone XR
iPhone XR vs OnePlus 7T: battery
Once again, the 7T has the iPhone XR in terms of the battery capacity. Yet, both phones are really good in terms of backup. Thanks to various refinements, you don't need to juice up the XR before the end of the day, and same is the case with the 7T.
Related read: It's 2019 and OnePlus still doesn't offer wireless charging. Here's why
The OnePlus 7T has an edge in terms of charging time as it comes with 30W adapter, whereas the iPhone XR ships with antiquated 5W power brick. The latter does offer the convenience of wireless charging however.
Winner: Tie
iPhone XR vs OnePlus 7T: software
If you've been following the iPhone XR vs OnePlus 7T comparison till now, then you know why I've kept this at the last. The Android vs iOS battle has been waging for more than a decade, and it's not easy to suggest one over the other. While iOS used to be miles ahead in terms of the user experience, Android has caught up and in some areas is even better (such as notification management). And since OnePlus doesn't mess with Android much unlike other brands which use Google's mobile OS and layer it with their proprietary skins, using Oxygen OS is almost the same as using stock Android.
Moreover, both Apple and OnePlus have a good reputation of offering software updates for a couple of years. Yet, if I've to choose one, it'd be iPhone XR since not only it offers delightful experience, it focuses on privacy features too.
Winner: iPhone XR
iPhone XR vs OnePlus 7T: security and more
The iPhone XR comes with Apple's famed Face ID feature, which is a secure and accurate authentication mechanism that works in dim settings too. As opposed to that, the 7T features face unlock as well as under-display fingerprint scanner. Now if you value security, then Apple's offering has an upper hand, but if you are looking for convenience, then the 7T is the one to go for.
Winner: OnePlus 7T
Apple iPhone XR vs OnePlus 7T: verdict
So there you have it. With four wins, the OnePlus 7T has managed to edge ahead of the iPhone XR that has won in three cases while tying in one. Going by that, the OnePlus 7T might seem like a better buy, but considering it's a close fight a lot depends on what you're looking for. If you love cutting-edge tech or want versatile cameras, then the OnePlus 7T is for you. But if you're looking for a smartphone that just works and is reliable in every manner, then the iPhone XR would be a sensible choice.