Highlights
iQOO 8 Pro confirmed to get 50W wireless charging and 10W reverse charging.
All models of the iQOO 8 series to get 120W fast charging.
iQOO 8 series to get SD888+ SoC, 120Hz E5 LTPO panel, and BMW paint scheme.
The iQOO 8 series is ready for launch on August 17th and is being officially teased with glimpses at its spec sheet. The latest confirmation comes in the battery department, as the iQOO 8 series has been confirmed to feature 120W fast-charging support. This bit of information was already known but new teasers now tell us something about the iQOO 8 Pro. In addition to supporting 120W fast charging, the iQOO 8 Pro model will also feature a 50W fast wireless charging support as well as support for 10W reverse wireless charging.
iQOO 8 Pro fast charging details confirmed
The iQOO 8 series will be launching soon on August 17th in China. The company has been teasing the new flagship device regularly on its social media handles, each time giving us a glimpse of the new smartphone's spec list. The latest teaser once again confirms 120W fast-charging support. The entire iQOO 8 lineup will benefit from a super-fast charging system rated at 120W.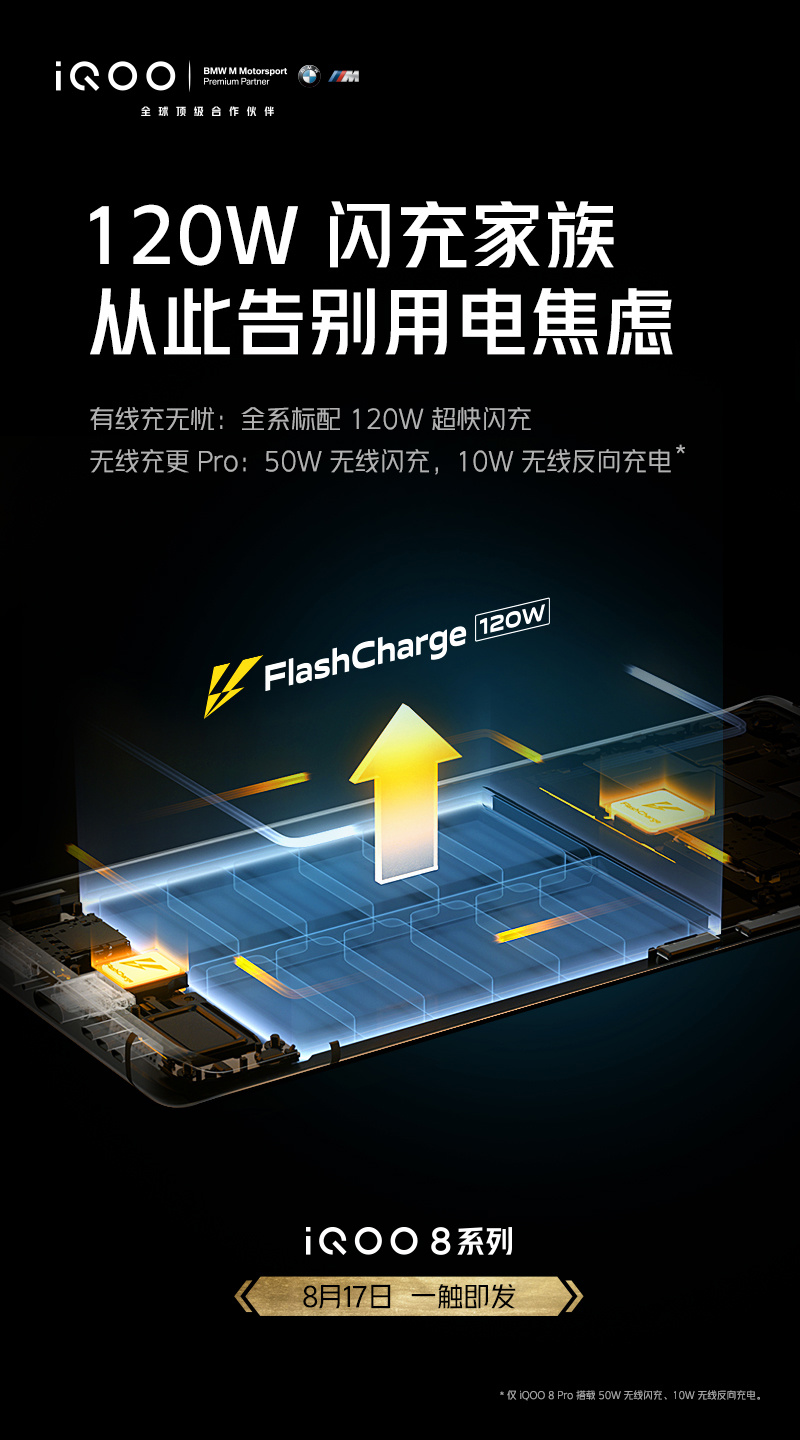 The teaser also confirms the presence of a 50W fast wireless charging for the iQOO 8 Pro. The Pro model will also come with 10W reverse charging support. This feature allows the iQOO 8 Pro to act as a power bank and charge select devices under specific conditions.
iQOO 8 Pro specifications
iQOO, a sub-brand of Vivo, is known to be a powerhouse when it comes to hardware and iQOO 8 will be no exception. Previously we had confirmed the presence of top-of-the-line Qualcomm hardware in the form of Snapdragon 888+ SoC, at least in the Pro variants. iQOO 8 variants will also feature a 2K curved panel using the latest LTPO technology. It will be capable of variable refresh rates from 1Hz to 144Hz. The iQOO 8 will use a fast 12GB RAM additional expandable virtually up to 4GB. The device will also feature an interesting paint scheme inspired by BMW and will host a triple camera setup.
The iQOO 8 Pro price is tipped to be 5,299 yuan or approximately Rs 60,780.