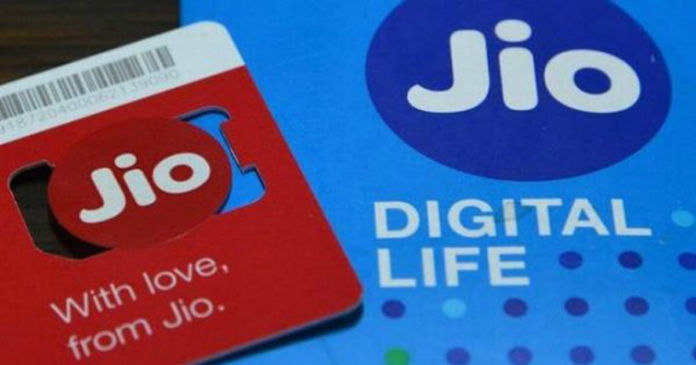 "The network speed trends have continued the way they have of late, with Jio the only big margin leader in download speeds among the top four operators"
The Telecom Regulatory Authority of India (TRAI) has released its monthly operator network speeds report for the month of January 2019. There have been no unforeseen surprises here, with Jio maintaining its steadily lead as the fastest provider of download speeds in India. Jio has extended its duration of lead by over a year now, giving its network consistency in both upload and download speeds. In terms of upload, Idea Cellular has held its lead as well over the remaining top four operators in India.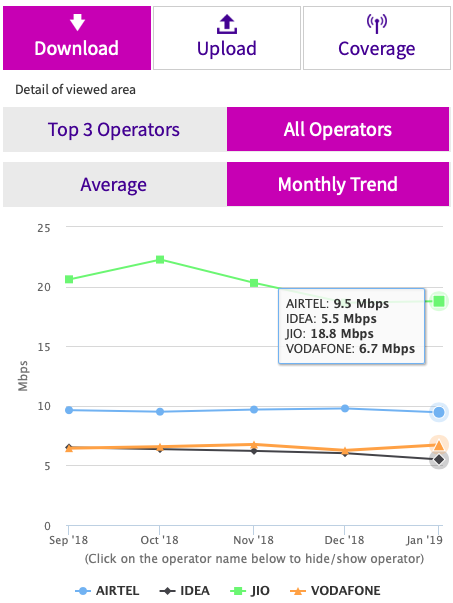 In terms of download speeds, Jio has recorded average speeds of 18.8Mbps, remaining largely consistent from last month's 18.7Mbps monthly average download speed. Bharti Airtel has ranked second at 9.5Mbps, down from last month's 9.8Mbps. Vodafone India has recorded download speeds of 6.7Mbps, up from 6.3Mbps recorded in December 2018. Idea Cellular ranks fourth, with its 5.5Mbps download speed down from 6.0Mbps last month. Despite Vodafone and Idea now functioning as a merged entity, the separately reported speeds are owing to the individual spectrum on which their users operate in.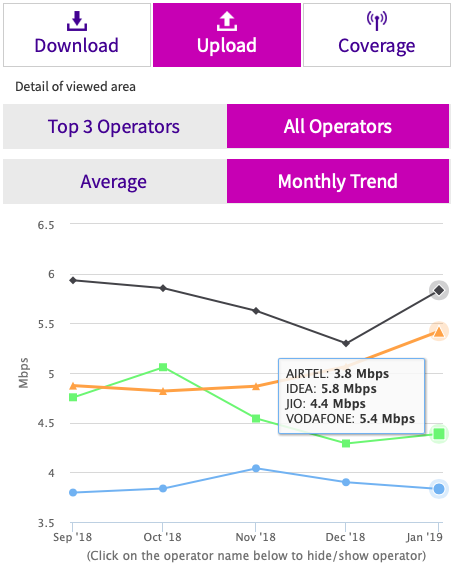 The top four operators are much closer to each other in terms of upload speeds. In January 2019, Idea Cellular maintained its lead with average monthly national upload speed of 5.8Mbps, up from 5.3Mbps. Vodafone India follows up the rear at 5.4Mbps, which too is marginally up from 5.1Mbps that TRAI reported for it last month. Reliance Jio has remained constant here as well, with reported upload speed of 4.4Mbps marginally up from 4.3Mbps in the previous month. Bharti Airtel brings up the rear, with its 3.8Mbps monthly average national upload speed marginally down from the 3.9Mbps that it reported last month.
There has been barely any movement at all in terms of monthly national average network speeds on the cellular networks, with the top operators of the country maintaining their position and speeds as seen over the past month.