Highlights
A new round of 4G auction managed to generate

Rs 77,815 crore in revenue for the Centre

Reliance Jio bought 50 per cent of the total telecom spectrum sold
Airtel came in second, spending Rs 18,698 crore on the 2300MHz band
In a new round of telecom spectrum bidding on Tuesday, Reliance Jio bought a whopping Rs 57,122 crore worth of airwaves. Airtel could manage to acquire only Rs 18,698 crore worth of 4G spectrum, while Vodafone Ideal bought a paltry Rs 1,933 crore worth. The TRAI claims to have generated over Rs 77,815 crore from the auction. This is marginally better than the previous auction held in October 2016, in which Rs 65,789 worth of bandwidth was sold. The bids will be scrutinized by a special committee and companies will have to pay Rs 19,000-20,000 crore upfront before the financial year ends. Following the just concluded spectrum auction, Jio becomes the biggest buyer of airwaves.
Also read: Airtel and Reliance Jio gain broadband subscribers as BSNL loses market share in October: TRAI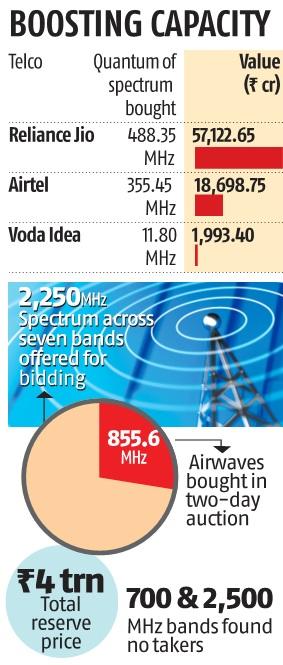 Business Standard reports that Reliance Jio managed to secure 488MHz of the 855.6MHz spectrum that went up for sale. A good chunk of Reliance Jio's expenditure was focused on the highly-coveted 800MHz band. On the other hand, Airtel focused its efforts on the 2300MHz band. Both companies said that they planned to fill in spectrum gaps to ready their infrastructure for the gradual increase in customers that will avail 4G services. A total of 855.60MHz from the available 2,308MHz was sold in the auction. However, the 2500MHz and 700MHz bands found no takers due to their prohibitively high pricing.
Do bear in mind that the above spectrum was for 4G only. The Indian Government is expected to conduct 5G spectrum auctions in the next six months. Furthermore, it won't be conducted on a pan-India basis. It has earmarked the 3,300-3,600MHz bands for 5G rollout in 'select regions'. The 700MHz band supports 5G too, so it is likely that it gets sold in the next round of auctions.