"We take a look at all the apps Jio is offering to its customers"
After a long wait that seemed like eternity, Jio is finally stepping into the Indian telecom industry commercially. At the Annual General Meeting of Reliance Industries Ltd, Mukesh Ambani, the CMD of the company, announced the rollout of Jio's services starting September 5th, and details on the various tariff plans. Some key highlights of Jio's 4G LTE services include unlimited free local and national roaming voice calls to any network, 25 percent extra data for students, and a welcome offer that extends free services for all users till the end of the year.
One of the most notable announcements made by the company was free access to Jio's premium suite of apps for Jio users until December 2017. Now that is a big thing. Reliance Jio has revealed lots of applications for each and every task that you'd use the network for. For instance, there's an app for streaming music, one for live TV, as well as a cloud storage solution. So if you're wondering what all apps you can use and for what purpose, here's an overview of all the apps the company has on offer.
JioMusic, JioTV, and JioCinema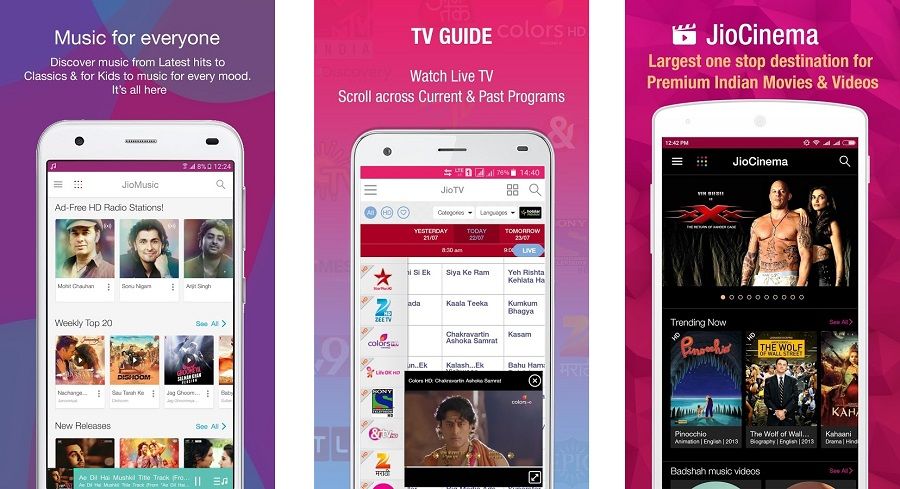 The above three apps from Jio are content-driven apps meant for entertainment on the go. As the name suggests, JioMusic is the company's own app for streaming high-quality music. The app allows its users to listen and download HD songs in over 20 languages, along with ad-free radio services. You can also enjoy your music by connecting your Android Wear device or Pebble Watch.
Next up is JioTV, which offers the users over 350 live channels spread across 10 genres and 15 languages. And that's not all, users can also pause live TV, set reminders or catch up with their favourite shows from the past seven days.
The JioCinema app is the company's one stop destination for premium Indian movies, TV shows and music videos. The video-on-demand service is available in multiple languages, with ad-free 1080p content and 5.1 surround sound.
Although access to these apps is free for the foreseeable future, for those of you who wish to continue the service after the trial, Jio has priced the monthly subscription at Rs 99, Rs 199, and Rs 349 for JioMusic, JioCinema, and JioTV respectively.
JioMags, JioXpressNews, and JioNewsPaper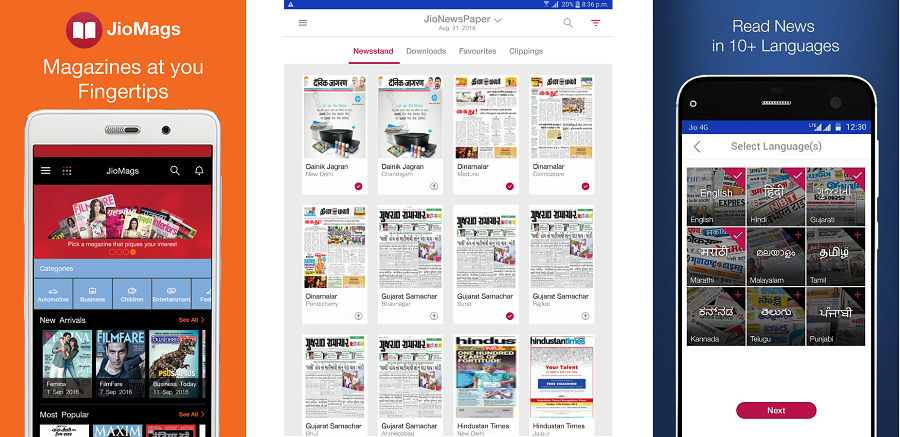 JioMags is a magazine-reading service which allows easy access to a vast collection of premium and popular magazines across multiple genres and languages. The application offers an unlimited reading of all titles and archives in its library, as well as features like bookmarks and annotations.
If you like to follow all the happenings in the world, Jio has covered you there as well. On one hand, the JioXpressNews app provides categorised and curated articles from hundreds of news sources, magazines and blogs, while on the other JioNewsPaper allows you to read the latest newspapers in an e-paper format.
It's worth noting that after the free trial of the apps till December next year, JioNewsPaper and JioMags will be available for a monthly subscription price of Rs 99 and Rs 199 respectively, while the subscription to JioXpressNews will still remain completely free.
JioNet, JioDrive, and JioSecurity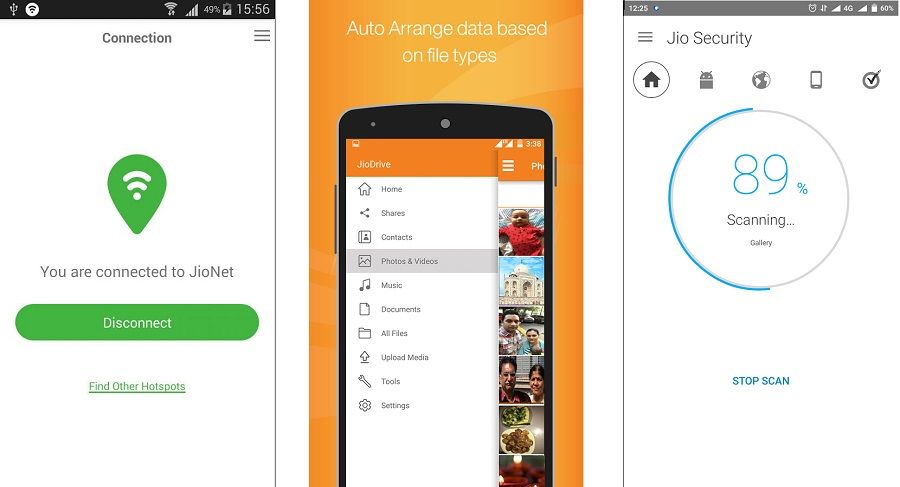 Reliance Jio is also planning to set up thousands of hotspots across the country, and this is where the JioNet service comes into play. The app allows users to quickly locate and connect to the various Wi-Fi hotspots set up by the company without the hassles of repeated logins.
JioDrive is a multi-platform cloud storage solution just like Google Drive. Users can save up to 5GB of data in the cloud free of cost, with additional storage costing Rs 50 for 50GB, Rs 150 for 200GB and Rs 500 for 1TB every month.
Coming to JioSecurity, the app safeguards its subscribers against malicious websites and apps, along with the ability to block unwanted calls and test messages. Additionally, the app can also be used to locate or lost or stolen smartphone, or wipe its content if it cannot be found. The service has been priced at Rs 299 per month post the free trial.
JioChat and JioJoin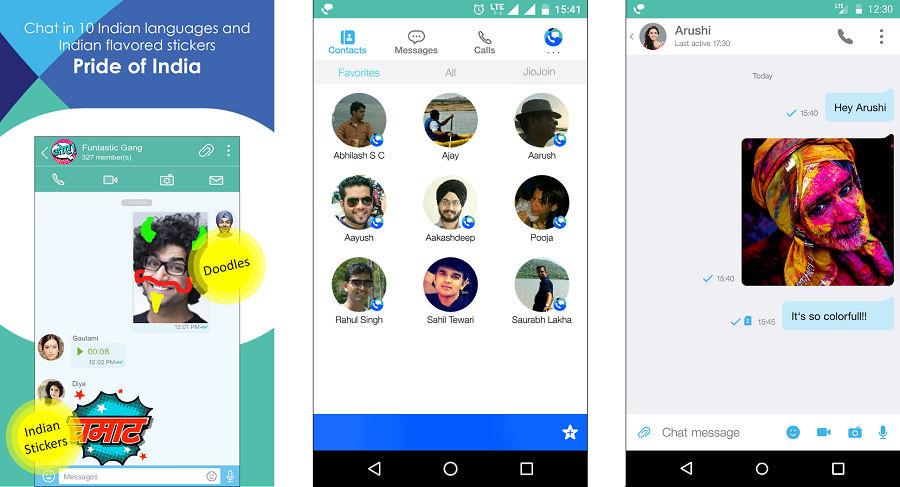 The JioChat app allows you to connect with your friends using rich messaging, voice calls and video calls. The app supports a wide array of stickers and video conferencing as well as features like sending files or following brands.
Meanwhile, JioJoin is a must-have app for those who are using non-VoLTE smartphones. With this app, you can make or receive voice or video calls with your Jio number even if your 4G phone doesn't support VoLTE.
JioMoney and MyJio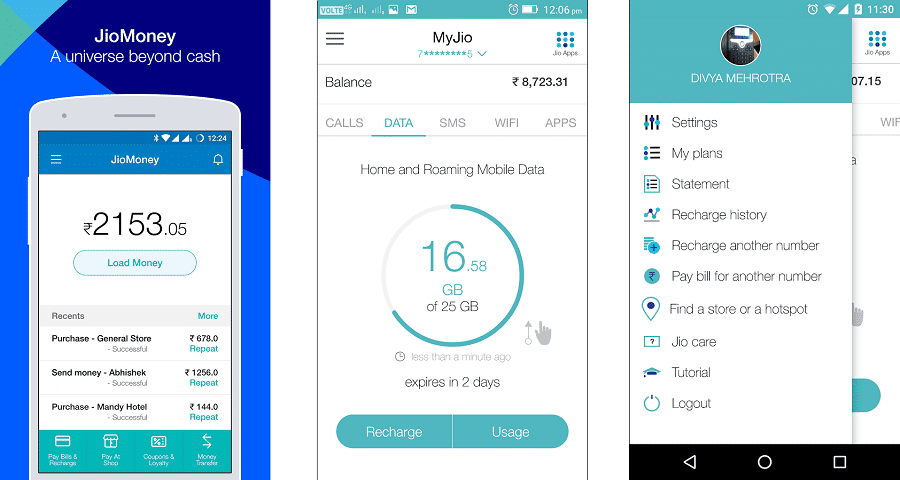 JioMoney is the company's own mobile wallet app. With the app, you can do mobile and DTH recharges, make everyday payments, send or receive money, pay insurance, and other premiums, and manage your finances. Users of JioMoney also get access to deals, discount coupons and cashback offers directly on their smartphone from local merchants.
Last but not the least, the MyJio app allows you to view all your account details. If you want to look at how much data is left in your account, or the number of free SMSes remaining for the month, MyJio is the app to use. You can also recharge all your linked accounts, change profile information or get help from Jio Care.
There you have it. That was a complete overview of all the apps Reliance Jio has an offer. Access to all these apps is completely free for Jio users until December 2017. After that, you can opt to subscribe to your choice of apps and services if you so wish to. Once again, it's worth noting that Reliance Jio is not only revolutionising the telecom industry by offering aggressively priced tariffs, but also with its ecosystem of premium apps designed to perform all tasks a normal smartphone user may find useful.

Related reads: All you need to know about Reliance Jio | Understanding the fine print | 7 ways Reliance Jio could disrupt the Indian telecom industry