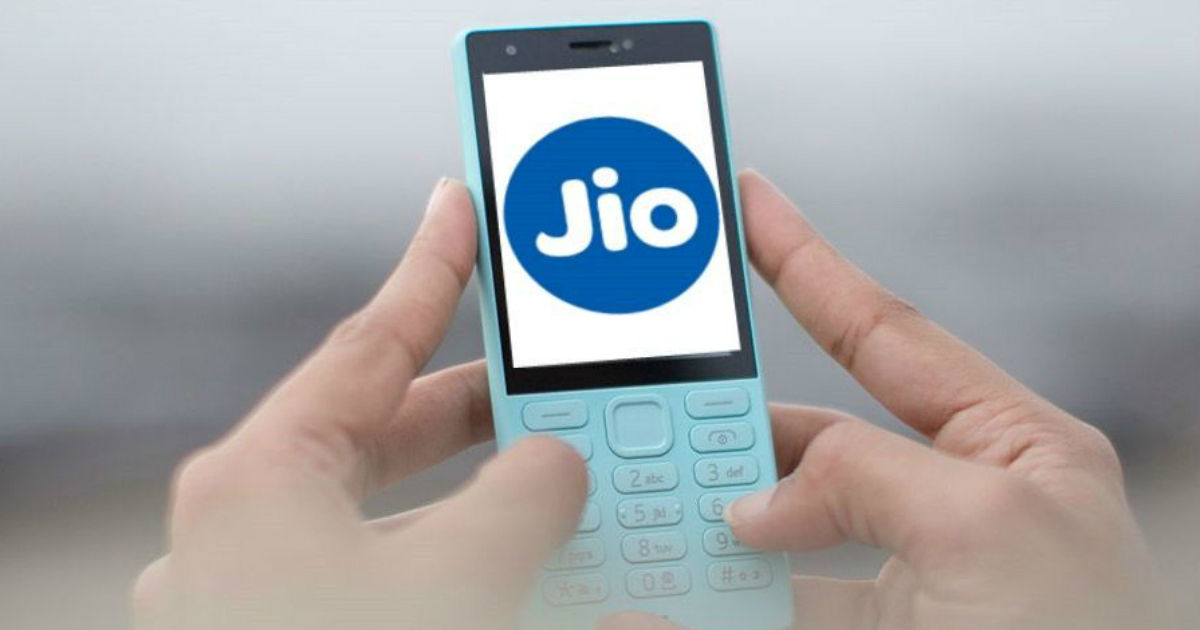 "The Jio download speed in October 2018 has increased to 22.3Mbps, up from 20.6Mbps in September"
Jio continues to lead the Indian telecom sector in terms of 4G download speeds in the month of October 2018, according to data by telecom regulator TRAI's MySpeed app. Promoted by Mukesh Ambani, Jio has recorded 4G download speeds of 22.3Mbps, an improvement over the same in the previous month. It is followed by Airtel, while Vodafone and Idea are within striking distance of each other. In the 4G upload speed department, on the other hand, Idea leads while Jio has improved its position to second.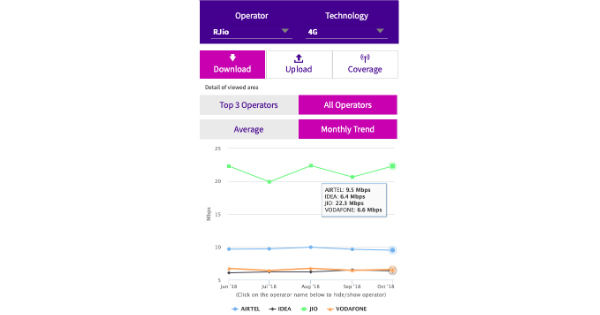 The data shared by TRAI's MySpeed shows that the Jio download speed has increased from 20.6Mbps in September to 22.3Mbps in October. It is followed by Airtel at 9.5Mbps, which has seen a slight dip from its 9.6Mbps speed for September. Vodafone 4G download speed has experience a slight increase, up 6.6Mbps the past month from 6.4Mbps the preceding one. Last in the list is Idea at 6.4Mbps, which has also dipped a little from 6.5Mbps to 6.4Mbps.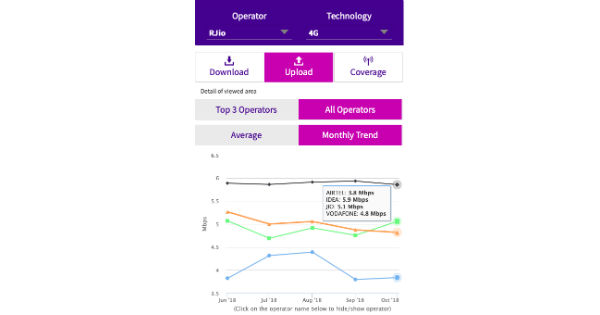 In terms of 4G upload speeds, Idea is still the market leader at 5.9Mbps but Jio is inching closer to its crown. The Jio 4G upload speed has gone up from 4.8Mbps in September to 5.1Mbps last month. On the other hand, Vodafone — which was in second position two months ago — has fallen to third a small dip, from 4.9Mbps to 4.8Mbps in October. On the last spot is Airtel, whose speed has stayed put at 3.8Mbps.
It should be noted that Vodafone and Idea are part of the same organisation — Vodafone Idea Limited (VIL) — since their merger but continue to operate as two separate units. The joint VIL entity is the bigger operator in the country by subscribers, followed by Airtel. But Jio is hot on their tails and the fastest-growing operator despite all telcos in the market nowadays offering heavily discounted data packs and free calls.