"While Reliance Jio is the undisputed leader in the wireless mobile network space, the wired internet space is still largely led by the state-backed BSNL"
Jio Fiber subscriber base in India is growing slowly yet steadily. The Telecom Regulatory Authority of India (TRAI) has released its market data for December 2019, showing largely expected performances from both wired and wireless network operators. In the wired network space, state-backed operator BSNL still leads the space with market share of 45.61 percent, and fellow state-run operator MTNL is also a sizeable player in this space with 14.87 percent market share. The two state-run operators combine to presently control 60.47 percent of the entire wired line network market of India, which is still a sizeable chunk of the industry. Interestingly, Jio Fiber appears to be seeing limited adoption so far, and has only seen an addition of about 30,000 users over December 2019. This could also be because Jio had stopped offering its free broadband services and started billing its users in December.
According to the report, Reliance Jio, which presently is offering the JioFiber wired network service, only has 5 percent of the Indian wired internet market and 0.86 million users in total. This marks an increase of 30,000 subscribers nationwide, bringing Jio's total user count up from 0.83 million in November 2019. This is very slow progress from the operator that saw its subscriber base increase at breakneck speed when it initially introduced its wireless network service. The slow adoption of JioFiber also suggests that the internet service may not see as much popularity as its mobile services have, but it may be too soon to tell.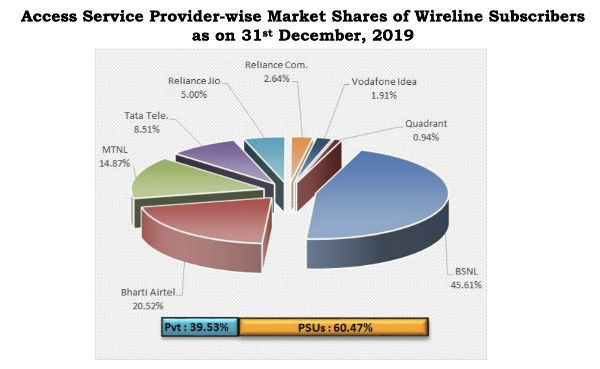 In the wired internet space, Bharti Airtel is the largest private operator, with 20.52 percent market share. Other major players in this segment include Tata Teleservices with 8.51 percent, Reliance Communications with 2.64 percent and Vodafone-Idea with 1.91 percent of the market. Vodafone-Idea presently operates a wired internet service under the name You Broadband, which is available in multiple circles in India already, and ranks among the top 10 network providers of internet in Netflix's speed list.
While Reliance Jio continues to add subscribers at a faster pace in the wireless internet sector even now, its more recent fiber service has seen far slower rollout, perhaps because the JioFiber plans prices have not been as disruptive and affordable as people had expected from the telco. Going forward, it will be interesting to see whether JioFiber manages to pick up speed, or is forced to opt for a price correction of its service in order to attract more users.