"The Jio GigaFiber broadband-landline-TV combo offer will be available in the coming months"
Jio GigaFiber is RIL's foray into broadband services, with the company claiming it has reached 1,600 cities since the initiative was announced in August last year. Now, a new report says Jio will soon be announcing a new combo offer that includes free landline and TV services for Jio GigaFiber users. The offer will start at Rs 600 per month and users will also be given the option to connect up to 40 devices to the home network for an additional Rs 1,000. The landline and TV services will be provided to current Jio GigaFiber users within the next three months.
The report, citing source, also states the landline and TV services will be free of cost for one year, after which it will be available commercially. The landline service included in the combo offer will come with unlimited free calls and the TV service would also be free as it would be delivered over the internet. As mentioned earlier, users can add up to 45 additional devices to the home network, including CCTVs, smart TVs, laptops, gaming consoles, smart home devices and more. This will cost an additional Rs 1,000, but will be useful for customers who want a smart home setup.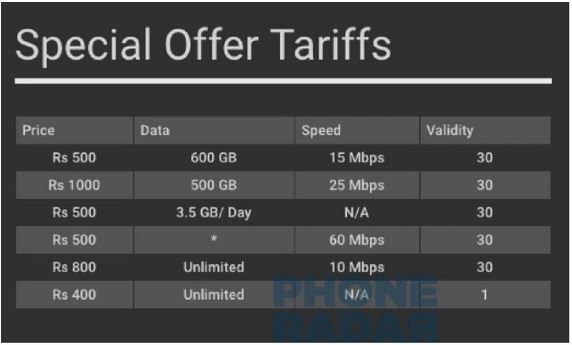 Jio GigaFiber is offering 100Mbps connections with 100GB of free data every month, for three months. Users only have to pay a one-time fee of Rs 4,500 for the router. The official launch of Jio GigaFiber will once again disrupt the entire broadband service industry, just like how Jio changed the mobile internet market. The broadband market hasn't been penetrated yet. Only 18.29 million customers in India have access to or are using a wired broadband connection.
The registrations for Jio GigaFiber connections have been open since August 2018, but full commercial rollout will only start late this year or in 2020. RIL had announced last year that it would be purchasing stakes in Hathway Cable and Datacom Ltd, and DEN Networks Ltd to boost the presence of its broadband services. It plans to tie up with around 27,000 local cable providers through Hathway and Den.