"As per Netflix ISP Speed Index, Jio GigaFiber offered 3.49Mbps speed, while 7 Star Digital and Spectranet had 3.54Mbps and 3.50Mbps speed, respectively"
Jio GigaFiber has slipped in Netflix ISP Speed Index's rankings of June 2019 in India. The Jio-promoted broadband service featured on the ISP leaderboard list at the third position with 3.49Mbps speed during the prime time. It's a major drop for Jio GigaFiber, which is expected to be rolled out publicly in the next few months. The online streaming platform has ranked 7 Star Digital with 3.54Mbps as the fastest broadband service in the country, followed by Spectranet with 3.50Mbps.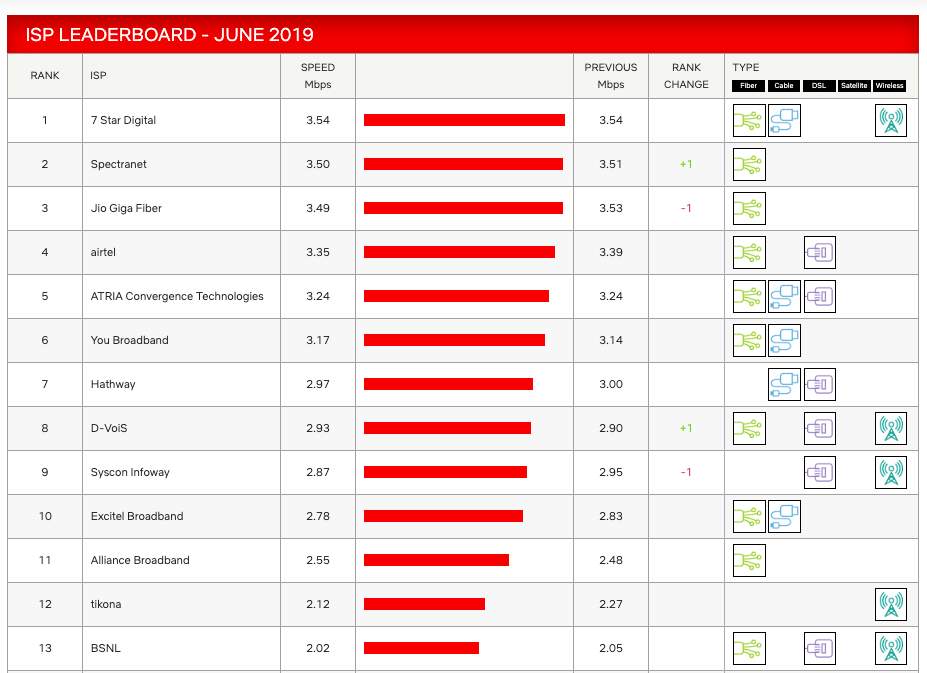 The Netflix ISP Speed Index is among the most relied speed tests when it comes to gauging the quality and speed of Internet Broadband services (ISPs), and Jio GigaFiber has been ranked consistently higher than its peers in the Netflix speed index. Until April 2019, the Jio GigaFiber has topped the list for the eighth consecutive times. The broadband service offered the same speed, i.e. 3.49 Mbps, as in June back then. However, 7 Star Digital and Spectranet have started providing impressive speed to overtake Jio GigaFiber.
Following GigaFiber on the list is its arch-rival Airtel broadband service. The latter was placed in the fourth position with 3.35Mbps, which slightly slower than its previous 3.39Mbps speed. Other ISPs in the list include Atria Convergence Technologies (ACT) with 3.24Mbps of average speed at the fifth position, YouBroadband with 3.17Mbps speed at sixth, Hathway with 2.97 at seventh, and D-VoiS at eighth with 2.97Mbps speed. State-owned BSNL and MTNL broadband services are placed at 13th and 14th position with 2.02Mbps and 1.88Mbps speeds respectively in the Netflix ISP Leaderboard's top 15 list, followed by Tata Communications with 1.70Mbps speed.