"Jio GigaFiber service's monthly plans are expected to start at Rs 600 per month"
Mukesh Ambani-promoted Jio is expected to commercially launch its broadband service on August 12th. The high-speed fibre-to-the-home Jio GigaFiber service's launch could happen at the upcoming annual general meeting (AGM) of Reliance Industries. Notably, the telecom giant has already been testing the service for around three years now. The Jio GigaFiber beta trials of the same were kicked off several months before the formal debut in July last year. After the expected commercial launch next month, Jio GigaFiber will be available beyond the 1,100 cities in which the beta trials were held. Apart from the internet service, the brand is also expected to announce some entertainment and smart home IoT solutions at the upcoming AGM meeting.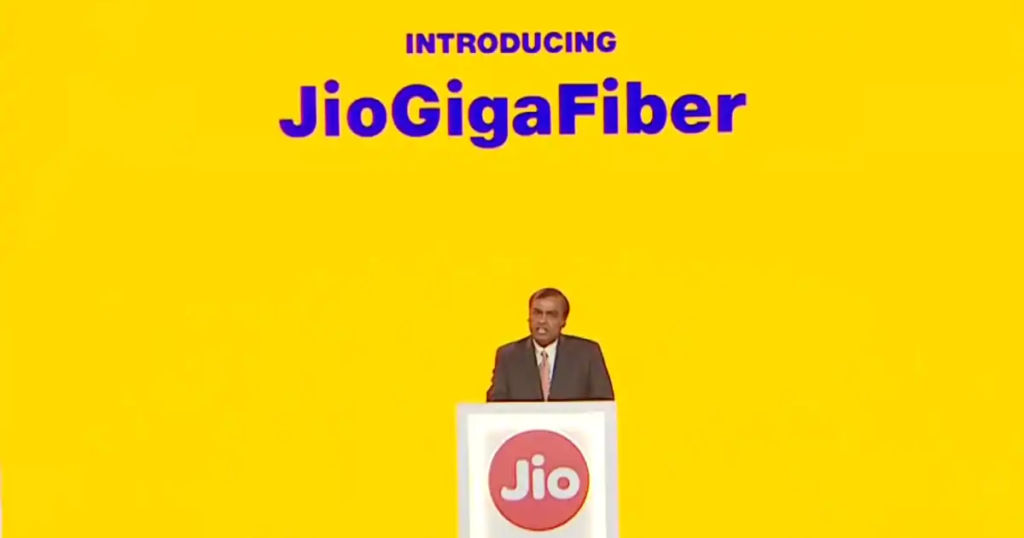 Recently, while announcing quarterly results, Mukesh Ambani, Chairman, Reliance Industries, said that beta trials of Jio GigaFiber services have been very successful. He also mentioned that the operator's entire bouquet of smart home solutions will soon be released to roughly 50 million households. Currently, the beta trials of the high-speed internet service are being conducted in cities such as Jamnagar, Gurgaon, Chennai, Mumbai, etc.
Jio GigaFiber was originally available in the trials at a security deposit charge of Rs 4,500. However, the company recently brought a new version of its ONT (optical network terminal) device for the service, and it is now being offered at a security deposit of just Rs 2,500. The brand's ONT device enables several services like home broadband, voice calling, and IPTV through a single network connection. It's worth mentioning that at the new, reduced charges, the service is also offering 50Mbps speed, as opposed to 100Mbps on the earlier connection of Rs 4,500.
According to reports, Jio GigaFiber's monthly plan will start at just Rs 600 per month. There is also said to be another plan that will cost Rs 1,000 per month and will deliver more speed. We will know more in a matter of weeks, so stay tuned.