"The Jio GigaFiber is said to offer 3.49Mbps speed to top the chart, followed by Spectranet and 7 Star Digital with 3.43 and 3.49Mbps speeds respectively"
Jio GigaFiber has once again dominated the Netflix ISP Speed Index in the month of April in India. The broadband service, announced last year though it has been in testing for over 2 years now, recorded 3.49Mbps speed during prime time on Netflix to top the chart for the eighth consecutive time. Its closest rival this time is Spectranet with 3.43Mbps speed, followed by 7 Star Digital and Airtel with 3.40Mbps and 3.29Mbps speed, respectively.
The other ISPs in the list include Atria Convergence Technologies (ACT) with 3.16Mbps of average speed at the fifth position, YouBroadband with 3.04Mbps speed at sixth, and Hathway at seventh with 2.97Mbps speed. Apart from this, you have Tikona, BSNL, and MTNL in the Netflix ISP Leaderboard's top 15 list with 2.23, 1.97, and 1.88Mbps speed respectively. At the 15th spot is Tata Communications with 1.71Mbps speed.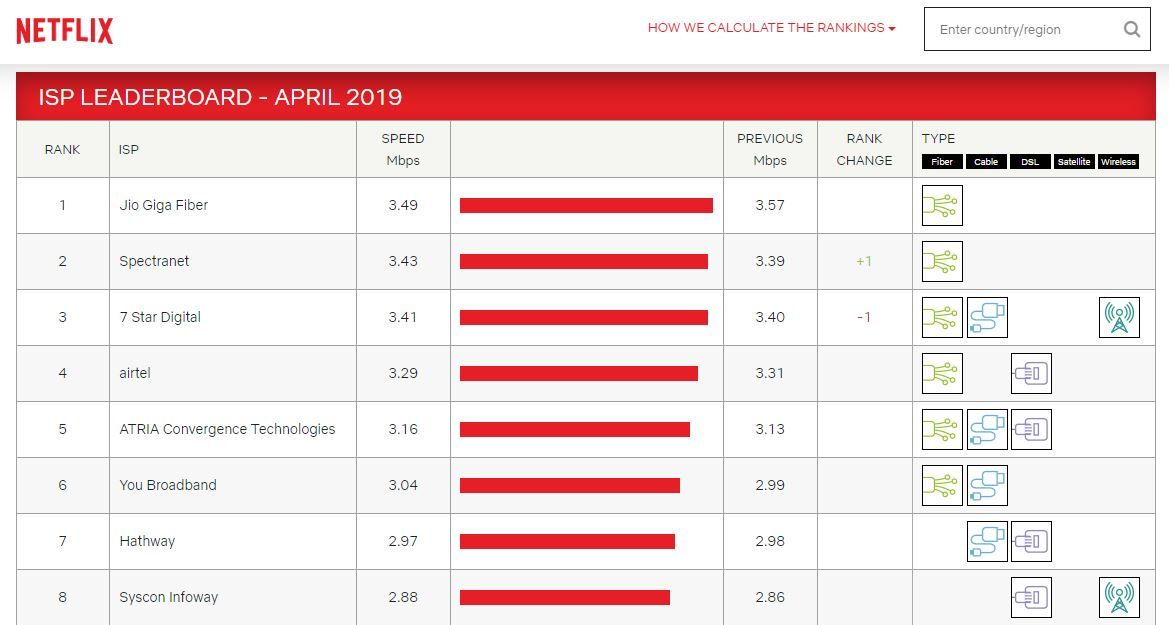 However, despite topping the list, the overall speed of the Jio GigaFiber has declined. In March, the GigaFiber was averaging 3.57Mbps speed, which was itself lower than the previous month. This comes when broadband's commercial release is still awaited. Ever since its launch last year, the GigaFiber has been under a trial period. One can enroll for the GigaFiber Preview offer with a security deposit of Rs 4,500 and gain free access to the broadband Internet until the commercial launch happens. The service is said to deliver faster internet speed at a cheaper price compared to other ISPs.
"The Netflix ISP Speed Index is a measure of prime time Netflix performance on particular ISPs (internet service providers) around the globe, and not a measure of overall performance for other services/data that may travel across the specific ISP network," Netflix notes on its website.