"Jio has 323 million subscribers in May 2019 compared to Airtel's 320.44 million users, while Vodafone-Idea leads the market with 387.6 million"
Jio has finally surpassed its rival Bharti Airtel to become the country's second-largest operator after Vodafone-Idea, according to TRAI data. As of May-end, Jio added over 8.2 million users, taking the total user count to 322.99 million. Vodafone-Idea retained the top spot with 387.6 million customers, while Airtel stands at 320.44 million subscribers. On the other hand, the state-led operator BSNL added 24,276 users. The total number of active wireless subscribers in India as of May 2019 was 989.60 million and around 4.18 million subscribers submitted their requests for Mobile Number Portability (MNP).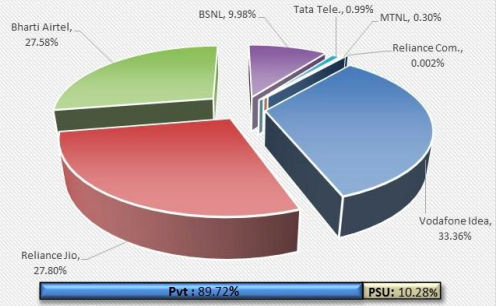 In percentage terms, Vodafone Idea Limited currently has 33.36 percent market share, followed by Reliance Jio with 27.80 percent and Bharti Airtel with 27.58 percent. BSNL, Tata Tele, and MTNL own 9.98 percent, 0.99 percent and 0.30 percent market share, respectively. As of April, the Jio market share was 27.08 percent, this means the Mukesh Ambani-led telecom operator's market share has seen significant growth. Reliance Industries is expected to report quarterly results later today.
Furthermore, the number of subscribers in India marginally declined from 1,183.77 million at the end of April 2019 to 1,183.15 million at the end of May 2019. Delhi service area has a maximum teledensity of 240.49 percent at the end of May, while Bihar circle has a minimum teledensity of 60.15 percent during the same period. TRAI data as of May 31st shows that private operators accounted for 89.72 percent of the total cellular subscribers in the country.