"The new Jio One plans are aimed at subscribers who make calls to Airtel, Vodafone, Idea etc numbers frequently and want a unified recharge pack"
Three new Jio plans have been launched for the operator's mobile services soon after it announced it is stopping unlimited free calls to non-Jio numbers. These new Jio plans are priced at Rs 222, Rs 333, and Rs 444 for validities of 28 days, 56 days, and 84 days, respectively. The Jio plans come with 2GB data per day, free calls to Jio as well as landline numbers, as well as 1,000 minutes bundled for calls to non-Jio numbers (Airtel, Vodafone, Idea etc). Along with this, the subscribers will get bundled SMSes and access to the company's content apps.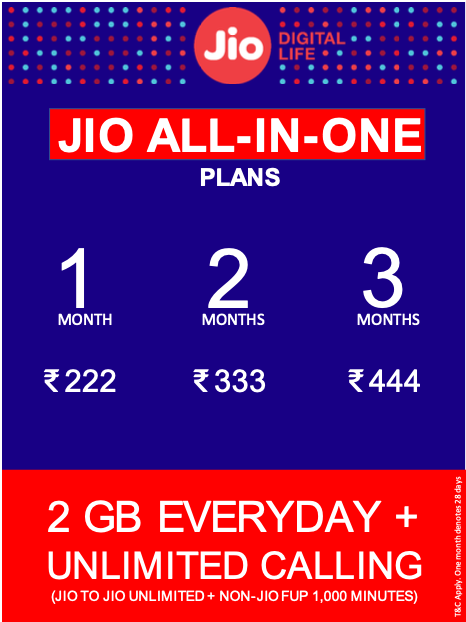 Apart from these three, there's also a Rs 555 Jio recharge that offers the same 2GB data per day and 84-day validity but with 3,000 minutes of off-network calling. Like the other plans, this one also comes with 100 SMSes per day and access to Jio apps.
| | | | | |
| --- | --- | --- | --- | --- |
| Jio recharge price | Daily data cap | Validity | Total data | Bundled non-Jio minutes |
| Rs 222 | 2GB per day | 28 days | 56GB | 1,000 minutes |
| Rs 333 | 2GB per day | 56 days | 112GB | 1,000 minutes |
| Rs 444 | 2GB per day | 84 days | 168GB | 1,000 minutes |
| Rs 555 | 2GB per day | 84 days | 168GB | 3,000 minutes |
These new Jio recharges have been launched to simplify the company's mobile plan offerings, which had become a little complicated since it stopped the free calls over IUC charges. The company had recently announced it will charge 6 paisa per minute for calls made to mobile numbers of other operators, even as landline calls and Jio-to-Jio voice calls remained free. This is because of IUC charges, which Jio has to pay to its rivals whenever a subscriber makes a call to the said rival's network. These calls are termed off-net(work) calls. Jio says it has paid over Rs 13,500 crores to its rival networks in IUC charges since it started operations 3 years ago.
IUC charges were set to end on January 1st 2020, but telecom regulator TRAI has released a consultation paper asking regarding whether zero IUC charges can be delayed further as a large number of telecom users is still on 2G. Nonetheless, those who purchased a Jio recharge before October 9th can continue making free calls until the validity of the pack ends.
To continue giving subscribers 'free' voice calls, even on other mobile networks, Jio launched new voucher packs that offered bundled off-net calls. These vouchers were priced between Rs 10 (with 124 minutes of off-net calls) to Rs 100 (with 1,362 minutes of off-net calls). These vouchers were to be purchased in addition to the recharge pack subscribers bought for 4G data. With the new All-in-One Jio plans, the company has attempted to simplify the plans and give subscribers more data at a similar price.