"Jio subscriber base has reached more than 340 million, with the company claiming it adds 10 million users per month"
Jio is now the largest telecom operator in India in terms of revenue and user base, according to RIL Chairman and MD Mukesh Ambani. At the RIL AGM 2019, Ambani announced the Jio subscriber base has reached 340 million users. He also said the company is also the world's 2nd largest telecom operator. More importantly, the operator is said to be adding 10 million users per month and a subscriber base of 500 million is within the reach of Jio, Ambani said. The brand surpassed Airtel to become India's second-largest telecom operator by user base in July this year. Vodafone-Idea is now the third biggest telecom operator with a user base of 320 million in June this year. Airtel now sits on the second place with total subscribers of 320.44 million.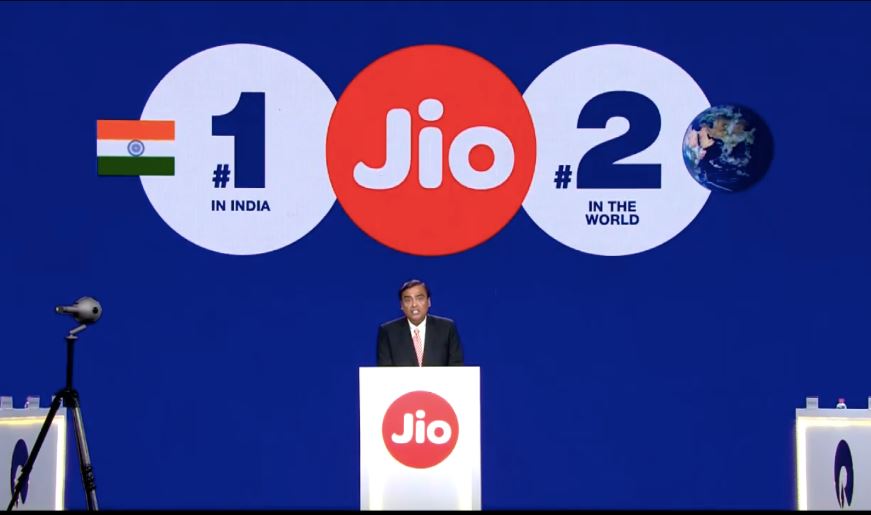 Reliance Jio has become India's largest telecom operator within three years of operations in the country. The investment cycle for Reliance Jio is now also complete. The company originally soft-launched the services in December 2015, which were available to the public on September 5th in 2016. The brand started offering its services for absolutely free for a few months, providing 4GB of free data usage per day at 4G speeds (and 128kbps thereafter) and its suite of premium apps. This created a ripple in the country's telecom market, resulting in the merger of many operators.
Apart from making this announcement, Reliance Jio has also announced that it will commercially launch the Jio GigaFiber service on September 5th, the day the brand will complete three years of operations. The service's most basic plans will offer a minimum internet speed of 100Mbps, which will go up to 1Gbps, depending on the plan. The high-speed broadband service's plans will be priced between Rs 700 and Rs 10,000 per month. The Jio GigaFiber will reach 20 million residents initially. The roll-out of the service will complete in the next 12 months. Notably, the brand has also revealed that the amount of fiber laid by Jio can encircle the earth at least 11 times.