"The offer would be available to everyone starting September 5th"
The details on the long-overdue commercial launch of Jio's 4G network have finally been announced, including tariffs, discounts for students and special benefits for corporate customers. One of the biggest highlights of the announcements however, is the Welcome Offer. Speaking at the company's Annual General Meeting, Mukesh Ambani, Chairman and Managing Director of Reliance Industries (RIL), announced that as part of the Jio Welcome Offer, new users can access the Jio suite of services for free, starting September 5th till December 31st, 2016.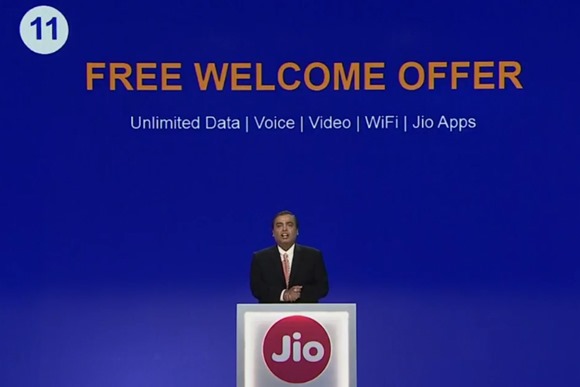 The Jio Welcome Offer provides unlimited HD voice calls, unlimited 4G LTE data, unlimited SMSes, access to Jio's Wi-Fi hotspots along with access all its premium apps, all for a princely sum of Rs zero. At first glance, the Welcome Offer looks like the same Jio Preview Offer that had become massively popular over the past few weeks, but has now been opened for everyone. Our interpretation of this is that anyone with a 4G phone can avail the offer (confirming the news that had done the rounds a few days earlier), and isn't just limited to owners of smartphones from a select set of brands.
As per Ambani, the Welcome Offer will let everyone try out the Jio network and related bouquet of services, and will also give the company a chance to test its networks for speed, stability, and overall performance. Needless to say, this announcement, plus Jio's aggressive pricing for data, offer of lifetime free voice calling to all its customers, and other benefits being made available to students and enterprises, will end up revolutionising the telecom sector in India and give other operators sleepless nights… eventually leading to massive price wars. All said and done, it's the customers that ultimately stand to benefit and that's what matters. The promise of fast, affordable internet connectivity available easily to the masses, if fulfilled, should help in a big way and fuel the growth of the country.