Highlights
The growing problems with foreign social media and online gaming app have led to the rise of several made in India apps
Koo app is an Indian alternative to Twitter
Desi apps for WhatsApp, TikTok, and PUBG have also been launched
Koo app has been trending in India due to the standoff between the Indian government and Twitter. Several prominent leaders and politicians, including Ministers Ravi Shankar Prasad, Piyush Goyal and Madhya Pradesh chief minister Shivraj Singh Chauhan, have recently flocked to Koo, which is pitched as an Indian alternative to US-based microblogging platform Twitter. Koo isn't the only homegrown app that has soared popularity in recent months. There are a handful of other made in India apps as well, such as Sandes, FAUG, and MX Takatak, among others, that are seen as alternatives to popular apps like WhatsApp, PUBG Mobile, and TikTok, respectively.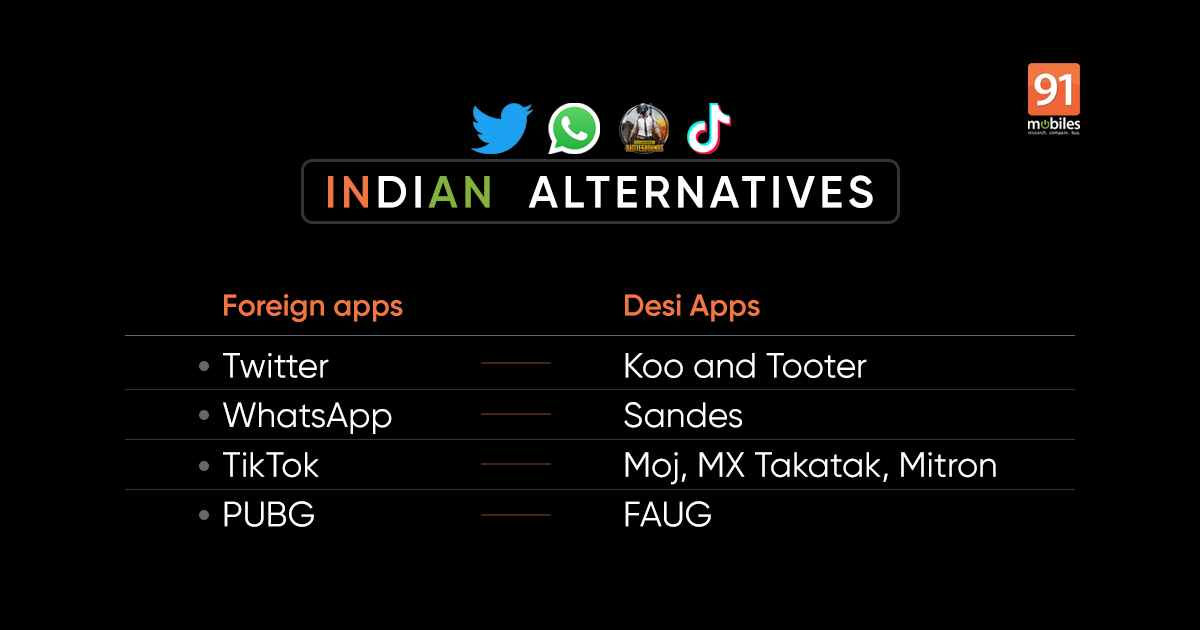 Made in India Twitter alternatives: Koo and Tooter
Koo
The Koo app was originally launched back in March 2020. Koo started trending in India after the centre rebuked Twitter for not blocking and unblocking accounts linked to the farmer protests. While Koo is similar to Twitter in the sense that it allows users to post and follow others on the platform, there are a few subtle differences. For starters, you Koo on the Koo app, not tweet. Additionally, Koo has 400 characters limit as opposed to 280 characters on Twitter. While questions have been raised about the app's privacy, you can post on Koo in Hindi, Tamil, Telugu and Kannada languages, with more Indic languages support including Punjabi, Bangla, Oriya, Malayalam and Assamese adding soon. Koo works on both Android and iOS-powered devices.
Download Koo: Android mobile phone/ iPhone
Tooter
Tooter is another Indian alternative to Twitter. The micro-blogging platform has been active since July last year, with pretty much the same features as its rival foreign app. You have a profile, a news feed, a box to share updates, and a timeline that lets you scroll through the latest updates from the people you follow. Much like Twitter, Tooter also has verified profiles with a blue tick next to their name so that you know that the update has been shared from the authentic profile. However, so far Tooter is only on Android phones and not there on Apple's App Store.
Download Tooter: Android mobile phone
Made in India WhatsApp alternative: Sandes
Sandes is being tested in India as an alternative to WhatsApp. The instant messaging app is being used by government officials at the moment, but it can be downloaded by anyone on Android or iOS through the Gims website. There is no listing of the app on the App Store and Google Play Store yet. Sandes is backed by the government and comes with features similar to modern-day messaging platforms. You can send data messages, media files, and make voice calls using this desi messaging platform.
Read more: 5 things to know about Sandes, Indian government's WhatsApp alternative
Made in India PUBG Mobile alternative: FAUG
FAUG aka Fearless And United-Guards is seen as a desi version of the banned PUBG Mobile, although the company doesn't endorse it. The game was made available for Android mobile phone users last month. FAUG's gameplay is currently focused on close combat skills and melee action with linear missions and episodes. There are no weapons right now, but nCORE Games founder and chairman Vishal Gondal has teased guns, a battle royale mode, and more FAUG features that will be launching in the future. FAUG works on any smartphone running Android 8.0 or above. The game's download size is roughly 500MB, but this will vary depending on the device. FAUG hasn't been released for iPhones yet.
Download FAUG: Android mobile phone
Made in India TikTok alternative: Mitron, MX Takatak, Moj
Mitron
Several desi short-video apps jumped into the spotlight after the TikTok ban in India, and Mitron is one of them. After the initial hiccups where it was removed from Google Play Store for a short while, the app saw a meteoric rise in the country. This is due to the Mitron app's easy to use UI, which looks similar to TikTok, and editing tools. The app also allows users to create short videos with the help of background, sound bite and post them on the platform for others to watch. Users can also watch what others are posting through the app's library.
Download Mitron: Android mobile phone/ iPhone
MX Takatak
Not just the name, MX Takatak took inspiration for its logo, UI, and features directly from TikTok. The short video app designed by Mumbai-based MX Media offers a similar experience as that of the banned Chinese app. MX Takatak has quick video-editing tools, a range of filters and stickers, and a quick share option to post content on various social media platforms. The app is available for both Android and iOS users, and supports regional languages such as Gujarati, Marathi, Punjabi, and more.
Download MX Takatak: Android mobile phone/ iPhone
Moj
Moj also became quite popular in India after TikTok's ban. The app, developed by ShareChat, has over 100 million downloads on the Google Play store as of now. Moj caters to the Indian audience with support for 16 languages, including Bengali, Gujarati, Kannada, Malayalam, and others. There is a lip-syncing function to recreate movie dialogues and music albums. Moj also allows users to create quick vlogs on a wide range of topics – from food to sports, with fun filters, stickers, and quick-edit tools.
Download Moj: Android mobile phone/ iPhone