Highlights
Lava Z2, Z4, and Z6 will go on sale in India today starting 12 PM IST
Lava Z2 price in India starts from Rs 6,999
You can customise your Lava phone through the MyZ program
Lava Z2, Z4, and Z6 are set to go on sale in India today at 12 PM IST. The smartphones were announced in India last week alongside the entry-level Lava Z1, though the latter will be going on sale only on January 26th. The 'Made in India' Lava Z-series phones come with prices starting from Rs 5,499. Notably, these are the first set of phones that offer customisable RAM/storage, cameras, and colours through the Lava MyZ program. We will explain how you can customise your own Lava phone, but before that here's a quick look at the Lava Z2, Z4, and Z6 prices in India.
Lava Z2, Z4, and Z6 prices in India
The Lava Z2 price in India is set at Rs 6,999, while the Lava Z4 and Z6 are priced at Rs 8,999 and Rs 9,999, respectively. The three smartphones will be available for purchase starting today at 12 PM IST through Lava's official website. You can purchase the devices with their set specifications or you can customise your Lava phone through the MyZ program.
How to customise your Lava Z-series phone?
To customise your Lava phone, you need to first head to the Lava mobile website and the MyZ program. Here, you will be able to customise the Lava phone in five steps. Note that the customisations are only available on the Lava Z2, Z4, and Z6 models. Based on your choices, the website will show you the final price that you will have to pay.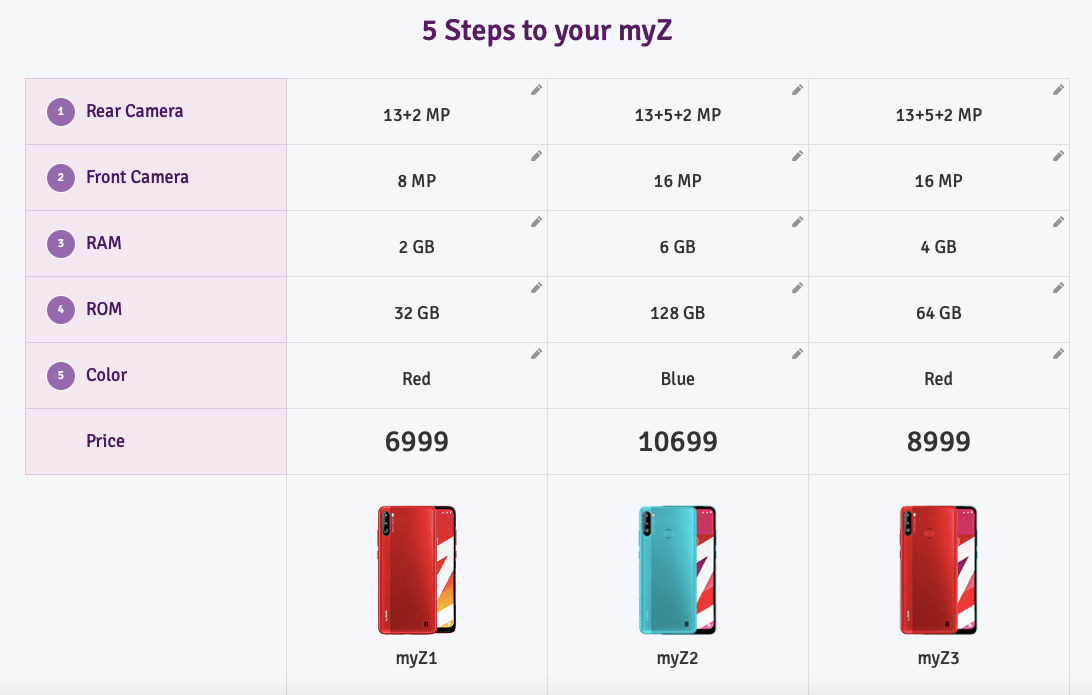 For example, if you customise the Lava phone with maxed out specs i.e 13MP triple cameras, 16MP front camera, 6GB RAM, and 128GB internal storage, the final price comes to Rs 10,699. If you select low-end specs i.e 13MP dual cameras, 8MP front camera, 2GB RAM, and 32GB internal storage, the price comes to Rs 6,999. You can customise the Lava phone based on your budget and you can choose between Red and Blue colour options.
While you can customise the rear camera, front camera, RAM, ROM, and colours, you won't be able to change the chipset, battery, and display. All three phones come with the MediaTek Helio G35 chipset, a 5,000mAh battery, and a 6.5-inch HD+ IPS display that is fixed.
Lava Z2, Z4, and Z6 specifications
If you don't wish to customise your Lava phone, you can simply buy the Lava Z2, Z4, or Z6 with their set specifications. The Lava Z2 comes with a 6.5-inch HD+ display, Corning Gorilla Glass 3, MediaTek Helio G35 SoC, 2GB RAM, and 32GB internal storage. The phone also gets a 13MP + 2MP dual rear camera and an 8MP front camera. The Lava Z4 is similar to the Z2 but with upgraded cameras and a fingerprint sensor. The Lava Z6 specifications are similar to the Z4, but with 6GB RAM.