"The Le Max 2 is a powerful smartphone, but the design leaves a little something to be desired"
LeEco's debut smartphone in India, the Le 1s (review), created ripples in the country with its disruptive pricing and powerful specs. In the process, it managed to steal the thunder away from its more loaded sibling, the Le Max (first impressions). Hardly surprising, since the Rs 10,000 price segment, where the Le 1s is positioned, is currently the most hotly contested and voluminous segment in the country as far as phones are concerned. Moreover, buyers tend to be more choosy about brands as the asking price goes up, and the Le Max, which is priced at Rs 32,999, would definitely be feeling the heat from established players. It's still a lot of phone for your money though, with its massive 6.33-inch 2K display as one of its key highlights. It's also crammed with high-end internals and powerful shooters. Which brings us to its successor, aptly named the Le Max 2. Unveiled just a couple of days ago in Beijing, the latest flagship from LeEco ups the ante quite a bit in terms of the power, and is also priced quite aggressively if we were to consider its cost in China. Let's take a closer look…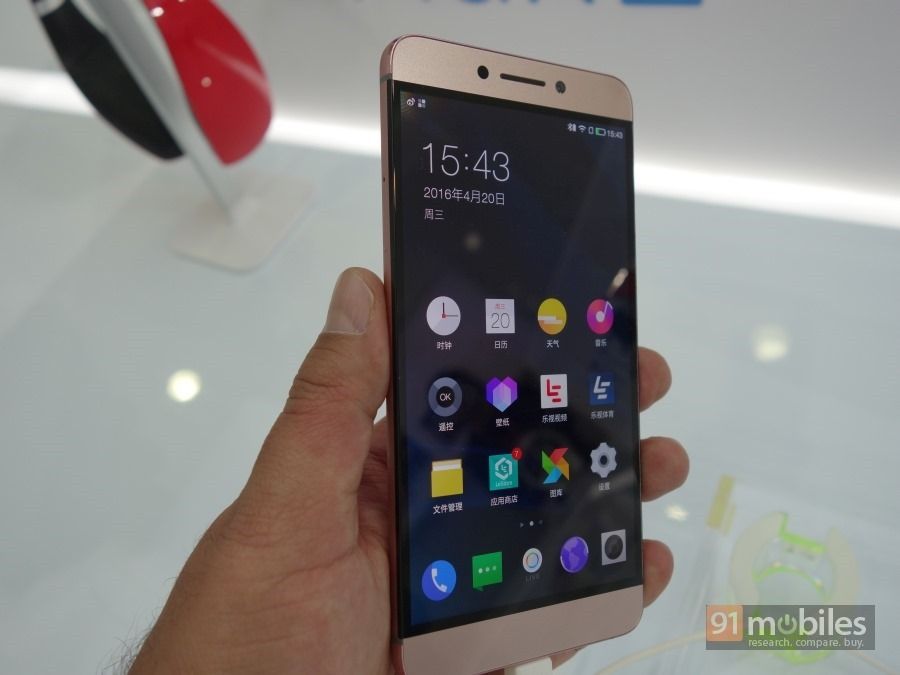 The Le Max 2, just like its predecessor and more affordable siblings, comes wrapped in metal. Surprisingly, its design looks very similar to its VFM siblings, the Le 2 and Le 2 Pro (first impressions), both of which are new devices that shared the launch dais with the Le Max 2. Don't get us wrong – all three of these phones look good in their metal bods and rose gold finishes. The Le 2 and Le 2 Pro in fact, look and feel significantly more premium than what their pricing might suggest. The Le Max 2 sticks to the same design and build, and while it certainly is flagship-grade in both these aspects, our main gripe is that it doesn't look different.
At the front is a screen boasting QHD resolution, but this time, LeEco has brought it down to a more manageable 5.7-inch size (as compared to 6.33-inches on the older model). This means that the Le Max 2 offers better handling, though it's still not ideal for one-handed usage. Below the screen is a row of backlit capacitive navigation keys, and you'll see the usual earpiece, sensors and front camera on top. That front camera offers an 8-meg sensor, by the way.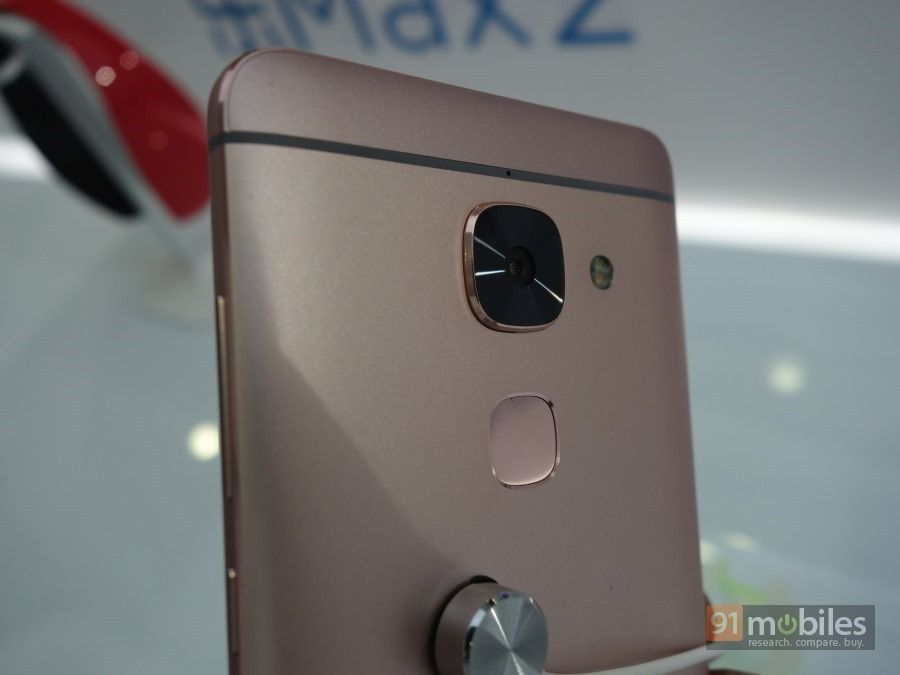 The rear is massive expanse of metal, with a large window that hides the primary camera jutting out of the body. The primary shooter boasts a 21-megapixel sensor from Sony, and as you can imagine, can record video in both 4K and slo-mo too. You'll also see a dual-LED flash and a mirror-finished fingerprint sensor. A LeEco logo can be seen closer to the bottom.
On the left spine, sits an ejectable tray that gobbles up a pair of nano-SIMs – there's no place to add a microSD card. The right side is where the volume rocker and power key are located, while the top is home to an IR blaster.
At the bottom, you'll find a USB Type-C port along with the speaker. And just like the Le 2 and the Le 2 Pro, the 3.5mm headset socket is nowhere to be found. It's as if someone just forgot to put it there. Now that would have been a major 'oops' moment, but that's not the case at all. You see, the new phones from LeEco employ CDLA (short for Continual Digital Lossless Audio) which utilises the USB Type-C port for audio out, and promises significantly better sound quality as compared to the conventional 3.5mm socket. Accordingly, the company has also outed in-ear and over-ear headphones that come with Type-C connectors, and work with the new set of phones. And as we pointed out in our Le 2 / Le 2 Pro hands on, we're quite sceptical about this approach, given many people use their own headphones with mobile devices. While LeEco promises it's going to bundle an adapter that would let one use regular headphones with the new phones, that could still pose problems as adapters are easy to misplace.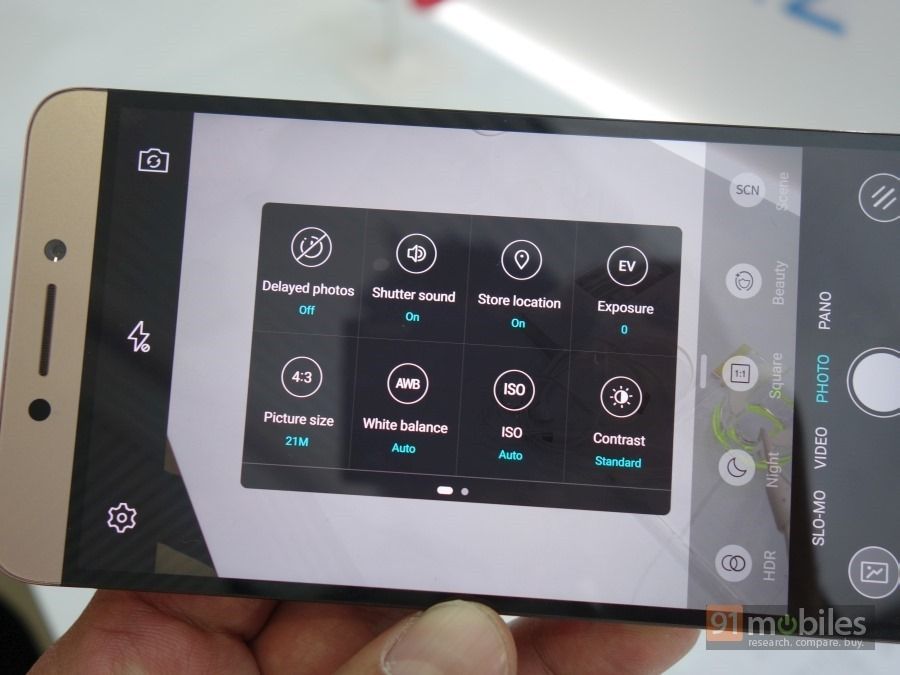 The softer aspects of the device involve Android Marshmallow, along with LeEco's custom eui interface. We won't go into the details since we've covered what you need to know about this UI in our review of the Le 1s, but suffice to say that it's quite simple and straightforward, and unsurprisingly, doesn't offer a dedicated app drawer. The camera interface is simple as well, and when you dive a little deeper, you'll discover options to control various aspects like exposure, contrast, white balance and ISO.
Under the hood sits a top-of-the-line Snapdragon 820 processor, so we can expect some pretty smooth performance. The Le Max 2 will come in multiple variants, with the top-end model offering a whopping 6 gigs of RAM and 64GB storage – and this should certainly be the one to watch out for if you're after a truly loaded daily driver. Then there are other variants that offer 4GB RAM and 32/64GB storage, and even this isn't a bad combination in terms of pure specs. Our demo unit was a 4GB RAM model with 32 gigs of storage, and we couldn't see any signs of lag or slowdowns in our brief usage. The 2K screen looks quite capable too. And as far as the camera is concerned, a few test shots indicated fast focussing capabilities, though it's a tad early for us to comment on image quality. A 3,100mAh battery with Qualcomm's Quick Charge 3.0 technology fuels the device.
The pricing for the Le Max 2 starts at around Rs 21,500 for the base model, going up to about Rs 25,500 for the top-end model that boasts 6 gigs of RAM. These are figures converted from the sticker prices these variants carry in China, and if LeEco can match these when it brings the Le Max 2 to India, we're sure it could create some big waves. That said, the same price band already has powerful contenders like the Xiaomi Mi 5 (review) along with other existing veterans like the Moto X Style (review). Pricing would be key, and LeEco's promised content ecosystem should add to the sheen when the Le Max 2 does land on our shores, which could be as early as end-May or June. We'll wait and see how it plays out, but for now, the Le Max 2 is looking like a solid option for what it brings to the table.