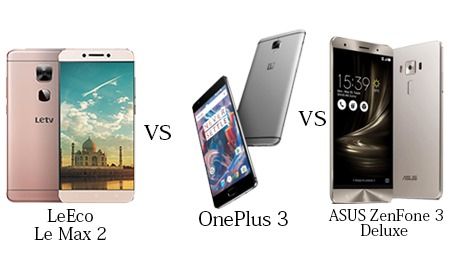 "These phones are heating up the affordable flagship segment, but which one's the right choice for you?"
Qualcomm's latest-and-greatest Snapdragon 820 SoC, 6GB of RAM, 64 / 128GB of storage onboard… no, we aren't talking about the ideal spec sheet for some high-end smartphone, but the hardware that's powering the new-age phones that are aiming to deliver flagship-level experience without burning your pocket. Chinese brand LeEco's flagship offering, the Le Max 2 (first impressions) is among the first few options in India to flaunt 6 gigs of RAM. ASUS recently took covers off its third-gen ZenFones, and the ZenFone 3 Deluxe (first impressions) is the pinnacle of the series, and can be expected to land in India sooner than later. Last but not the least, we have the OnePlus 3 (review), which was unveiled just now, through an immersive VR event in a space station.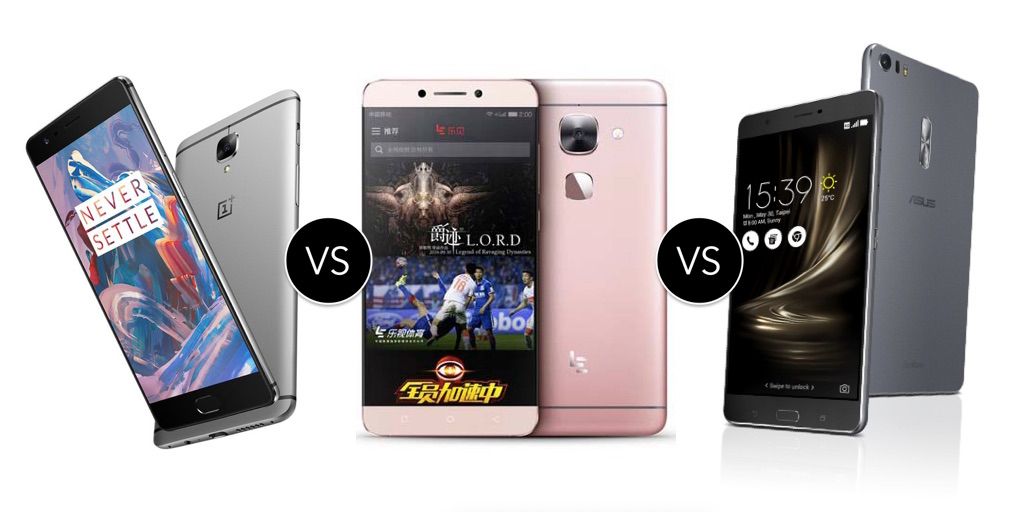 What's even more interesting is the fact that the specs boasted by such phones aren't even being matched by top-end phones, since most of them have 4GB of RAM only, in comparison. However, with more choices, comes the difficult task of choosing your next purchase. So, if you're confused between these options, then you've come to the right place. Read on as we dissect all these smartphones on various aspects to find out which one's best for you.
Design and display
Gone are the days when metal as a construction material was restricted to premium smartphones. All the three phones in our comparison, sport metallic bodies and thus are attention-grabbers. They all feature a distinct design language.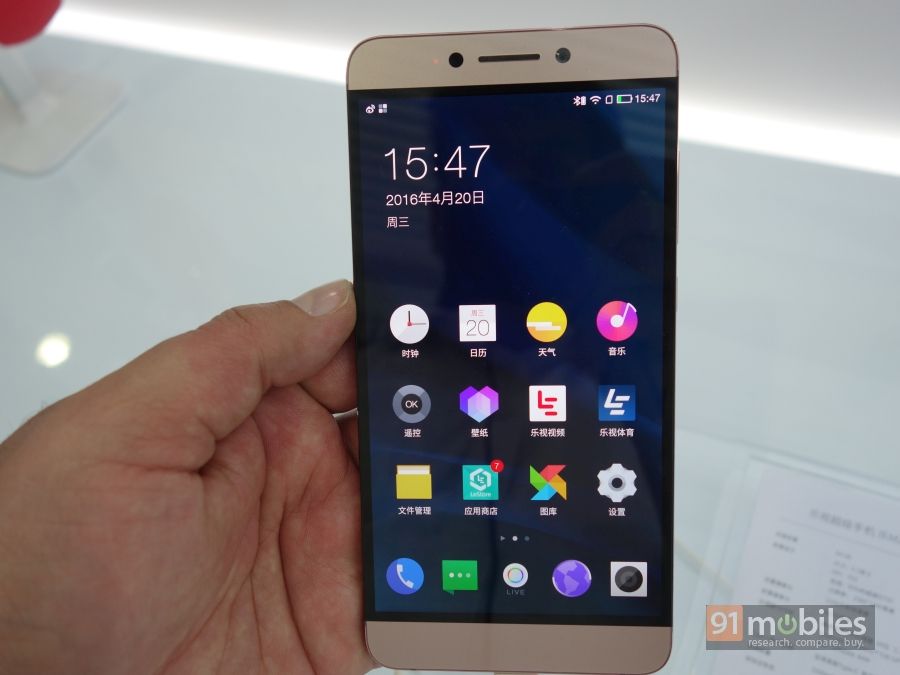 The LeEco Le Max 2 carries forward the aesthetics from its predecessor, the Le Max (first impressions), though it doesn't seem to be as attractive as the other two. It does manage to remain sleek with an 8mm waist, and it also misses out on the 3.5mm audio socket. This is because the manufacturer is hoping to deliver a superior audio experience with its proprietary CDLA (Continuous Digital Lossless Audio) technology, though you'd need to purchase compatible earphones or headphones for the same separately. You can get the phone in silver or black options, along with the iPhone-inspired 'rose gold' hue.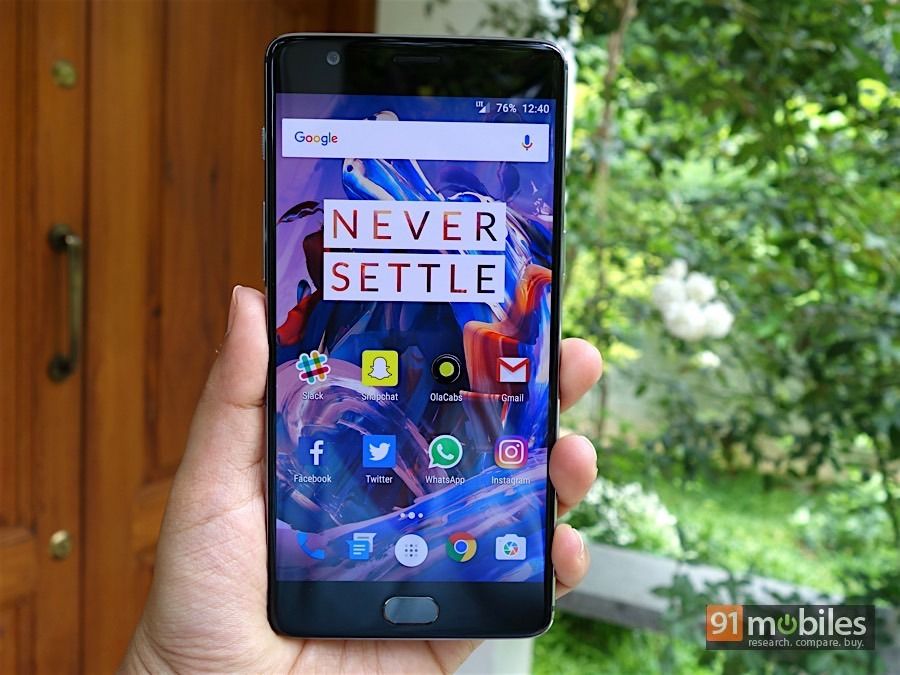 While OnePlus offered a unique sandstone finish at the back of its previous flagships, it has now joined the all-metal club with the OnePlus 3. In fact, the handset seems to have borrowed quite a few design elements from HTC's One line of phones with its aluminium unibody and dual curves at the rear. It's available in graphite colour, with the gold version slated to launch later.
Even with an all-metal body, the ZenFone 3 Deluxe is quite slim and lightweight. ASUS' claim to fame for the design of the phone is its invisible-antenna body, which adds to the charm. It's also quite shiny thanks to its thin bezels and company's trademark concentric circles at the fascia. It will be available in grey, silver and gold hues.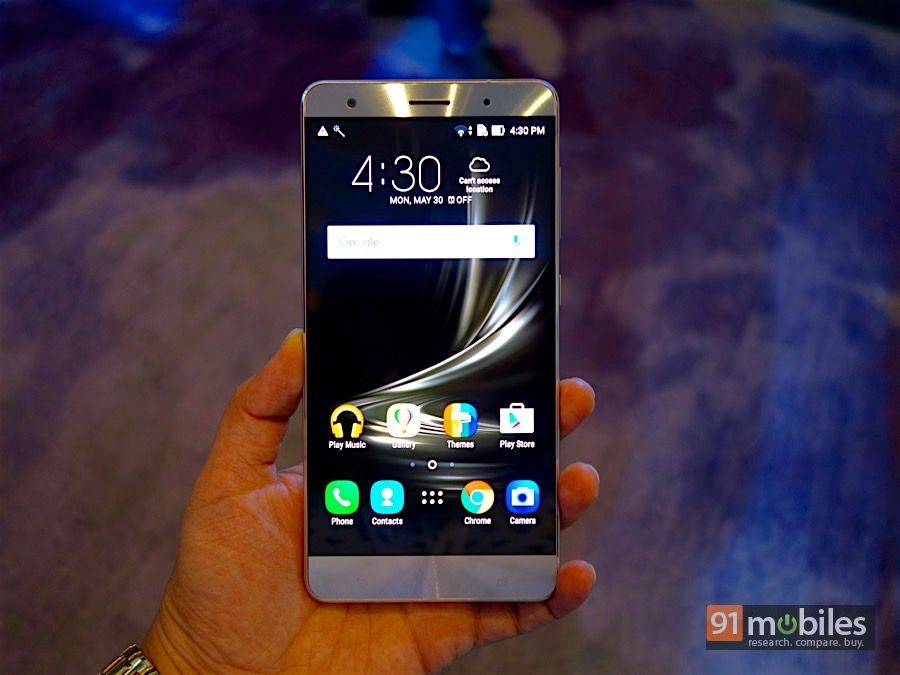 LeEco's previous flagship, the Le Max featured a gigantic screen size of 6.33-inches, and its successor is built around a slightly smaller and handier display panel of 5.7-inches. The ZenFone 3 Deluxe also sports a similar screen size. In contrast, OnePlus has kept the size of displays the same for its 'flagship killers' since their inception, i.e. 5.5-inches. The Le Max 2 offers an IPS display panel, the OnePlus 3 features and Optic AMOLED screen, while the ZenFone 3 Deluxe flaunts a Super AMOLED panel. Protecting the display in all three phablets is a layer of Corning Gorilla Glass.
However, when it comes to the sharpness, the LeEco Le Max 2 trumps the competition by offering an eye-popping resolution of 2,560 x 1,440 pixels. Both the OnePlus 3 and ZenFone 3 Deluxe have standard full HD resolution.
Performance
We already gave you a sneak peek at the hardware powering the trio… the Qualcomm Snapdragon 820 processor leads the charge and it's coupled with beefy 6GB of RAM. Both the LeEco Le Max 2 and ASUS ZenFone 3 Deluxe are also available with 4 gigs of RAM. After the Snapdragon 810 was plagued with heating issues, the chipmaker has worked from the scratch for its flagship silicon, which uses four cores of custom-built Kryo chip, with the two high-power cores tuned at 2.2GHz and other two cores running at 1.6GHz. Handling the graphics department is powerful Adreno 530 GPU, which promises up to 40 percent improvement than its previous iteration.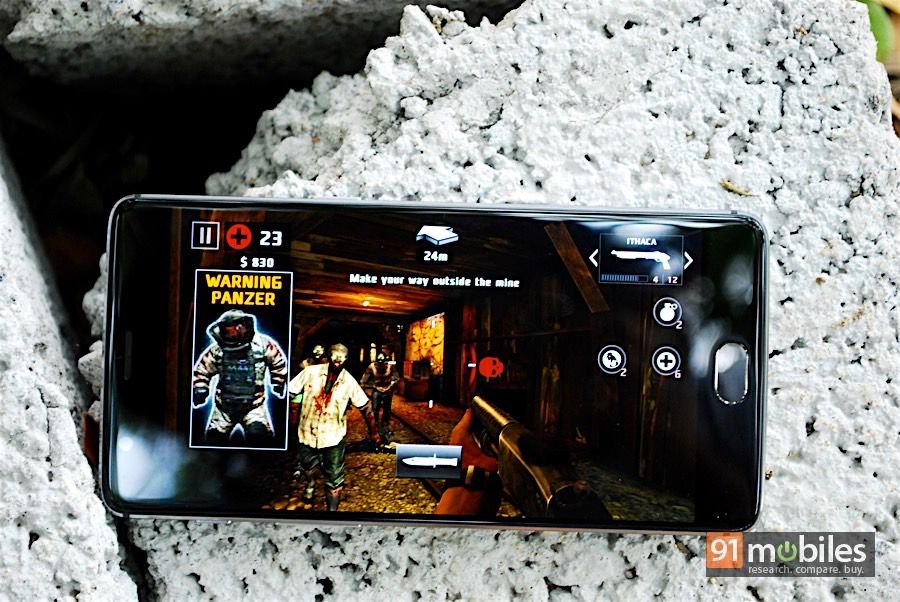 We have already reviewed quite a few mobile devices fuelled by the Snapdragon 820, and believe that all the contestants in our today's battle would shine through any task thrown at them. Multitasking and switching between apps shouldn't be an issue either, thanks to the ample amount of RAM at disposal.
To enhance the security, the triad comes with a fingerprint scanner. While the OnePlus has offered it at the front underneath the home button, both the Le Max 2 and ZenFone 3 Deluxe sport it at the rear, below the camera module. LeEco boasts that its implementation of the biometric authentication is the fastest – and most accurate – thanks to the Ultrasonic technology, which can recognise wet fingers too.
Cameras
While the phones seem to be matching each other till now, they are vastly different on the camera front. The LeEco Le Max flaunts a 21-meg Sony IMX230 sensor at the back, with an aperture of f/2.0. OnePlus has opted for a 16-megapixel sensor for its latest offering. But the ASUS's ZenFone 3 Deluxe bests both of them with its 23MP snapper at the rear.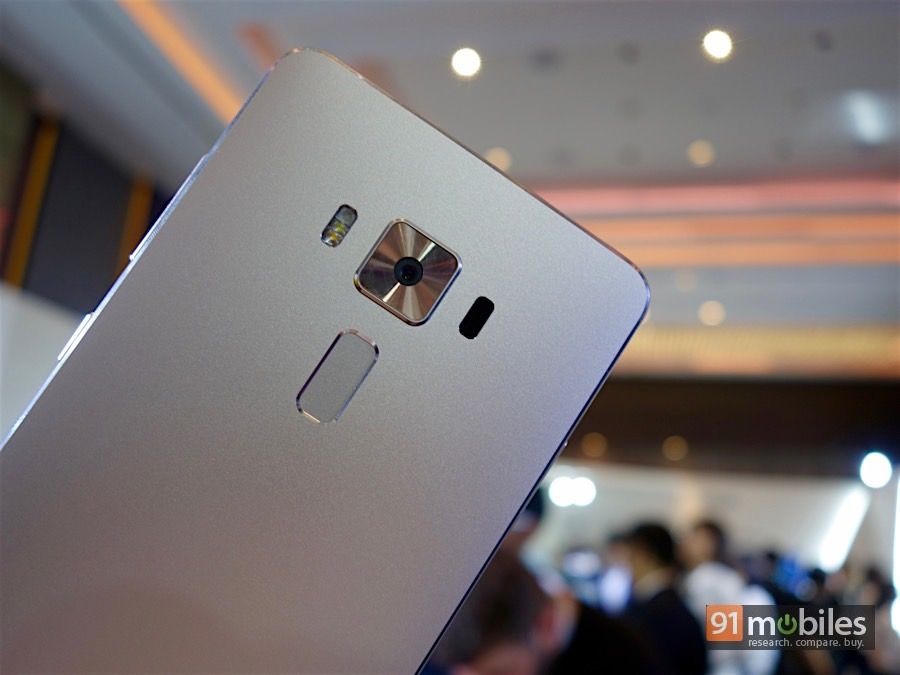 You also get usual features with the primary cameras of the trio – dual-tone LED flash, phase detection autofocus, optical image stabilisation, 4K video recording and more.
The smartphones won't disappoint the selfie enthusiasts either, with all of them offering 8MP shooters at the front.
Storage and battery
As mentioned earlier, the LeEco Le Max 2 is available in two variants – one with 32GB storage / 4GB RAM and the other with 64GB memory / 6GB RAM. Unlike its predecessors which were available in two models, the OnePlus 3 comes only in a single version, which ships with 64GB of memory on board. If choices are what you are after, then the ASUS ZenFone 3 would certainly pique your interest as it's available in multiple configurations, with up to 256GB of storage. However, since it isn't launched yet, we don't really know if the Taiwanese company will be bringing all the models in the country.
While the available storage should be sufficient for most users in these handsets, if you want to expand it further, then only ASUS ZenFone 3 Deluxe supports that.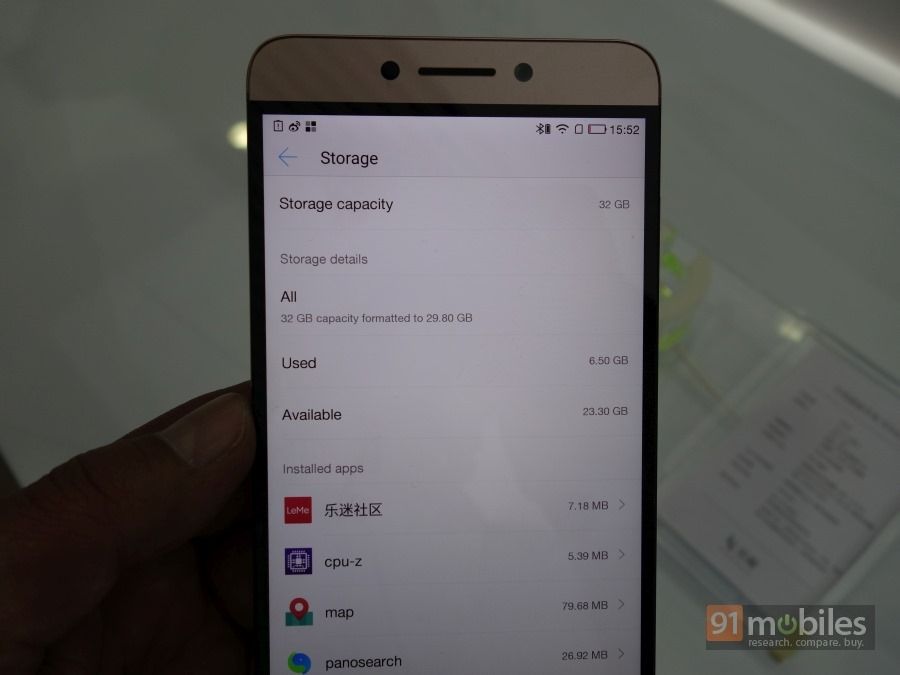 All that power won't help if the phone doesn't last a day, and our contestants have tried to take care of that aspect. The LeEco Le Max 2 is powered by a 3,100mAh battery, while the OnePlus 3 and ZenFone 3 Deluxe draw juice from slightly smaller 3,000mAh units. While battery life can't be known without the real-life usage, it seems the Le Max 2 would be having a tough time to ensure a day's worth of backup considering its 2K display.
Don't you worry if you need to charge them up quickly, as all of them support fast charging standard. The OnePlus 3 features the company's own Dash Charge technology, which claims to charge the phone up to 60 percent within 30 minutes, whereas ASUS promises the same amount in 39 minutes thanks to its BoostMaster tech.
Software and connectivity
The triumvirate ships with the latest iteration of Android, i.e. v6.0 Marshmallow, but that's where the similarity ends. Thanks to their custom skins, they are poles apart from each other.

The LeEco Le Max 2 runs the proprietary layer dubbed eUI which stands at version 5.8, and offers a unified homescreen and app drawer. There's a minimal amount of bloatware on the phablet, but it does offer company's Supertainment ecosystem, with a Live desktop and apps like Eros Now and YuppTV.
After its debut offering, OnePlus' relationship with Cyanogen turned sour and it started developing its own customisation, which launched with the OnePlus 2 (review). OxygenOS, as it's called is as close to stock as possible, but features some useful features such as a dedicated homescreen named Shelf. It also supports various gestures such as double-tap-to-wake and the ability to trace certain characters to open apps.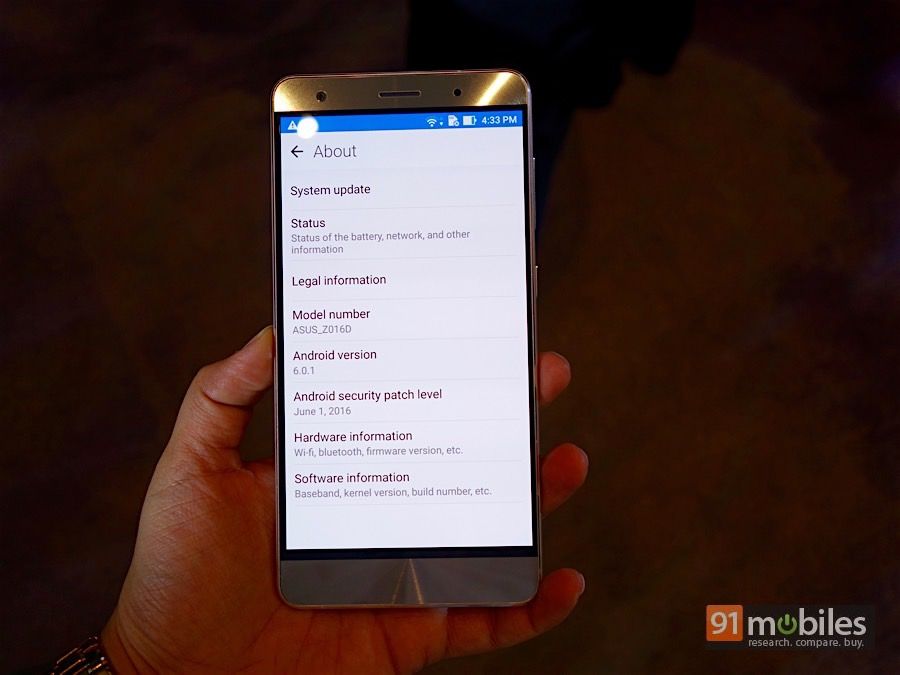 ASUS has taken a completely different approach with its software, since ZenUI is loaded to the brim. The ZenFone 3 Deluxe features a number of preloaded titles, with many of them coming from ASUS itself. It also has a slew of functionality such as double-tap-to-wake, off-screen gesture support, one-hand mode, etc.
In terms of connectivity, you won't miss out on anything with these handsets. The dual-SIM smartphones support 4G, Wi-Fi, Bluetooth and GPS. Additionally, the OnePlus 3 and ZenFone 3 Deluxe have NFC, which makes it easier for one-tap pairing or sharing. The triumvirate also features the next-gen USB Type-C port for charging or data transfers.
Pricing and availability
LeEco has extended its powerful-specs-affordable-pricing ideology to its flagship smartphone as well. While the Le Max's sticker price of Rs 32,999 seemed quite high, its successor is priced at Rs 22,999 for the 4GB RAM variant, and Rs 29,999 for the 6GB model. The phone will be available exclusively via Amazon and brand's own Lemall.in, with its first flash sale scheduled on June 28th. Registrations for the same will begin from June 20th.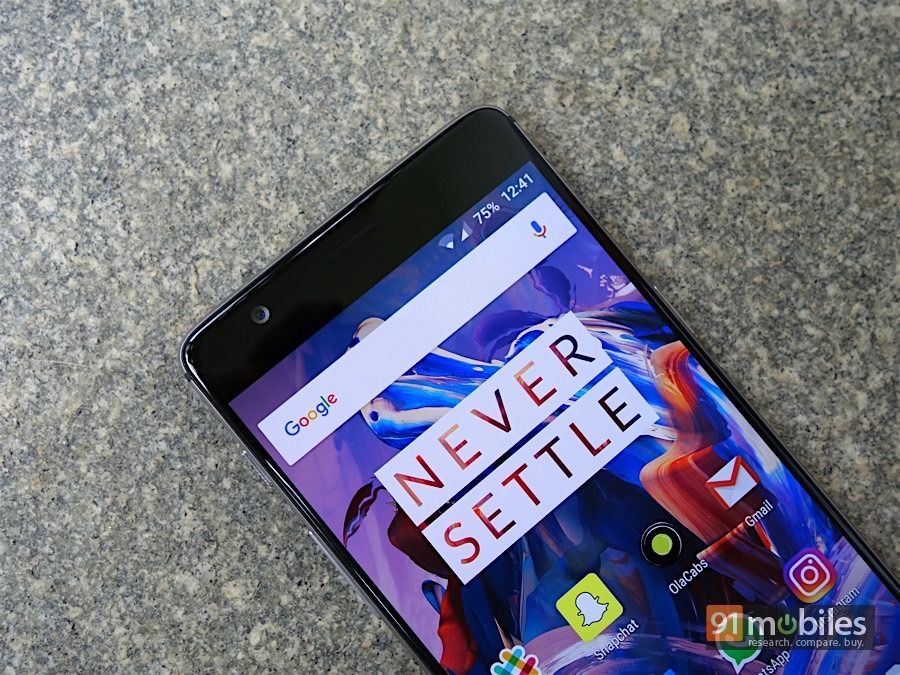 While Le Max 2 might take the time to reach consumers' hands, the OnePlus 3 is aiming to steal its thunder by becoming the first smartphone with 6GB RAM to go on sale in India. Not just that, it's also the cheapest one with its price tag of Rs 27,999. The Chinese startup is also aiming to solve the availability issue for its next-gen flagship too, since it has ditched the invite-only model and the OnePlus 3 will be available on open sales via Amazon.
Sadly, we don't have any official confirmation of the pricing or availability of the ASUS ZenFone 3 Deluxe. Based on its international pricing of $499 (~33,530) for the 6GB / 64GB model, it seems expensive than the LeEco Le Max 2 and OnePlus 3. We surely hope it's priced lesser than that, when it launches around the month of August.
Closing thoughts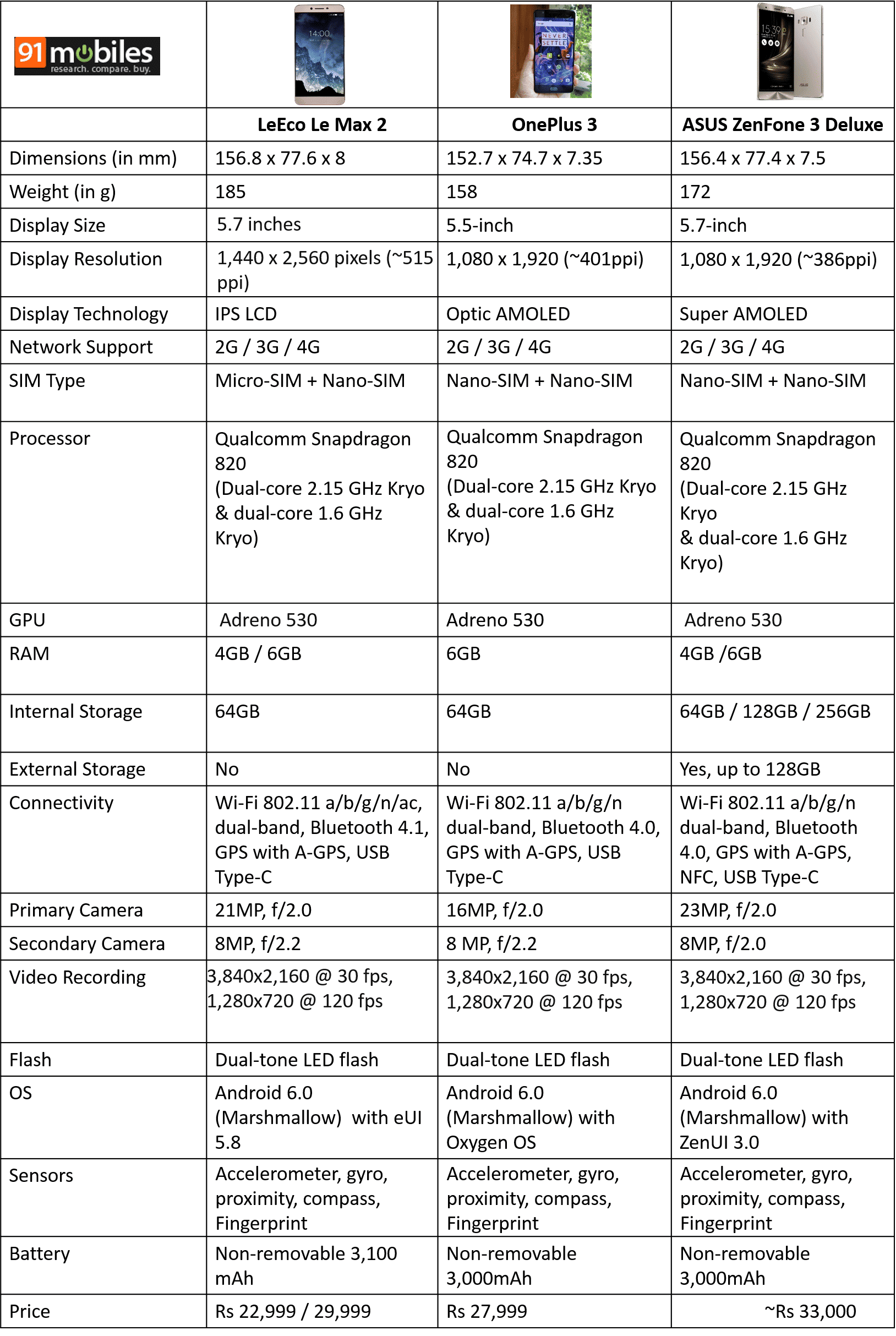 If you're looking at the spec-to-price ratio, then the LeEco Le Max 2 seems to be the best option out of these three. It offers the high-density 2K display and doesn't skimp on other aspects either. And, its content ecosystem is icing on the cake. However, if you're looking for ergonomic comfort, then the OnePlus 3 is slightly smaller, features an impressive design language and add to it the fact that it's the most affordable phone with 6 gigs of RAM. It's difficult to gauge the worthiness of the ASUS ZenFone 3 Deluxe before its launch, however its enticing design and loaded camera specs do make it seem like an option worth waiting for.
You'd notice that we have skipped the Xiaomi Mi5 (review) in this comparison, which is the reigning champ of the sub-Rs 25k segment. That's because, unless you're looking for a compact handset, the troika we've chosen in this comparison, beats it in almost every department.