"Lenovo Z6 Pro will arrive with a Hyper Video camera that will able to record ultra-high-bitrate Hyper Video Content, which needs a transfer rate of 10GB plus."
A fully 5G-enabled flagship smartphone of Lenovo has been teased by its VP at the 2019 Mobile World Congress in Barcelona. In a live presentation, which was recorded by Notebook Italia, Lenovo Phone VP Edward Chang has announced that Lenovo is prepping up for releasing Lenovo Z6 Pro. The upcoming flagship device will focus on significant features – it will be able to record and play ultra-high-bitrate Hyper Video content.
This isn't the first time from Lenovo saying about its 5G flagship device. In last August it had declared that it was arriving with "the world's first 5G mobile phone." But the claim was deleted ahead of Motorola unveiled Moto Z3. The Motorola is the sub-brand of Lenovo and Moto Z3 came out as a 4G device with an optional 5G support.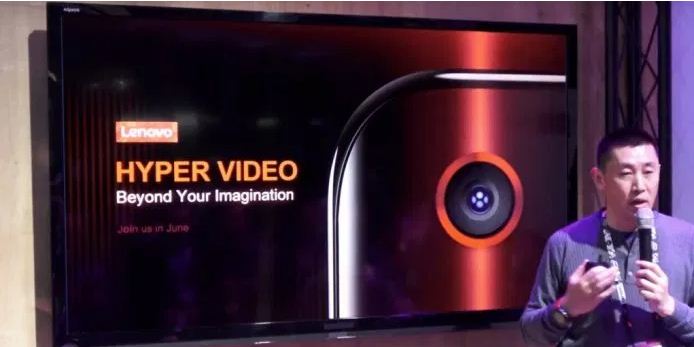 In Barcelona, Mr Edward Chang said that Lenovo is digging hands in making "hyper video" devices. However, he did not explain what the "hyper video" term actually means, he rather added that to transfer a 5G hyper video 10GB+ network rates will be required.
As per his speech, the Lenovo Z6 Pro will arrive with a camera that is capable of recording high-bandwidth video content. The Hyper Video Camera of Lenovo Z6 Pro might be used for anything from 8K-resolution videos to volumetric/holographic recording. He did not reveal how the videos will be encoded and stored. But it's worth mentioning that the Qualcomm Snapdragon 855 processors, which are used in the latest Lenovo smartphones are capable of recording videos from two cameras simultaneously and it also helps to store them into a single HEVC file.
As for now, nothing except these facts have been revealed. Based on Chang's reference, the Hyper Video camera featured Lenovo Z6 pro will debut at least in China market in June. The brand has a history of teasing products ahead of the official announcement, so it can be expected to get more news about the Lenovo Z6 Pro before the event in June.