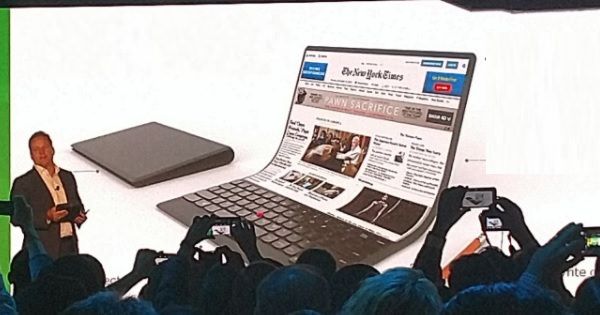 "The Lenovo foldable device will have a smaller 'outer' screen that reveals a bigger display when unfolded"
Smartphones and other devices with flexible displays are going to be a part of our lives very soon. Companies such as Samsung, LG, Lenovo, Xiaomi, and many others are working on foldable smartphones. In fact, Samsung's much rumoured Galaxy Fold could be launched as soon as March this year. However, Lenovo is also working on a foldable device and a new patent filing shows what the company has in mind.
A Lenovo patent filing with the USPTO, first spotted by Windows Latest, is for a tablet device with a foldable display. This could mean that users could have access to a much larger screen once the tablet is folded out or it could be a pocketable tablet that turns in to a larger display. The latter is similar to the Samsung foldable phone, which folds out to become a device with a large 7.3-inch screen. In the filings, Lenovo showcases mechanisms for the folding of the tablet, which appears to fold out to reveal a larger screen as well.
Lenovo filed for this patent in December 2017 and it was published only in July last year. The patent is for a 'Portable Information Device' and the description says 'a portable information device capable of securing the appearance quality or the durability of products while having a foldable configuration'. It also states that the device can be bent from the centre and folded inside. By the looks of it, Lenovo is using a hinge to fold the device.
This isn't the first time that Lenovo has shown interest in foldable or flexible devices. In 2016, the Chinese company showcased a phone with a 4.26-inch display that could wrap around a human wrist. The next year, it demoed a flexible tablet as well, but none of it was ready for commercialisation. Since this patent was filed in 2017, it is possible that Lenovo might be close to releasing something this year, especially since foldable devices seem set to see the light of the day in 2019.