"The certification documents from Brazilian agency reveal that the model number BL-T41 is a Li-ion battery with a capacity of 3,400mAh."
The LG G8 ThinQ is one of the many high-end smartphones that are making news related to the upcoming 2019 Mobile World Congress. Although the introduction of the V40 ThinQ hogged quite a bit of the spotlight, the focus seems to shift back to the G8.
We still don't know quite a lot about the upcoming LG G8 ThinQ, barring the fact that it will be closely similar to its predecessor in terms of the overall design. However, according to Mobiel Kopen, the G8 will have a better battery capacity than its predecessor.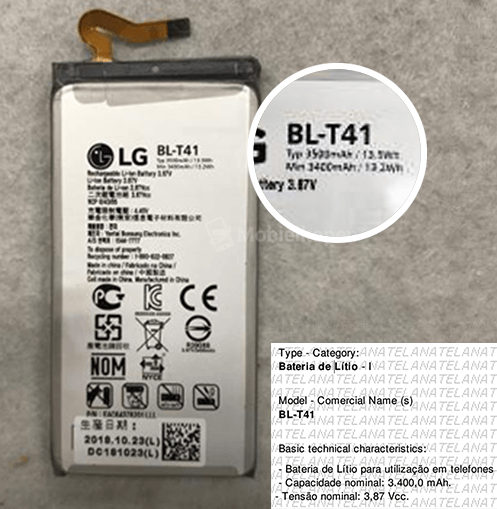 Apparently, Mobiel Kopen has found the documents for the battery certification from Anatel, the Brazilian certification agency. The certification documents has been issued to LG Electronics for a Lithium-ion battery with BL-T41 model number. This battery model number is believed to be for the upcoming G8 ThinQ and has a capacity of 3,400mAh, which is a lot more than the 3,000mAh of the G7 ThinQ.
Among other details for the LG G8 ThinQ, we can only make speculation on how the spec sheet would look like as there is no official word as of now. Based on the speculations, the G8 would be powered by the Qualcomm Snapdragon 855 SoC and will have a 6.1-inch OLED display. The screen will have a notch with a single camera lens and a few sensors. The aspect ratio would be 19.5:9.