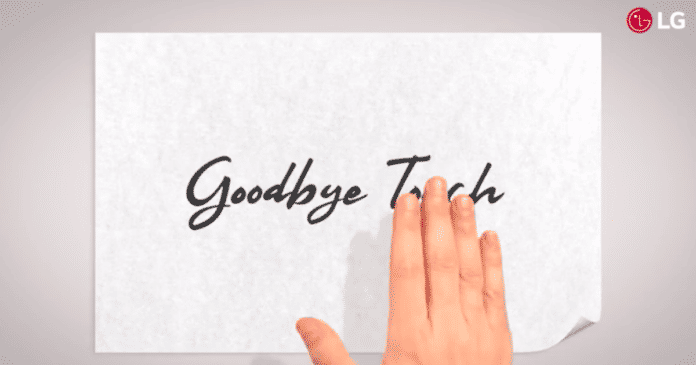 "The LG phone unveiled at MWC 2019 will seemingly feature a unique UI that works on hand gestures"
LG has shared media invites for an unveiling event at the next month's Mobile World Congress (MWC) in Barcelona. Going by the invite, which is in the form of a short video, the Korean manufacturer might be launching a new flagship with a touch-less UI. It is not clear which handset would be unveiled, but LG G8 is among the smartphones speculated for a MWC 2019 unveiling.
The LG MWC 2019 video starts with the message "Goodbye Touch" written on a white piece of paper, which is then effortlessly swiped away by a hand gesture to reveal the event will take place at MWC, on February 24th. Although we don't know much about this unnamed device, the video hints at a new type of display and user interface that can be fully controlled via hand gestures without requiring any touch input.
In a similar case earlier this month, Google's radar-based gesture control system for mobile devices, Project Soli, received FCC approval for use in the 57GHz to 64GHz frequency band. Announced by Google back in 2015, Project Soli aims to deploy radar-based motion sensors in chips that will allow users to operate electronic devices using hand gestures. The idea behind this is that instead of tapping directly on a screen, the project aims to use gestures like rubbing your thumb and index finger together to control a smartwatch or smart speaker. It was believed to be dead by many but the FCC approval this month has confirmed that the project is being developed at Google's "Advanced Technology and Projects" (ATAP) division.
If LG is able to successfully launch a gesture based smartphone at the MWC next month, it could help boost the struggling Korean manufacturer's standing in the smartphone market, which is currently being headed by the likes of Apple, Samsung and Huawei.