A Good News for those who are accompanied by a habit of misplacing their valuable Goods. The newly introduced StickNFind Sticker is a small Bluetooth enabled Disk that can be placed to the flat surface of any item that one intends to find out easily once it is misplaced.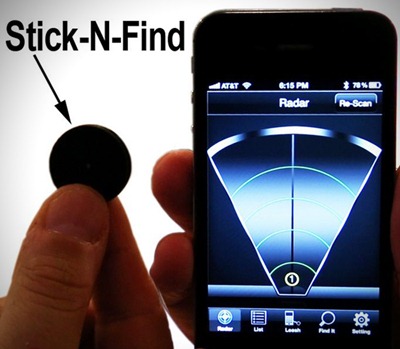 The Bluetooth sticker includes a Bluetooth Module and Antenna, a LED-lit Ring and a Piezoelectric Speaker. It also comes with a free Android or iOS App that enables you to find out any StickNFind Sticker within a range of 100-foot. The current version includes the features which can display your distance from your target object. Whereas an update for the StickNFind Sticker is expected before the shipping of the device which will add the direction features to the adhesive disk that will lead you directly towards your target.
A Beeper and LED ring can also be activated on StickNFind which may assist you finding your objects even in a dark room. The other features of the App includes a Virtual Leash and a Reverse Virtual Leash that would give you an alert to let you know whether the stick is within the range or not.
StickNFind Sticker is a disk shaped sticker just 0.15 ounce heavy with a thickness of 4.1 mm that makes it capable of getting stuck anywhere. The sticker has been powered with a replaceable CR2016 Watch Battery which lasts over a year when used for around 30 minutes a day.
The price for two StickNFind Stickers has been listed a $35 while a pack of 10 Stickers is available for $150 on Indiegogo with an estimated delivery date around March. Presently it is a Funding Campaign from StickNFind in order to raise funds to provide the project, an overall Production structure .