Highlights
MacBook Air with Apple's M1 chipset scored over one million points in AnTuTu
It is the first Apple device to score over one million points on the benchmarking platform
The MacBook Air handily beat the iPad Pro's score of 755,294.
A MacBook Air running Apple's Mi chip breached the one million mark on AnTuTu. It is one of the first devices that managed the feat and beat the iPad Pro by a wide margin. The MacBook Air masqueraded as an iPad Pro on AnTuTu, because Big Sur does not support the benchmarking platform. Given the Apple M1-powered MacBook Air's ability to run iOS apps natively, AnTuTu could not have known the difference between the two devices. Ever since its launch earlier this year, Apple's M1 chipset has been handily outperforming top-of-the-line PCs from the likes of Intel, so beating the older Apple A12Z Bionic is hardly a problem.
Also read: MacBook Air, MacBook Pro, and Mac mini with M1 chip launched: India prices, release date, specs
The Apple silicon-powered MacBook Air managed to score 1,119,243 on AnTuTu. Of that score, 5,38,944 is accounted for by the GPU, indicating that one is the fastest ARM-based GPU on the market. Its CPU score of 2,82,265 is also impressive, especially when compared to the similarly-specced A14 Bionic's score. Lastly, the MacBook Air gets a MEM score of 1,89,921, and a UX score of 1,08,113, both formidable in their own rights.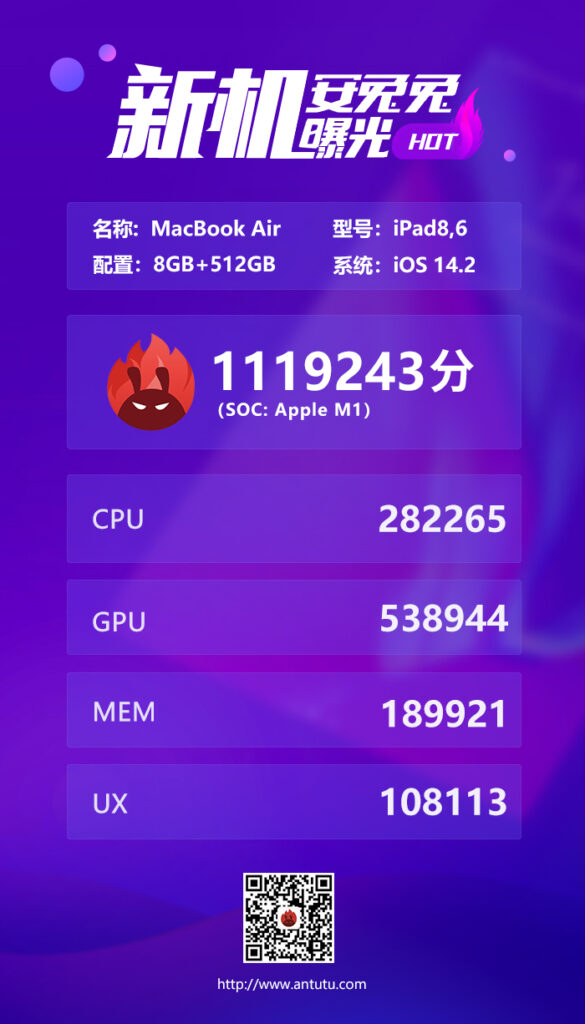 These astronomically high scores are likely possible due to the MacBook Air's laptop form factor, which allows it to operate at higher speeds compared to a smartphone/tablet. It is also worth noting that the MacBook Air lacks a dedicated cooling fan, so the chipset is prone to thermal throttling under sustained loads. However, the MacBook Pro has no such problem, so it has the potential to smash the MacBook Air's record with relative ease.