"macOS Catalina finally kills Apple's iTunes and instead includes separate Music, TV, and Podcasts apps"
Apple is currently rolling out its latest macOS Catalina software to all supported MacBooks and iMacs. The new update brings several new features and is one of the biggest updates in macOS history. The biggest change with macOS Catalina is the death of iTunes. The music player has been killed off after 18 years and replaced by Music, TV, and Podcasts apps. Apart from that, the new OS update also includes Sidecar, a feature that allows the iPad to be used as a secondary display. Catalina comes with Apple TV+ subscription, Apple Arcade gaming support, and more.
macOS Catalina's most important feature is probably Sidecar. With this enabled, users can use an iPad as a secondary display. This is a great feature that many will enjoy. However, it is only limited to MacBooks that feature the Butterfly keyboard. It will work across all supported iMacs. As for the end of iTunes, we aren't sure if anyone is going to miss it. Apple has also included the support for Apple Arcade gaming and users can pay Rs 99 a month to subscribe to the service. The subscriptions offers access to over 100 gaming titles on the Mac and game content is saved across all Apple devices.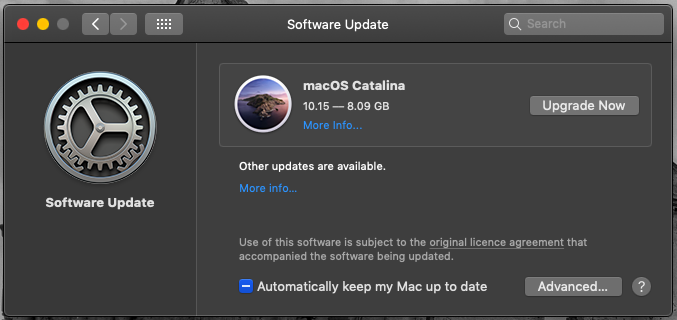 Apple has updated the Photos app, slightly redesigned the Safari browser as well as the Siri interface, and also brought the Screen Time from iOS. The update includes the new Apple TV app with support for Apple TV+ subscription. The streaming service will be available next month onwards and will also cost Rs 99 a month. The Music and Podcasts apps have been available on iOS for a while now, so shouldn't be anything new to Apple users. The update includes several other improvements in security as well.
The new macOS Catalina software update is available as an OTA update for all MacBook Pro, MacBook Air, iMac and Mac Mini models that were released in 2012 or later. It also supports the 2015 MacBook or later, the 2017 iMac Pro or later, and the 2013 Mac Pro or later. Apple is also releasing the Mac Catalyst tool for developers, which allows them to create Mac versions of iOS/ iPadOS apps.