"The new 5G chipset from MediaTek uses ARM's Cortex-A77 CPU and the Mali-G77 GPU"
MediaTek has announced a 5G-ready chipset at the ongoing Computex 2019 expo in Taiwan. This new chipset has been in the works for a while now and is based on the 7nm process. The chipset also features the latest Cortex-A77 CPU and Mali-G77 GPU, which were recently announced by ARM. The company has also included its most powerful AI unit or APU on the chipset. The SoC features the Helio M70 5G modem, which should deliver world-class performance and connectivity.
The new 5G chipset gets a multi-mode design, which means that it can also use other network standards such as 2G, 3G, and 4G. It supports both 5G and non-5G sub-6GHz networks. It uses the Helio M70 5G model that was announced earlier this year. MediaTek states that its single chip 5G solution is more advanced than other double chip solutions offered by the competition.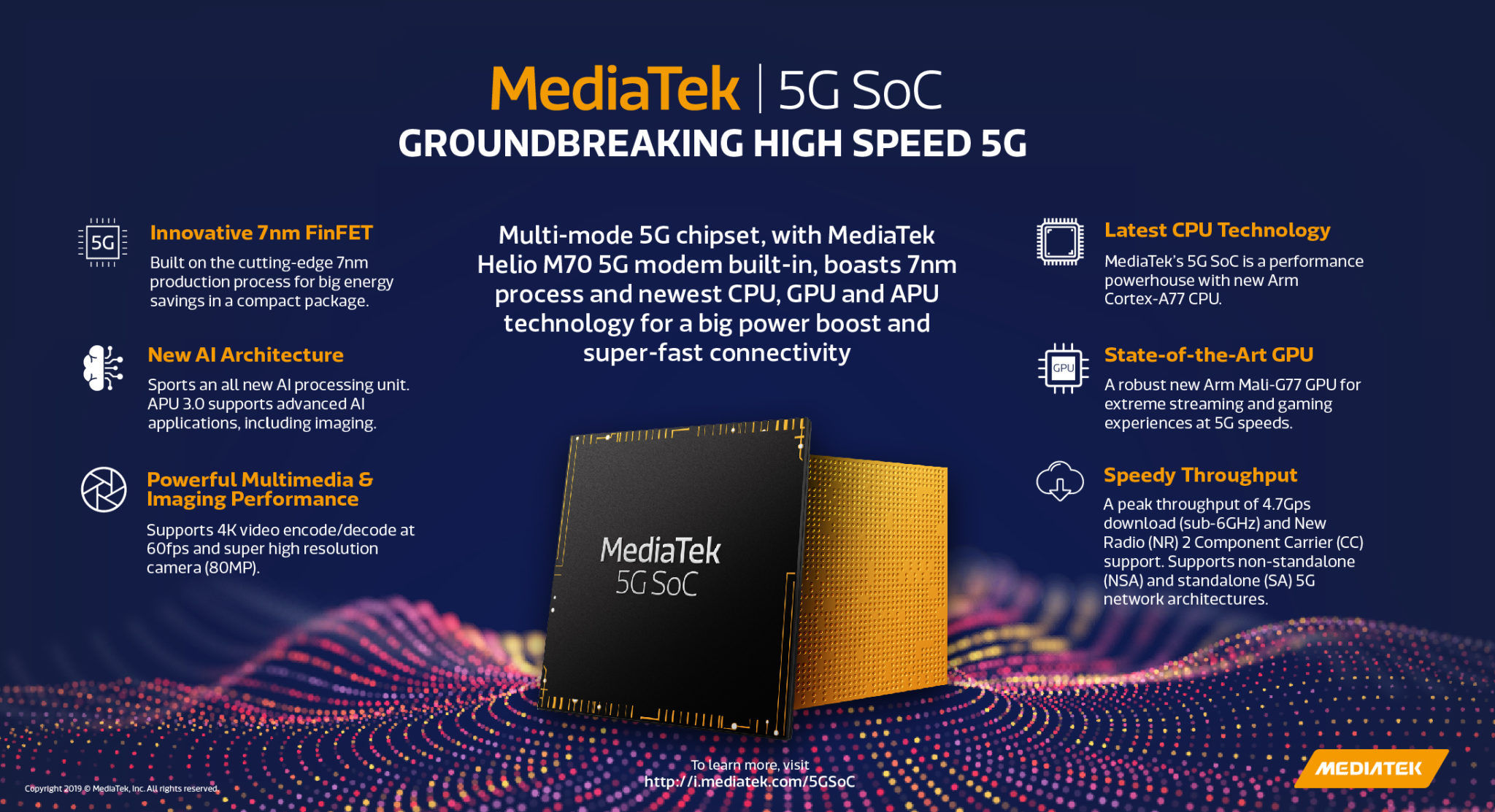 The company is, of course, referring to the Qualcomm Snapdragon 855 chipset and the Snapdragon X50 5G modem. This is a double chip solution, which is going to be more power hungry and produce more heat. The MediaTek 5G SoC comes built-in with the 5G modem, hence the power requirements would be lesser. It would also be heat-less and prove to be more efficient. According to the company, the chipsets would be ready for sale in Q3 of this year and should be available in phones by Q1 2020.
The chipset will feature an intelligent power saving feature along with comprehensive power management. It can provide up to 4.7Gbps of download speeds and 2.5Gbps for uploads. It is also the world's first 5G SoC built using the 7nm process, which will help save energy and increase performance. The integrated APU supports advanced AI features such as de-blur and the Image Processor can perform 4K video encoding and decoding at 60fps. It can also support super high resolution camera up to 80-megapixels.
MediaTek chipsets aren't really used in flagship devices, and the company isn't aiming to please that market. It wants to provide a cost effective 5G solution to mid-range devices across Asia, Europe and North America.