The name MediaTek is synonymous with smartphone chipsets and the company is known for offering premium solutions to manufacturers. However, that's not the only avenue through which the company is satisfying consumers. The technology that the firm develops can be found in a wide array of products across the market. You might not even be aware of how many products you use daily that are powered by MediaTek solutions. These chipsets are pushed into 1.5 billion products every year, making MediaTek the world's 4th largest global fabless semiconductor company. Here's a quick overview.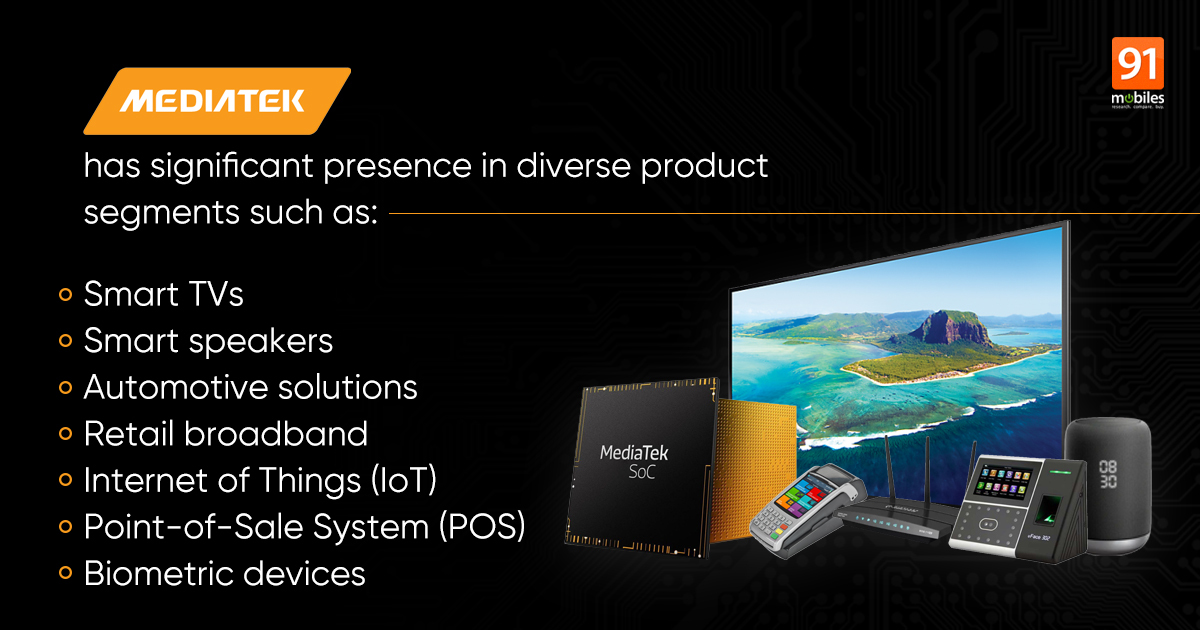 Internet of Things
The IoT space is filled with products powered by MediaTek chipsets, and includes several innovative AIoT solutions that the company has come up with over the years. These AI-capable chipset platforms are meant to enable manufacturers to develop intelligent devices for home, enterprise, industrial, healthcare, retail, cities and other IoT-driven spaces. They are being harnessed in an array of creative ways by startups, emerging brands as well as leading OEMs.
Take the MediaTek i350 chipset for instance. It's an Edge AI platform powering AIoT applications that need vision and voice edge processing. That means a number of products offering facial, object, gesture, motion recognition, LPR, voice activation and speed recognition, sound isolation, bio-tech and biometric measurements can grab its power for their operations.
Retail broadband
MediaTek chipsets contribute to the networking industry in a big way. The company leads in the semiconductor market for wireless home networking and broadband with its home networking and broadband Wi-Fi products. The MediaTek MT7620 chipset is an example of the company's prowess in this department. It integrates a 2T2R 802.11n Wi-Fi radio to provide boosted speeds for the wireless routers that it powers. There's even a similar MT7621 chip, which ships inside a 5-port Gigabit Ethernet switch.
Smart TVs
You'll be surprised to know how many televisions in the market employ the services of MediaTek chipsets. In fact, more than 70 percent of all TVs globally are powered by MediaTek. That makes over 2 billion MediaTek-powered TVs around the world. TVs made by the likes of OnePlus, Motorola, Realme, Onida, and many more make use of chipsets like the MediaTek MT5660 and the MediaTek MT5670, which provide smart TV platforms that are easy to build upon. Another application of the company's solutions can be found in Android-based set-top boxes. The chips are meant to provide the best online streaming experience to end-users. Everything from HDR and H.265/VP9 codes to 10-bit decoding are supported.
Smart speakers
MediaTek happens to be the global market leader when it comes to chipsets that power voice assistant devices. The MediaTek MT8516 is a chip aimed at delivering diverse interfaces and connectivity that focuses on audio and microphone processing. That makes it a perfect candidate for smart speakers powered by platforms like Amazon's Alexa and Google Assistant. The MT8518 model offers a similar structure and so does the MT8167s. The Edge processing onboard these solutions is able to deliver faster response and more robust security to protect user data. And it also uses less power and bandwidth.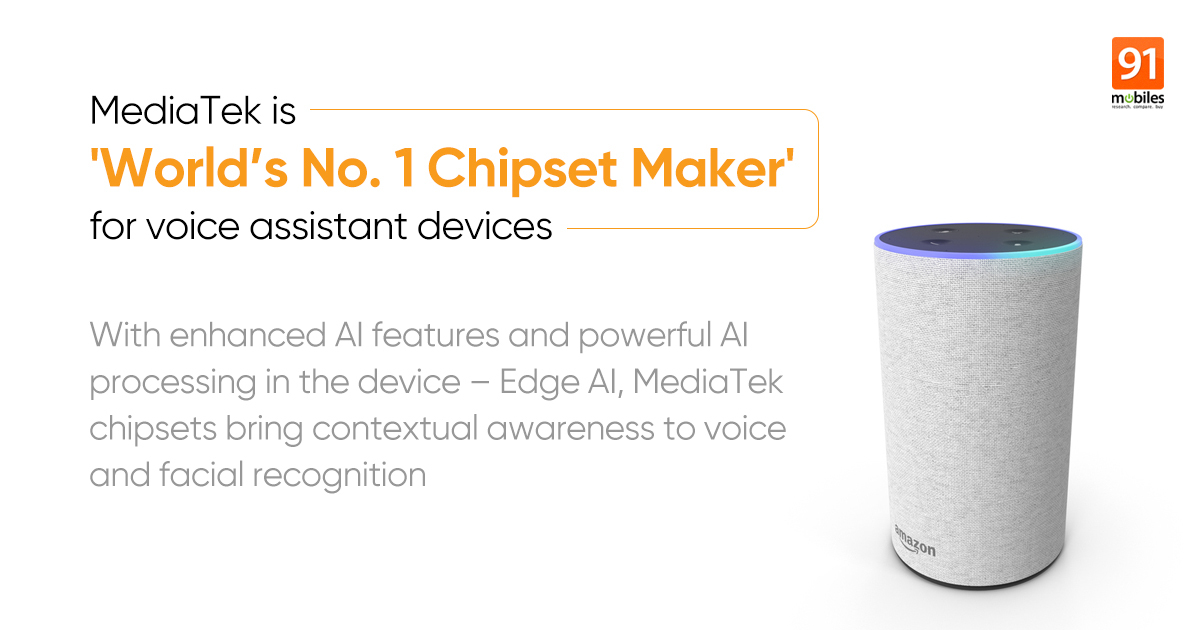 In order to meet the demands for more powerful and capable next-generation digital assistants, MediaTek's latest dedicated platforms are delivering in-chip processing performance, powerful, in-house designed AI engines and Hi-Fi audio. Moreover, there's also the option of integrating displays and smart cameras – all using a single chip. The chips are infused with the company's NeuroPilot AI ecosystem that allows developers to easily tap into the CPU, the GPUs and the APU to provide quick solutions.
Automotive solutions
MediaTek's diverse range of solutions extends to the automotive industry as well. The company has developed a suite called Autus, which features automotive and automated driving solutions that make use of artificial intelligence, mmWave, machine learning, and advanced visual processing solutions. The technology is hence able to offer the latest in safety, navigation, and infotainment for automakers and their suppliers.
Autus Telematics supports In-Vehicle Systems that quickly, reliably, and effectively make data and voice transmissions. With powerful GPS-based processors that are equipped with Wi-Fi, BT/BLE, and Cellular LTE support, the MediaTek chips ensure the smooth transfer of secure and reliable high-bandwidth information between devices. Autus Telematics solutions include automotive collision notifications, emergency calls, stolen vehicle tracking, vehicle diagnostics, and more.
In-vehicle infotainment (IVI) solutions is a big field that MediaTek is present in. The company's infotainment solutions offer high levels of integration, comprehensive multimedia packages, premium features, and a full range of connectivity options. MediaTek's IVI platform basically picks compatible technologies from home and smartphone products and tailors them to the modern automotive market.
The Autus platform also excels in Vision Advanced Driver Systems (V-ADAS). These make use of imaging sensors to help drivers detect people and objects so they can make safe and effective driving decisions. This allows manufacturers to provide their drivers with stuff like parking assistance, lane departure warnings, and collision avoidance systems. And all this is made possible by the superior and tailored nature of the MediaTek chips that go inside these vehicles.
The above is just an overview that shows how MediaTek is not just active in the smartphone space. The company has spread its wings across a variety of industries to offer technology solutions. Everything from consumer-based IoT products to smart TVs, from set-top boxes to smart speakers, from education tablets to POS terminals, from biometric devices to automotive solutions, the company's platforms power devices that are present all around us. For more info, head to https://i.mediatek.com/in/smart-devices.