With its line of Dimensity processors, MediaTek helped usher the 5G era. And now, with its latest MediaTek Dimensity 1200 chipset, the company wants to democratise flagship performance, AI capabilities, computational photography, and high-powered gaming experience. The MediaTek Dimensity 1200 truly feels like a generational leap, and in this article, we will take a look at all its features to show you why.
Ultra-fast performance
MediaTek Dimensity 1200 uses the latest 6nm chip design, making it one of the fastest smartphone CPUs ever. It's an octa-core processor consisting of one ultra-core (Arm Cortex-A78 core – up to 3GHz), three super-cores (Arm Cortex-A78 up to 2.6GHz), and four efficiency cores (Arm Cortex-A55 up to 2GHz). The 3GHz ultra-core processor brings up to 22 percent faster CPU performance while also being 25 percent more power-efficient.

The chipset also supports powerful quad-channel memory and dual-channel UFS 3.1 storage with up to 1.7GB/s data throughput. What this means is that you will get ultra-fast data transfer and read and write speeds. This will not only result in faster data transfer but also quicker app launch, stutter-free performance, and buttery-smooth multi-tasking.
5G everywhere
The MediaTek Dimensity 1200 brings every possible 5G feature that one can hope for. The chipset has been tested and certified by TUV Rheinland in 72 real-world scenarios, including 5G data speed, network experience, power consumption, handover performance, and more. One major problem with 5G is that it is susceptible to losing connection with even slight interference. But thanks to specialised enhancements such as 5G Elevator Mode and 5G HSR Mode, the chipset ensures a seamless 5G experience everywhere.
The chipset also brings MediaTek 5G UltraSave power-saving enhancement that ensures that your smartphone battery lasts the whole day even when you are using 5G all the time. The MediaTek Dimensity 1200 is also the first chip to support true dual-5G SIM capabilities (5G SA + 5G SA). This leads to a more consistent 5G performance with users getting the best audio and video call experience on both SIMs.
Fastest and most capable AI processor ever
The MediaTek Dimensity 1200 is the company's fastest and most capable AI processor ever. Thanks to the six-core MediaTek APU 3.0 upgraded with an enhanced multi-tasking scheduler, the chipset reduces latency and improves power efficiency. These under-the-hood improvements mean that the chipset gets a 12.5 percent boost in performance when compared to the previous generation.
The best part about the new MediaTek APU is that it is capable of handling FP16 calculations natively. Most mobile processors utilise their GPU for handling FP16 calculations, which results in higher power consumption. The native support means that the chipset is capable of doing AI work without heavily relying on GPU, which results in 10 times lower power consumption. It also keeps the GPU free for other tasks such as gaming, video editing, and more.
Capture incredible shots with MediaTek Imagiq Camera
The MediaTek Dimensity 1200 chipset also unlocks several camera abilities. There's the new 'Staggered' 4K HDR video recording that uses real-time 3-exposure fusion technology. It adds 40 percent more dynamic range in 4K video recording. There's also an industry-leading 5-core ISP that enables photo captures up to 200MP. It also brings Dimensity's fastest Night Shot mode resulting in improved low-light performance. Thanks to the new AI improvements, you also get better camera performance in AI-based camera features such as AI Panorama Night Shot, simultaneous AINR + HDR capabilities, and more.

Gaming gets better with the new HyperEngine 3.0 gaming technology
The MediaTek Dimensity 1200 also brings the new MediaTek HyperEngine 3.0 gaming engine that enhances the smartphone gaming experience. The new PQ Engine 3.0 enables ray tracing in mobile games. So if your favourite game supports ray tracing, the MediaTek Dimensity 1200 will allow you to experience the game with realistic shadows and life-like reflections.
Apart from ray tracking, the HyperEngine 3.0 also brings improvements to power efficiency, better 5G performance while gaming, and more. There's also support for Bluetooth 5.2 and LC3 encoding resulting in ultra-low latency in audio delivery. That means you will be able to use your Bluetooth headphones while playing games without any lag in the audio.
Glide with 168Hz refresh rate display
One constraint faced by manufacturers when including a high refresh rate display on their smartphones is the chipset. If a chipset doesn't support high refresh rate displays, there's no point in packing a high refresh rate display panel. Well, that's not a problem with the MediaTek Dimensity 1200 processor, as it supports 168Hz high refresh displays. This means you are going to get a smoother gaming experience along with ultra-fast scrolling throughout the user interface, webpages, apps, and more.
Immersive movie experience with MediaTek MiraVision
For the unfamiliar, the MediaTek MiraVision packs in a range of display and HDR technologies that bring authentic cinema-grade visuals to smartphones. The MediaTek Dimensity 1200 brings a plethora of improvements to MiraVision to enhance your movie-watching experience. First, the popular AI SDR to HDR converter is upgraded with dynamic per-frame picture quality tuning that results in even better and more consistent conversion.

Second, the new AI-ClearStreaming technology improves image quality in both video-conferencing and live-streaming apps. This feature is highly welcome in an era when most of us are working from home and spending a big chunk of our time in online meetings and conferences. You also get enhanced HDR10+ playback along with hardware-accelerated AV1 video decoding. It even upgrades the legacy HDR10 videos to HDR10+ by dynamically adjusting every single frame. All these features work together to give you an immersive cinema experience.
Other Important Improvements
Apart from the above-mentioned vital improvements, the MediaTek Dimensity 1200 also brings several minor upgrades that enhance the smartphone experience. The inclusion of Bluetooth 5.2, along with the new LC3 encoding and Dual-Link True Wireless Stereo Audio feature, ensures a higher quality audio output and reduces latency by up to 20 percent. The chipset also supports dual-band (L1+L5) GNSS and Google 3D Mapping aided corrections, thereby providing a comprehensive global constellation coverage. That means that you will be able to navigate the urban jungle without any issues.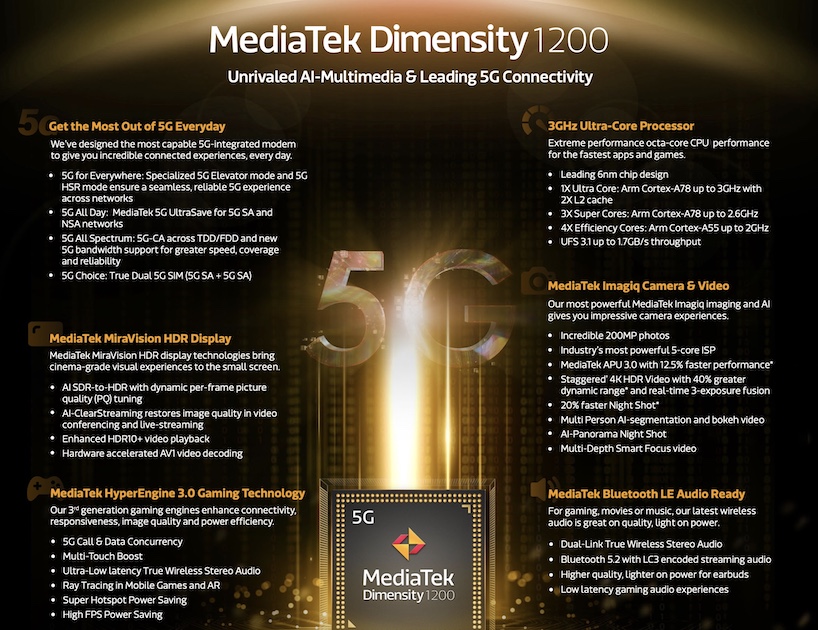 When you consider all the features, the MediaTek Dimensity 1200 sure seems to be a generational upgrade. With support for true dual-SIM 5G, fast performance, enhanced AI capabilities, superb camera features, immersive video playback, and more, the MediaTek Dimensity 1200 will be powering many of the flagships in the coming months. If you are due an upgrade this year, make sure that your next smartphone is powered by this phenomenal chipset.