5G, which is the latest innovation in network communication systems, can offer speeds north of 1 Gigabyte per second. However, apart from data speeds benefits on mobile devices, 5G can be expected to boost quite a few other segments too. And contrary to popular belief, you don't need to pay through the nose for a 5G-capable handset. In fact, Taiwanese chipmaker MediaTek's Dimensity lineup offers a slew of options to smartphone manufacturers to load their offerings with 5G capabilities and cutting-edge technologies. Here's a bird's eye view of the chipset lineup.
MediaTek Dimensity 1000+ and MediaTek Dimensity 1000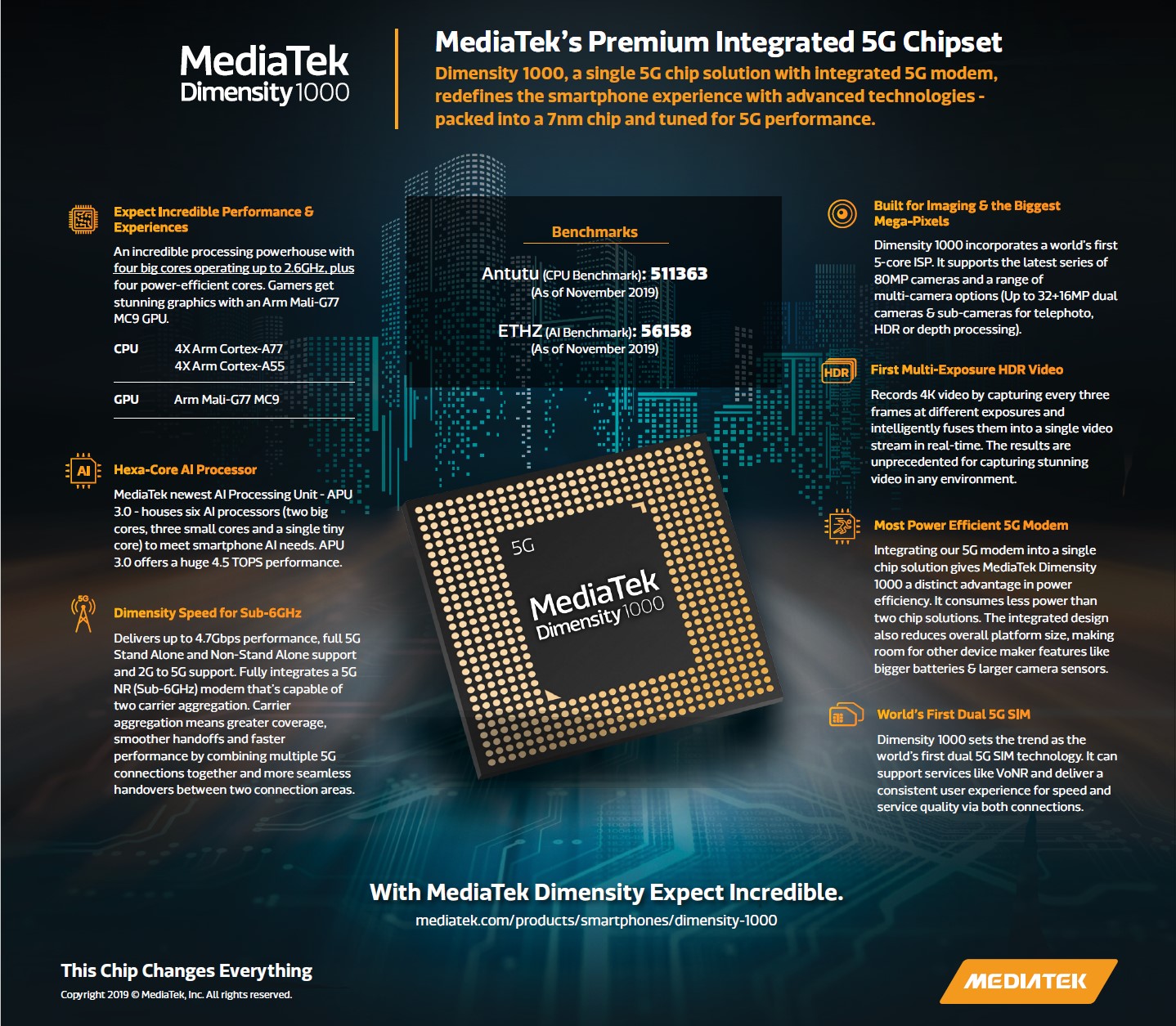 MediaTek Dimensity 1000+ brings the best of performance and optics to the lineup. The octa-core SoC comprises two clusters, including four high-performance Cortex A77 cores with a clock speed of up to 2.6GHz and four high-efficiency Cortex A55 cores. Adding to the list of pros, the SoC comes with a nine-core Mali-G77 MC9 GPU which, suffice it to say, should glide through some of the most resource-hungry games on the market. As a bonus, OEMs opting for MediaTek Dimensity 1000+ SoC can also make use of ultra-fast 144Hz display refresh rates, making a user's experience with their phone that more intuitive.
What's more, MediaTek's Dimensity 1000+ SoC is as smart, as it is mighty, thanks to MediaTek's 5G UltraSave technology. Correspondingly, while the chipset comes with integrated 5G, it smartly chooses when to deploy a network's super bandwidth or make use of its ultra-low latency, thereby conserving battery life. And that's not all – thanks in part to MediaTek Dimensity lineup's Carrier Aggregation technology which clubs two different bands of networks together for better throughput, users will experience superior coverage as well as higher average data transfer speeds on their devices too.
In the same family is MediaTek Dimensity 1000, which is a chipset that offers very similar capabilities as MediaTek Dimensity 1000+, and utilises the same CPU cores and graphics. Worth mentioning is the fact that both SoCs are also compliant with Wi-Fi 6 standard, and therefore, you can expect your MediaTek Dimensity backed phone to offer admirable download speeds even when you're not using mobile data.
MediaTek Dimensity 820 and MediaTek Dimensity 800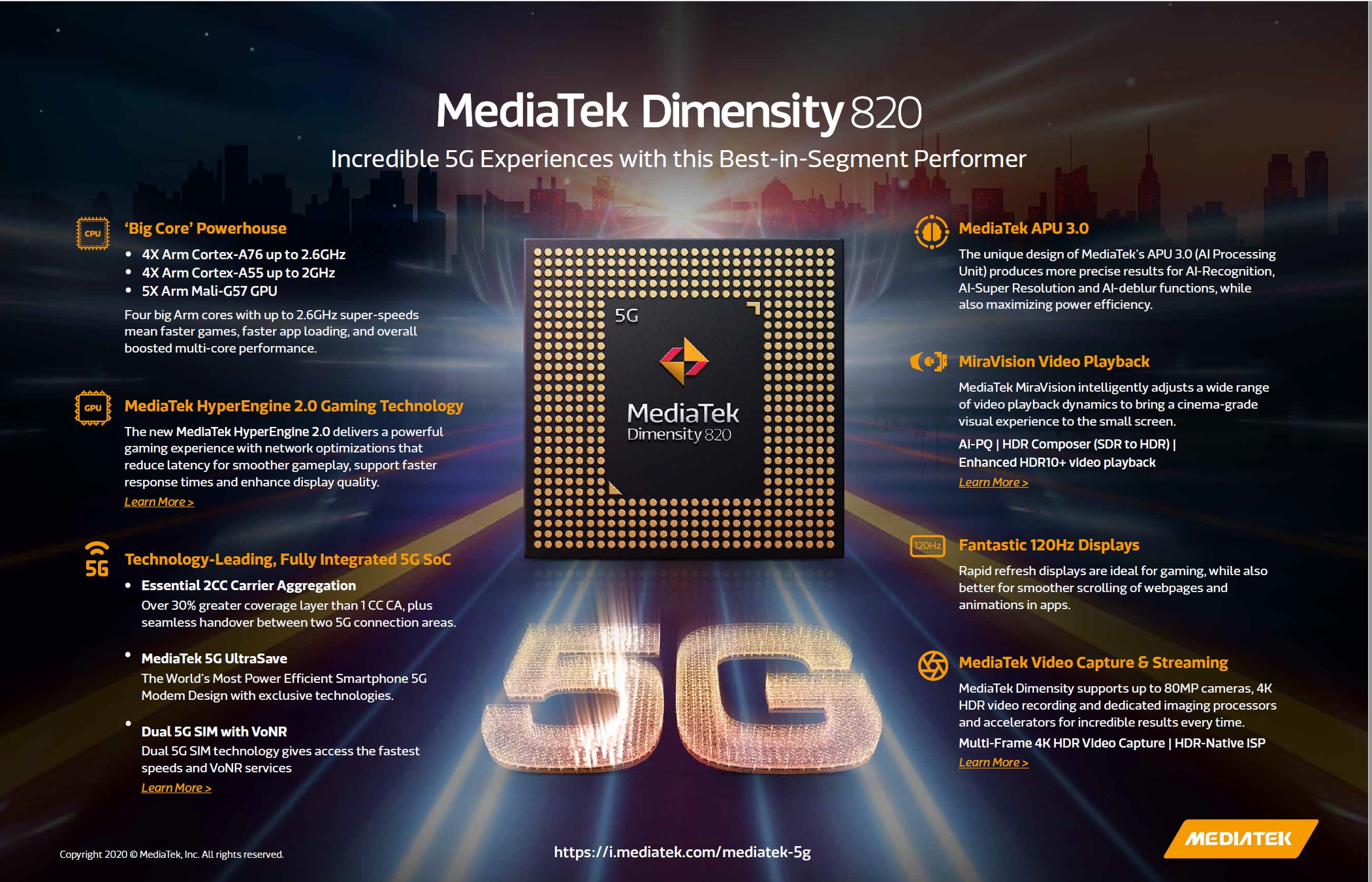 MediaTek Dimensity 800 has already seen its fair share of love from OEMs and the processor can be seen powering devices from the likes of OPPO, ZTE, Honor and Huawei. Much like the rest of the processors in the lineup, MediaTek Dimensity 800 is also an octa-core CPU, and the SoC packs in four Cortex-A76 performance cores. Correspondingly, apps and games which require a lot of CPU muscle should run effortlessly on devices backed by MediaTek Dimensity 800 chipset. Furthermore, the SoC also brings a slew of imaging features courtesy MediaTek Imagiq and it can record multi-frame 4K HDR videos by harnessing high-resolution, flagship-grade sensors with up to an 80MP pixel count. A notable inclusion of Dimensity 800 series is MediaTek's APU 3.0, which offers 300 percent better ETHZ AI benchmark performance than direct competitors. For anyone wondering why that's relevant, MediaTek Dimensity SoC backed phone should be able to offer much better and quicker inputs from the AI, be it for recognising a scene when using the camera as well as in-app / OS enhancements.
In a similar fashion, MediaTek Dimensity 820 brings oodles of CPU horsepower and offers an even beefier, five core Mali-G57 MC5 GPU. Coupled with MediaTek HyperEngine 2.0 which optimises the network to reduce latency, the user's gaming experience is taken to a whole new level.
MediaTek Dimensity 800U
MediaTek Dimensity 800U slots itself perfectly between MediaTek Dimensity 720 and 800. A relatively newer entrant to the lineup, the octa-core 800U also offers two high-performance Cortex A76 cores with clock speeds of up to 2.4GHz. The processor can be mated to uber-fast UFS 2.2 storage as well as LPDDR4X memory, ensuring apps and games load up in the blink of an eye. What's more, the 800U processor from MediaTek Dimensity lineup comes with a slew of camera chops, and not only is the SoC capable of recording videos in 4K resolution at 30fps, but it also allows OEMs to leverage features like 3D Noise Reduction and opt for 64MP sensors. Notably, Realme's latest offering, the Realme 7 5G, makes use of this chip and it offers flagship-grade specs like a 120Hz display, making it one of the most enticing 5G propositions on the market.
MediaTek Dimensity 720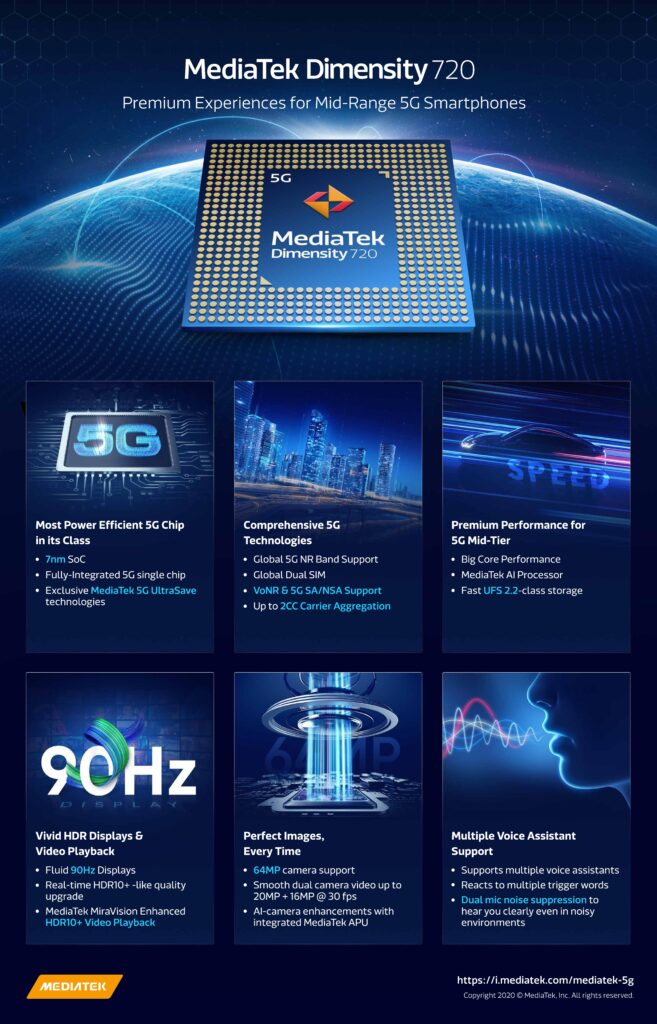 Then we have MediaTek Dimensity 720. which offers two performance cores and six efficiency cores clubbed together in big.LITTLE architecture. MediaTek Dimensity 720 SoC has also been fabricated using a 7nm process and therefore, the chip should sip less juice from the battery. Interestingly, the SoC also comes with multiple playback enhancements, meaning the content you consume on a MediaTek Dimensity 720-powered device would be that much more surreal and immersive. This has been made possible owing to MediaTek MiraVision video technologies, which amplify the quality of HDR playback.
MediaTek Dimensity 700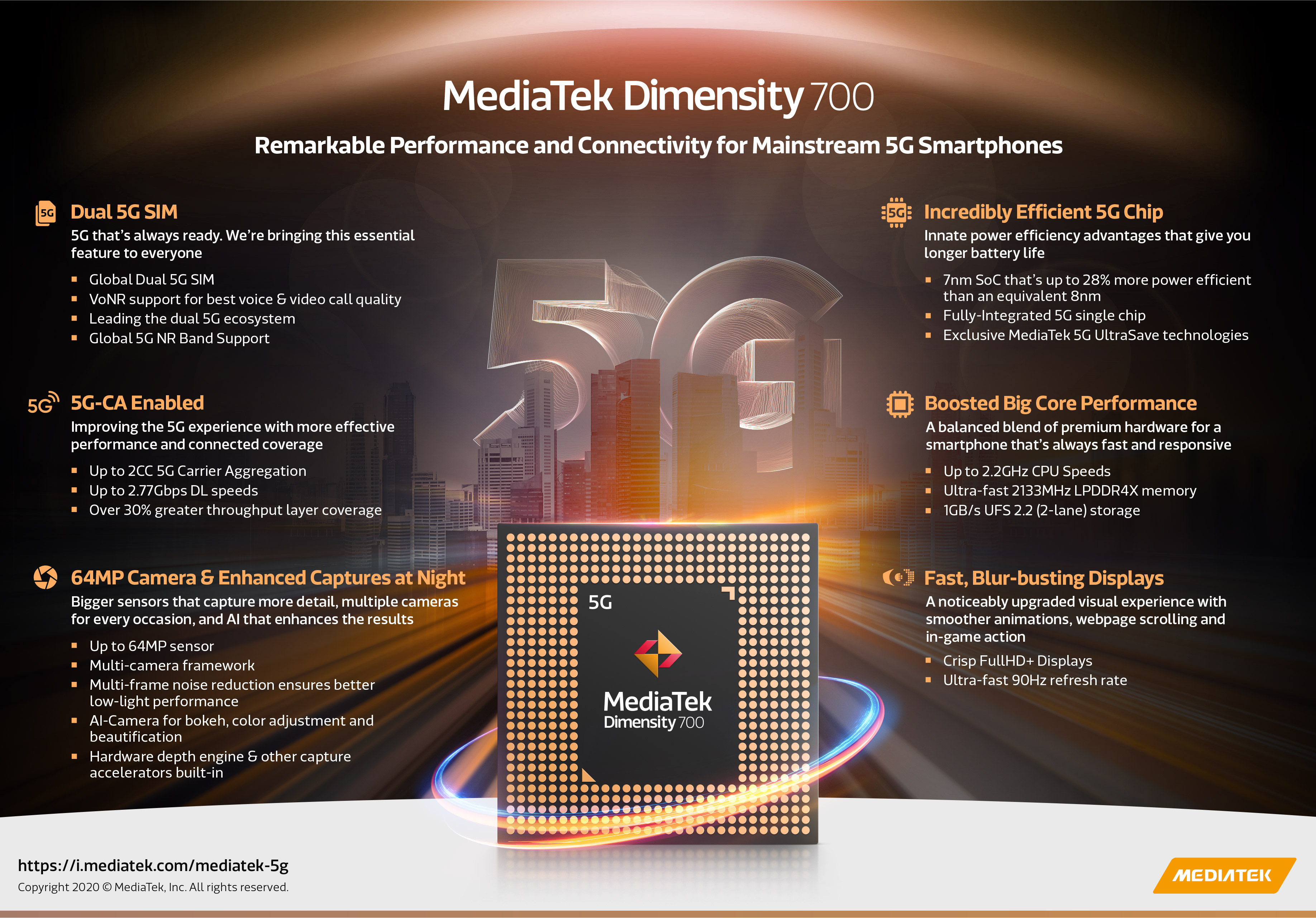 MediaTek Dimensity 700 SoC offers eight processing cores, including two highly capable Arm Cortex-A76 cores clocked at 2.2GHz. Quite interestingly, many phones still make use of eMMC storage, which acts as a bottleneck for the CPU. However, with MediaTek Dimensity 700, users will be able to access their files and apps much quicker as the SoC comes with support for UFS 2.2 storage, which is around four times faster than a typical mainstream phone with eMMC storage. You can also expect phones powered by MediaTek Dimensity 700 SoC to offer 90Hz refresh rate displays, which cuts through the blur in animations like a knife through butter.
It goes without saying that all the processors in MediaTek Dimensity range come with integrated 5G capabilities. What's more, all MediaTek Dimensity chipsets outlined in this article offer support for both, NSA (non-standalone) as well as SA (standalone) 5G architectures, along with support for Dual 5G SIM, which gives access to VoNR (Voice over New Radio 5G) services from multiple SIMs on the same phone. Rest assured, you can expect cutting-edge technology and network speeds from MediaTek Dimensity. To know more about MediaTek Dimensity chipsets, click here.