MediaTek has been upping the ante in the smartphone chipset segment in a major way, bringing solid features and capabilities across different price points. In fact, chipsets under MediaTek Dimensity lineup are all 5G-enabled, and boast a slew of features aimed at ensuring a better user experience. Let's pay closer attention to MediaTek Dimensity 800U this time, a chipset that brings the best of new-age technologies including access to 5G networks and blistering performance.
The MediaTek Dimensity 800U has a treasure trove of features, and we will be focusing on the ones which will greatly enhance your user experience. It goes without saying that MediaTek Dimensity 800U is a flagship-tier processor and accordingly, offers excellent performance chops. It's also backed by an integrated 5G modem which thanks to the SoC's production process and some software wizardry, ensures that your phone's battery won't run out in the middle of a download. MediaTek Dimensity 800U SoC also enhances the user's media consumption experience and, offers support for the best-in-class camera sensors too. Let's talk about each of these in a little more detail.
Pushing CPU speeds, one core at a time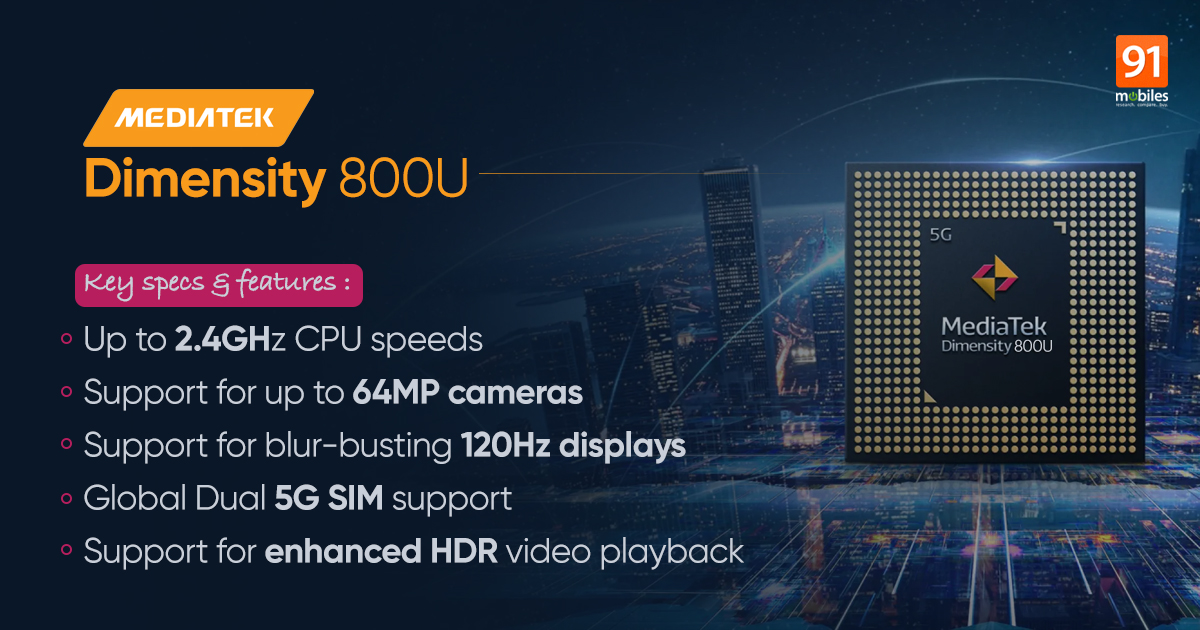 MediaTek is the world's 4th largest global fabless semiconductor Taiwanese company and powers nearly 2 billion devices a year. Correspondingly, the company is no stranger to fast CPU cores and with the MediaTek Dimensity 800U, the brand is offering an octa-core SoC that features two ARM Cortex-A76 Big cores which operate at a frequency of 2.4GHz. Thanks to their enhanced clock speeds, MediaTek Dimensity 800U offers rapid CPU and GPU compute in its price segment, allowing you to push your in-game frames that much further. What's more, MediaTek Dimensity 800U's amplified cores also help the SoC cut down on game launch times, as they can be paired with uber-fast UFS 2.2 storage solutions. Rest assured, you will be in the game lobby well before your teammates.
Bringing better 5G to everyone
All MediaTek Dimensity chips, including the 800U, feature an integrated 5G modem and have been fabricated using TSMC's low power 7nm production process. As a result, MediaTek Dimensity 800U is extremely power-efficient while sipping juice from the battery. What's more, the company has also introduced a bunch of power-saving technologies, including MediaTek 5G UltraSave which comprises two utilities –
MediaTek 5G UltraSave Network Environment Detection
MediaTek 5G UltraSave OTA Content Awareness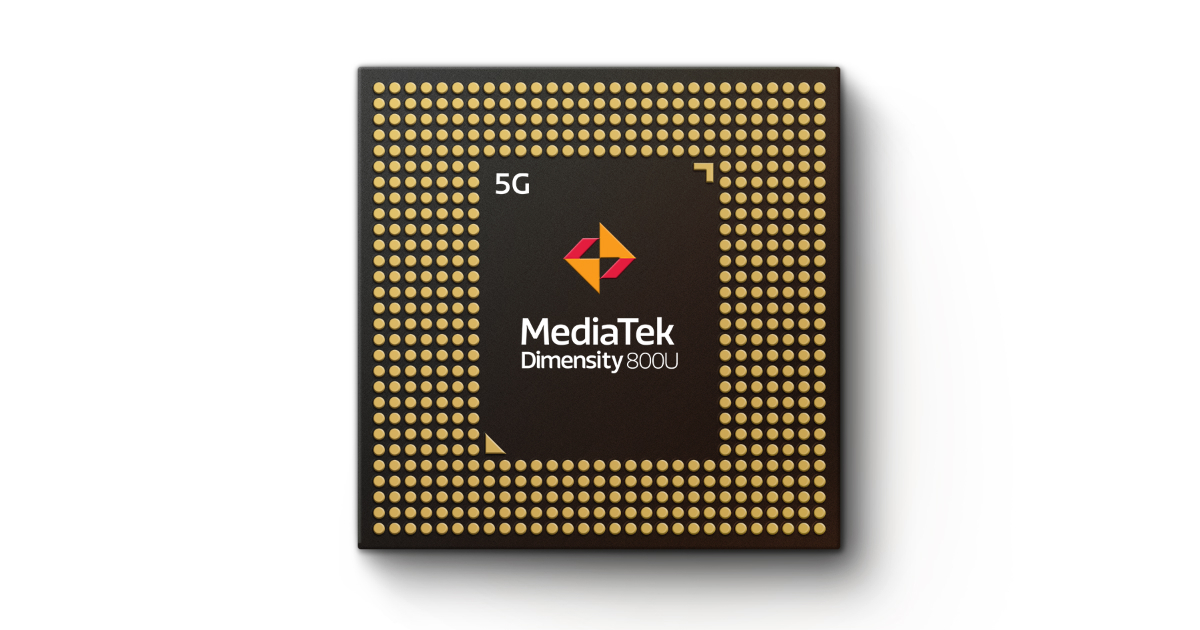 Clubbed together, MediaTek's 5G UltraSave manages the modem's operating mode in real-time by switching actively between 4G and 5G, depending upon the workload. As an added bonus, MediaTek Dimensity 800U will also let you leverage 5G carrier aggregation, which essentially clubs different 5G bands together for better throughput coverage.
Displays curated for gaming and content consumption

With more and more games leveraging frame rates beyond 60fps, high-refresh rate displays have become a necessity in most modern phones. Thankfully, MediaTek's Dimensity 800U allows OEMs to opt for displays which refresh at 120 times a second, or, at 120Hz. Correspondingly, gamers will get a competitive edge in select titles as there will be minimal instances of screen tearing and the display will not act as a bottleneck for the CPU.
Furthermore, the displays on phones backed by MediaTek's Dimensity 800U will also offer a surreal media consumption experience as the SoC is backed by MediaTek MiraVision, which can enhance SDR content in real-time to match HDR playback. What's more, for HDR10 content, MediaTek MiraVision can boost the quality to HDR10+ by creating dynamic metadata on the fly and bringing up the luminance, scene by scene.
Click photos which tell a story
To say that our smartphones are extremely capable pocket shooters would be a bit of an understatement. Most phones today ship with an assortment of different camera sensors, capable of capturing a scene in a multitude of different ways. And thanks in part to MediaTek Dimensity 800U, users will find more and more reasons to click photos as the SoC supports class-leading 64MP sensors, capable of capturing a wealth of details in every shot. What's more, owing to the presence of in-built imaging accelerators, such as a depth engine for accurate bokeh shots, users will also be able to mitigate noise and distortion in their photos.
Clearly, the Taiwanese chip-maker is swinging for the fences with MediaTek Dimensity 800U processor. Prospective buyers can expect devices powered by the chip to stand out in the premium mid-range segment. You can learn more about the MediaTek Dimensity 800U by clicking here.