MediaTek has heated up the competition in the mobile space with the launch of its Dimensity 820 SoC, which is a brand new chip in the 800 series. This 7nm 5G-integrated chip seems to be the perfect solution for smartphone manufacturers who wish to offer solid specs on their offerings. Staying true to the series' history, the Dimensity 820 offers great performance and power efficiency, among a few exciting features. Let us give you a complete overview of what this new SoC is capable of.
Performance boost
The Dimensity 820 is a 7nm chipset, which means you can expect great performance and battery efficiency from the SoC. It features an octa-core layout, consisting of four Cortex-A76 cores and four Cortex-A55 cores. The four beefier cores are clocked at 2.6GHz, and MediaTek promises a 37 percent jump in the SoC's multi-core performance. The four Cortex-A55 cores are clocked at 2GHz. This octa-core setup is sure to translate into fast loading time for games, snappy app performance and quick multi-tasking.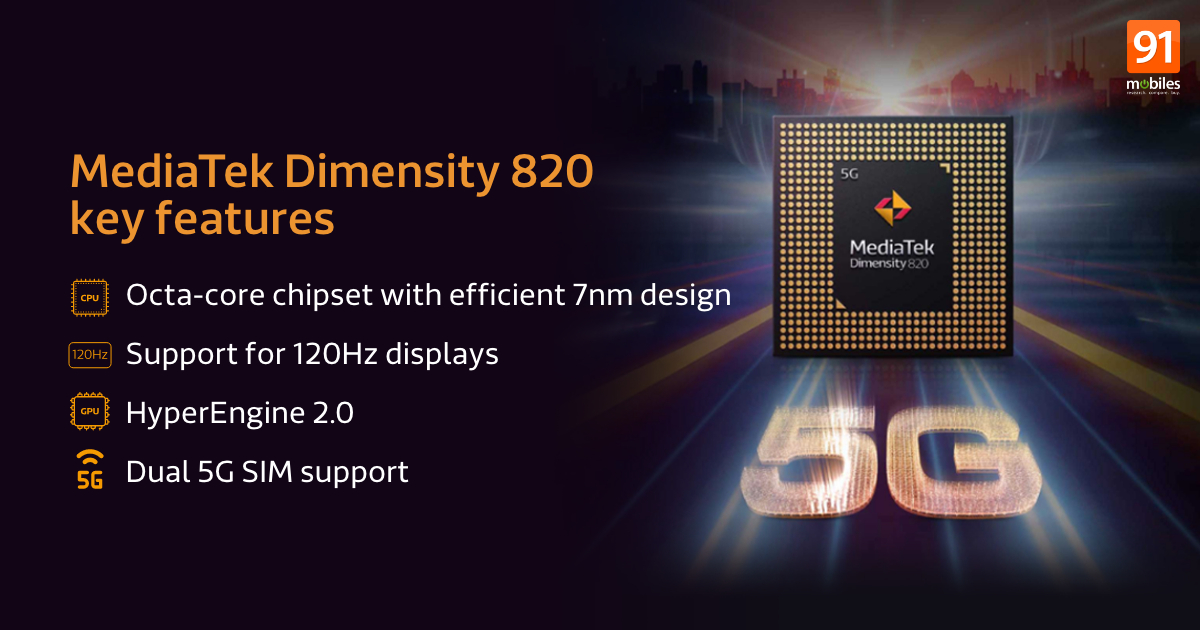 New connectivity standards
The Dimensity 820 ships with support for dual SIM 5G and VoNR. That means both the 5G SIMs in a phone can be on standby at the same time. One would think that the battery life of the smartphone might take a hit due to this, but MediaTek has got that covered as well. Its 5G UltraSave Network Environment Detection and 5G UltraSave OTA Content Awareness technologies are designed to manage the modem's operating mode in real time for best power efficiency. These smart algorithms dynamically adjust power configuration and operating frequency based on the network environment and data transmission quality.
MediaTek has also ensured 2CC 5G Carrier Aggregation, which is sort of an essential feature in 2020 and would likely prove to be even more useful in the years to come. This technology makes for higher average speeds and a seamless handover between two 5G connection areas across a coverage layer. Without Carrier Aggregation, users receive 30 percent lower throughput layer coverage, which explains why it's a necessity in today's times.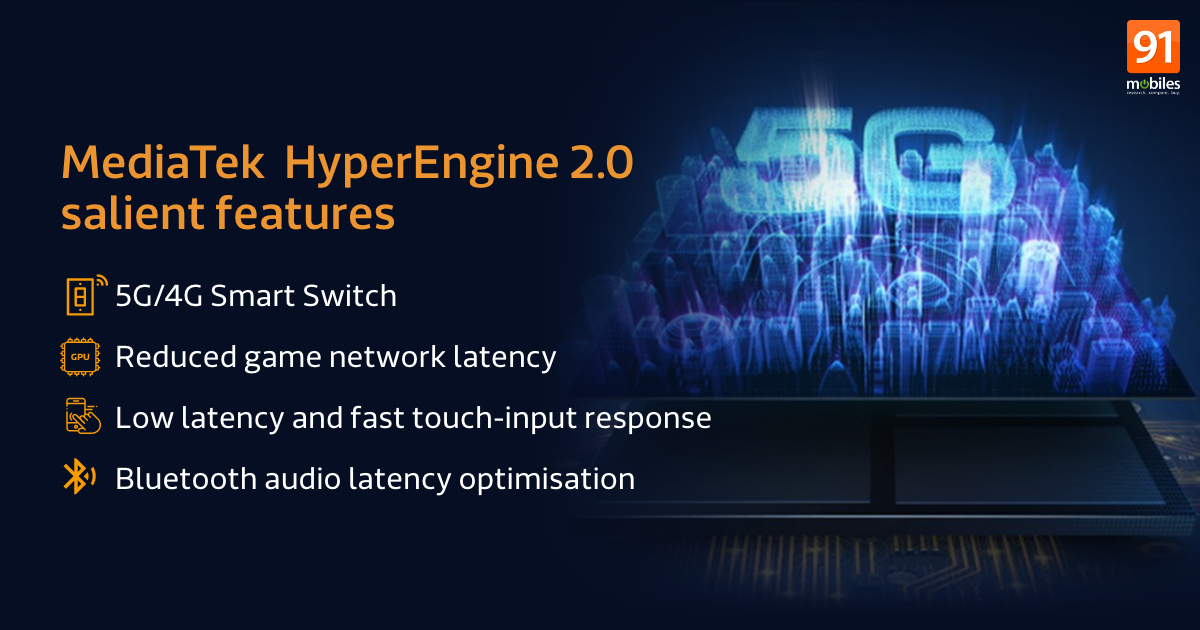 Rich graphics and smooth gaming
The Dimensity 820 also gains one added core in its Mali-G57 GPU. The MC5 variant that's present on this chipset offers 33 percent better gaming performance than its direct competitors. And then there's also the MediaTek HyperEngine 2.0 technology, which delivers everything from fast load times to reliable, low-latency connections by managing multiple networks. This feature even intelligently manages resources to provide consistently high framerates in your games. MediaTek HyperEngine 2.0 includes Intelligent Multi-Network Prediction 2.0, which reacts in milliseconds to changes in connectivity status across 5G NR, 4G LTE and Wi-Fi. Another trait that will definitely please gamers is Rapid Response Engine 2.0, which provides manufacturers with a chip-level connection to the touchscreen at a minimum of 240Hz of touch sample rate. Lastly, MediaTek HyperEngine 2.0 brings with it Bluetooth Audio Latency Optimization which minimises audio latency when you're playing games with Bluetooth headsets on.
Exciting camera capabilities
With the Dimensity 820, MediaTek has ensured that manufacturers won't need to hold back when it comes to offering top-of-the-line camera experiences to consumers. We're talking up to 80MP photographs if super-sized sensors are used. And if dual cameras are being used, phone makers can take advantage of 32MP + 16MP camera setups. And you can rest assured that up to four cameras are supported by the chipset with native HDR. One of the most interesting features of this SoC though, is its multi-frame 4K HDR video support. It's just what the name indicates; the camera captures videos at two different exposures and fuses them into a single clip, all in real-time, leading to stunning video quality.
Benchmark performance
The ideal chipset to compare the MediaTek Dimensity 820 against is the Snapdragon 765G, which happens to be Qualcomm's most powerful chipset outside its Snapdragon 800 lineup. From the various benchmarking numbers available online, the comparison on Geekbench's single-core test offered an almost negligible difference. However, the Dimensity 820 SoC does seem to score higher than the Snapdragon 765G in the multi-core test. In AnTuTu's CPU and GPU tests too, the Dimensity 820 seems to have an upper hand. Sure, benchmarks don't tell the complete story. We'll need to wait for smartphones powered by MediaTek Dimensity 820 chipset to launch in India, so we can do some real-world comparisons of our own.

That said, the Dimensity 820 chipset does look quite promising indeed, and we're sure it's going to heat up the competition in a big way when smartphones powered by it land in India. Watch this space.