MediaTek is set to redefine the mobile gaming space with the launch of the G95 processor, its latest addition to the G series. This chipset comes with several upgrades, which include enhanced MediaTek HyperEngine Game Technology, multi camera support, improved connectivity, and AI Super Resolution support. Here are all the details of the latest MediaTek Helio G95 processor that show how it can deliver a premium gaming experience.
Top-notch performance
The new MediaTek Helio G95 promises up to a 5 percent boost in CPU performance and 8 percent increase in GPU capabilities, compared to the MediaTek Helio G90T. The latest octa-core CPU now features two specialised ARM Cortex-A76 chips clocked up to 2.05GHz. Rest of the 6 Arm Cortex-A55 chips offer speeds clocked up to 2GHz.
The quad-core GPU also comes with an upgrade. The MediaTek Helio G95 now sports the ARM Mali-G76 MC4 graphics chip that has been clocked up to 900MHz. The brand claims this new GPU offers advanced single and multi-core performance. This is extremely helpful during multitasking and mobile gaming.

Realme 7 is the first smartphone powered by the MediaTek Helio G95. The latest affordable smartphone acts is a great showcase of the G95 chipset's capabilities, and we were pleasantly surprised by the performance of the processor. The Realme 7 comes astonishingly close to higher-end devices in terms of gaming performance. Even with prolonged usage, we experienced that playing experience on the smartphone was quite smooth.
In terms of daily usage, the Realme 7 rises well above its price point, offering a value for money package that works well in its favour. Thanks to the MediaTek Helio G95 SoC that enables not just its smooth performance, but also other aspects like capable 90Hz display and 64MP quad camera setup.
Improved gaming technology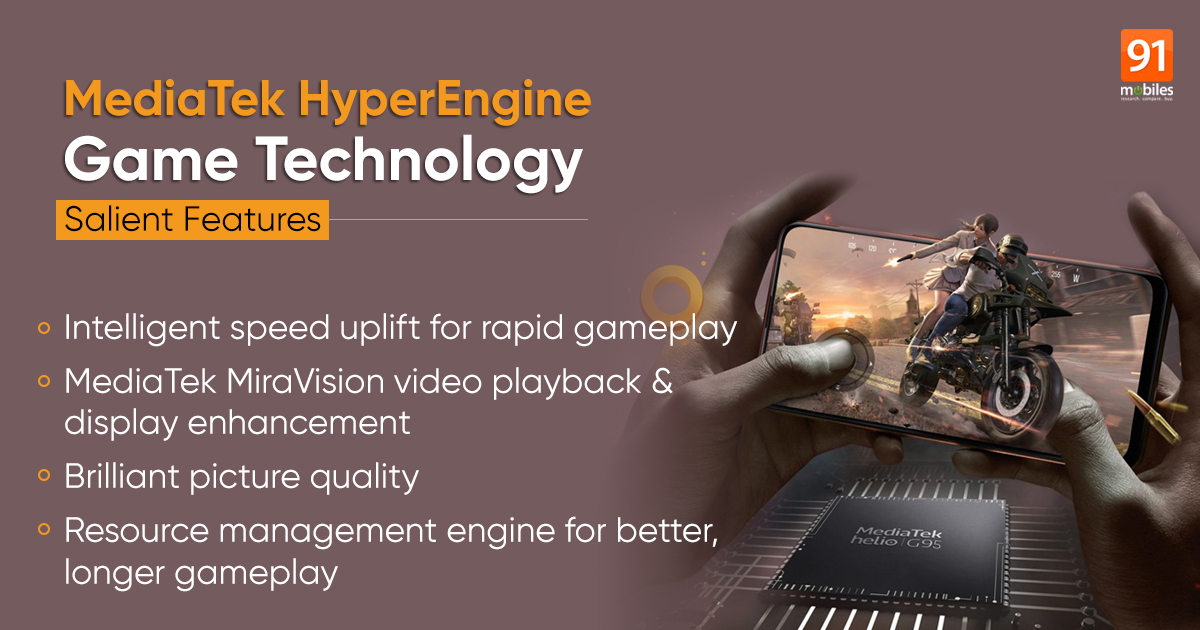 The brand is bringing enhanced MediaTek HyperEngine Game Technology to the new G95. With this upgrade, MediaTek says that the new G series chipset will offer seamless gameplay and a highly responsive user experience. In fact, the G95 is claimed to intelligently trigger Wi-Fi & LTE concurrency whenever your Wi-Fi connection is weak. MediaTek promises a smooth and lag-free connection during gaming with this enhancement that triggers in just 13 milliseconds.
Furthermore, the MediaTek Helio G95 supports up to full HD+ (2,520 x 1,080) resolution displays with a frame rate of 90fps, allowing users to experience smooth and high resolution gaming on their smartphones.
Video streaming boost
At a time when video calls and video streaming platforms are gaining traction, MediaTek's new G95 comes with the new AI Super Resolution technology that promises intelligent upscaling from lower resolutions to HD video in real-time. It highlights that even 360p video can be upscaled to HD resolution while you stream videos on platforms including Netflix, Disney+ Hotstar, and Amazon Prime Video, or during teleconferencing.
How does MediaTek's AI Super Resolution feature do this? The brand claims the chipset upscales video quality by reducing the network bandwidth up to 75 percent without any perceptible difference in quality. Theoretically, this ensures you look the best in your video calls despite lag in your Wi-Fi network.
Superior imaging experience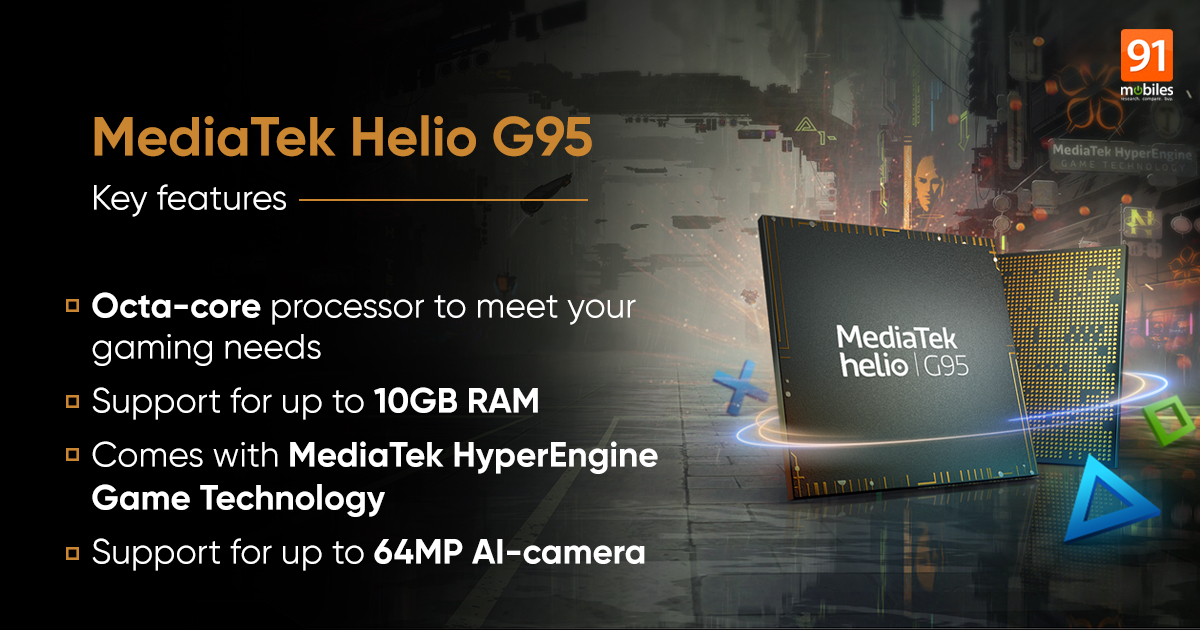 The MediaTek Helio G95 offers support for up to 64MP camera sensors, with quad-pixel technology meant for better low-light photography. Apart from this, smartphones with the G95 processor can support premium features including real-time portrait bokeh, AI-FD (face detection engine), MFNR (Multi-frame Noise Reduction), Warping, 3DNR, and video encoding and decoding at 4K 30fps. The MediaTek Helio G95 features an integrated APU that promises much-needed AI camera enhancement. All of these enhancements promise a vastly improved photography experience on the next smartphone that is powered by the G95 chipset.
Faster network compatibility
MediaTek's latest G95 features an improved Cat-12 4G LTE WorldMode modem that supports up to 3x CA, 4×4 MIMO, and 256QAM. The chipset comes with dual-SIM 4G support using which VoLTE, ViLTE, and interchangeable data services can be accessed. Other connectivity options include Wi-Fi 5 (802.11 a/b/g/n/ac), Bluetooth 5.0, Multi-GNSS options, and FM radio.
Benchmarks
As mentioned, the MediaTek Helio G95 offers up to 5 percent improvement over the G90T, in terms of its AnTuTu CPU benchmark score. Adding to that, the G95 also has a 8 percent higher score, at 52fps, compared to its predecessor on the GPU Manhattan 3.0 benchmark that measures graphics performance.

Benchmarks on the Realme 7 showed scores of 514 and 1,665 on single-core and multi-core respectively on Geekbench 5. On AnTuTu, the overall score was 290,207 which is near about the same as the Realme 6.
Bottomline
With these features, the latest MediaTek Helio G95 SoC looks like a solid contender in the smartphone chipset market. We can't wait to find out which smartphones utilise the G95 chipset to deliver a wholesome smartphone experience.