Videos are everywhere you go right now? Be it WhatsApp, Facebook, Twitter, Instagram, TikTok, or any other popular app for that matter. And these are not just plain and simple clips anymore, as people have come up with plenty of creative ways to give the best possible outcomes for the clips they've shot. Whether you are a vlogger, a content creator, the owner of a meme page, or just an ordinary person looking to make friends and family laugh using your talent, you will need a good video editing tool at your disposal and InVideo happens to be just that. It's a truly convenient online video editor that can be accessed from within your browser, so there's no need to download or install any software.
What is InVideo?
As we said, InVideo is an online tool that can be accessed through a desktop or mobile browser. By uploading your raw footage to it, you can edit videos online with the help of pre-configured templates. Plus, it gives you all the regular editing tools that you'd find in a paid software. And the best part is that the tool is incredibly easy to use and doesn't require any time to get used to. Whether you want landscape or portrait videos for your social media profiles, InVideo will let you create them in an instant. Think of it like Canva, but for videos.
Types of videos that can be made using InVideo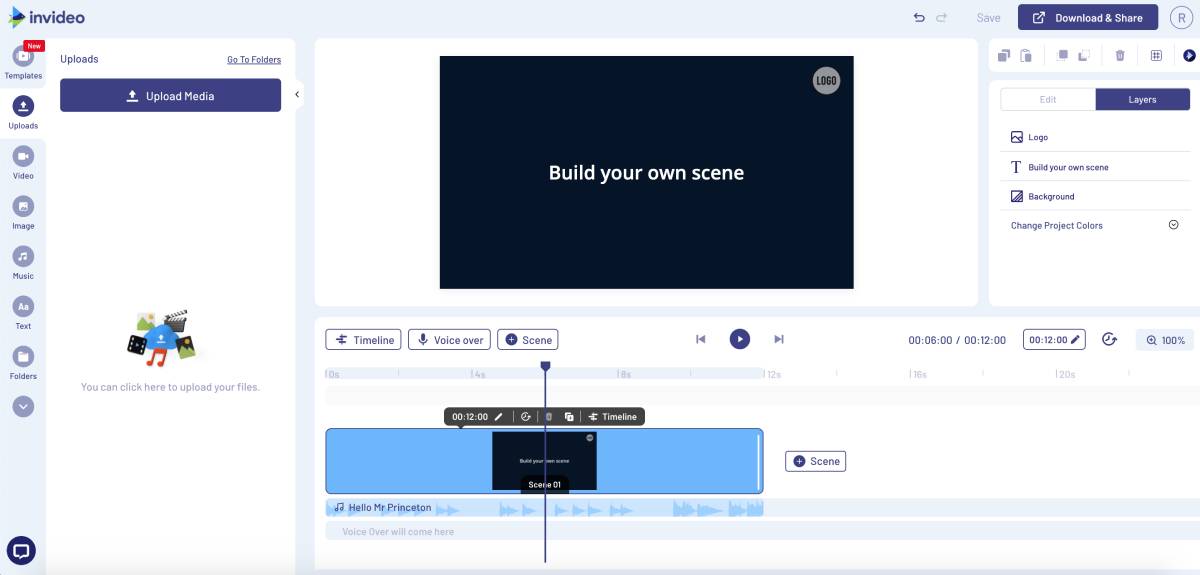 InVideo's templates really are mind-blowing and let you create any kind of video you want. But there are three choices offered to you in the beginning. The first one is Pre-made templates, which allows you to access more than 4,000 pre-made clips and customise them according to your liking. You can add text to them, alter their length, change the music, and much more. The second option is Text to Video, which is primarily used by news organisations to convert their articles into videos. Here, you can add prominent points from the article in text form and InVideo will create a relevant video for you. The third option is called Blank Canvas and no prizes for guessing that it lets you start from scratch. The best part about all these options is that you can choose to make wide (16:9), square (1:1), or vertical (9:16) videos in them.
How to edit videos online using InVideo?
The first step once you log in is choosing one of the three options we mentioned above. Suppose you go with a Blank Canvas, then you will be presented with InVideo's standard editing interface that is highlighted by a preview window, a timeline, and an array of tools and resources that sit on the left side of the screen. The timeline gives you the ability to shuffle your clips, trim them, play them back, and basically do everything that a regular video editing timeline lets you do. Layers for music and voiceovers are also provided here, so you can easily edit the audio aspects of your clips. Speaking about music, InVideo offers tons and tons of copyright-free tracks for you to choose from.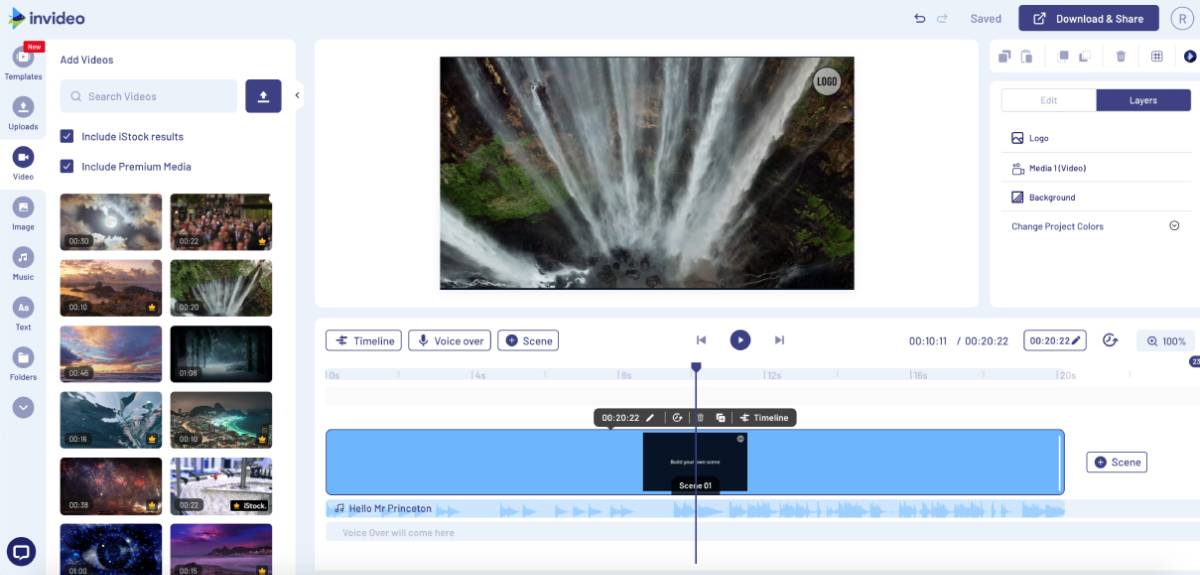 The preview window sits at the centre, giving you a clear view of every little detail that's being added to the video. Towards the left is where your tools are, and that's where you will be spending most of your time. The most important section here is the Upload button that allows you to have your own clips imported into InVideo. Depending upon the size of the clips and your Internet connection, this may take some time but once they are uploaded, they work seamlessly like any other video template from the website. You can drag it along your timeline, trim it, add text over it, or spruce it up with graphics, overlays, stickers, and more.
The Video section here is home to all the stock videos you can use to suit your purpose. Below is the Image section that lets you add stock photos to your clips. Adding overlays, creating collages and masks, using animated text, and much more can be done using this menu on the left side of the screen. All you need to do is double-click on the element of your choice and it will be added to the timeline, ready to be edited. Once you're done, all you need to do is click on the Download and Share button up top and select the resolution of your output. Your edited video will now be downloaded onto your hard drive. Lastly, InVideo also comes with a collaboration feature that allows you to work with your colleagues.
Exciting pricing
To be clear, InVideo can indeed be used for free as long as you create an account on the website. This free version caps the video length to 15 minutes and provides access to over 3,500 video templates as well as the site's over 3 million-strong media library.
If you choose the Business plan, you will need to pay $20 a month but you can also opt to pay annually and bring that monthly price down to $10. This plan will provide you with access to 10 iStock media per month along with other Premium benefits. On the other hand, the Unlimited plan will cost you $60 a month, but paying annually brings halve the price to $30 a month. It will grant you access to 120 iStock media monthly and remove a number of other limitations. Both the plans have 14-day free trials available, so you can thoroughly test all the features before paying for them.
Conclusion
Considering very few online tools out there offer such versatility at such low prices, InVideo is a true marvel and a godsend for those working in social media marketing and content creation. It's the simplicity that appeals to you the most. Even if you have no prior experience of editing software, you will get hold of things pretty quickly and pretty soon, you'll be churning out video after video for uploading to your social channels.