"The Mi Air Purifier 2C, which Xiaomi classifies as a 'Smart Home' product, neither works with the Mi Home app nor has a display to check pollution level accurately"
Update: After our story, Xiaomi has renamed its 'Smart Home' category to just 'Home', with even the smart products such as the Mi Air Purifier 2S, Mi Security Camera, etc placed in this category.
Mi Air Purifier 2C is Xiaomi's latest product in its now-extensive smart home gadget lineup. It was launched at Xiaomi's Redmi Note 8 launch event held in New Delhi last week, with a price of Rs 6,499. With this price tag, the Mi Air Purifier 2C comes in significantly cheaper than the Mi Air Purifier 2S despite no compromise on CADR (Clean Air Delivery Rate) or voltage. It, instead, skimps out on a detail that doesn't qualify it for the category it has been launched in – smart home appliances. Here's why.
The latest air purifier from Xiaomi does not have any smart functionality. As confirmed by a Xiaomi India spokesperson, you cannot connect the Mi Air Purifier 2C to the Mi Home app, to track the pollution levels and filter capacity. Adding to that, there is no display (like the one on Mi Air Purifier 2S) so there is no way to accurately check pollution levels without the app. There is a real-time indicator that changes colour depending on pollution levels, with just 3 variations on it (Red = Severe, Orange = Medium, Green = Low pollution level).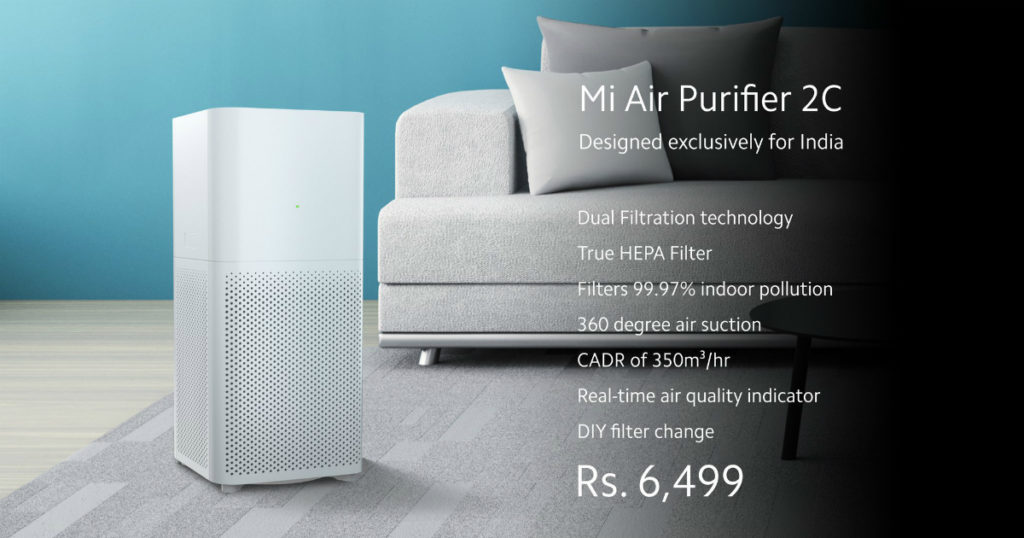 With no app connectivity and no display onboard, the Mi Air Purifier 2C has been placed as an affordable air purifier offering from Xiaomi to help you breathe fresh air, devoid of high PM2.5 levels. Without any Wi-Fi chips inside, the Mi Air Purifier 2C is also much lighter at 4.1kg (including filter) compared to 4.5kg (including filter) for the Mi Air Purifier 2S.
However, there is a big elephant in the room – transparency. At the launch event, Xiaomi did not explicitly inform buyers that its latest air purifier has no smart functionality. In fact, on its official website, the company lists the Mi Air Purifier 2C in the "smart home" category, which could be deceiving for several potential customers.
Xiaomi says that the Mi Air Purifier 2C comes with several new features, including dual filtration technology and true HEPA filter, along with 360-degree suction. The air purifier is now on sale across Mi.com, Flipkart, Amazon.in, and Mi Home stores.