"The Mi Air Purifier 3 features clean air delivery rate of 380m3 per hour, and comes with an OLED touch display to control purification modes."
Xiaomi has launched it's Mi Air Purifier 3 in India, replacing the erstwhile Mi Air Purifier 2s. The new air purifier is stated to come with a true HEPA filter that has been claimed to remove 99.97 percent of smoke, dust, spores, pollen and other fine particles that are as small as 0.3µm in size. The HEPA filter sits between a prime filter that removes larger particles and an activated carbon filter that removes toxic and foul odour from rooms.
The Mi Air Purifier 3 has been claimed to offer improved overall performance over the earlier purifiers, with clean air delivery rate of 380m3 per hour, which is said to be a 22 percent improvement from the performance of the Air Purifier 2s. This is coupled with a more powerful centrifugal fan and custom brushless motor than claims a 22 percent higher area of air purification. As a result, the Mi Air Purifier 3 is quoted as suitable for rooms as large as 484sq.ft, which translates to rooms as large as 22ft x 22ft in carpet area. This essentially offers cleaning area equivalent to large apartment living rooms, and given how most air purifiers are placed at the corner of rooms, the Mi Air Purifier 3's 360-degree air purification claim should further help in this process.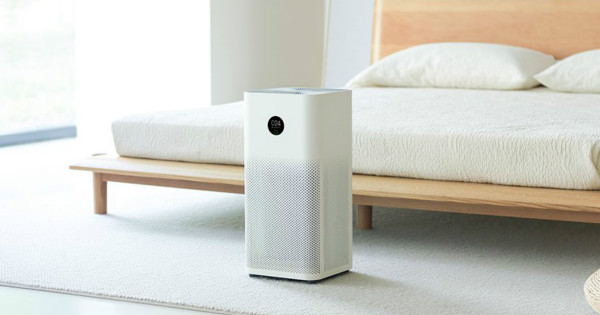 The Mi Air Purifier 3 further comes with a circular OLED touchscreen display, which lets you check the PM2.5 levels in your room, present room temperature and humidity levels, as well as its network configuration right from the purifier itself. Users can also control the fan speed, with preset settings including sleep, auto, favourite, low, medium and high speeds. The OLED display also comes with LED light rings that work as air quality indicators. The light will flash green if the PM2.5 particle density is less than 75µg/m3, yellow if it is between 75 and 150µg/m3, and red if it goes above 150µg/m3.
Lastly, the Mi Air Purifier 3 can connect to your Wi-Fi network, and is compatible with the Mi Smart Home app. Through the app, users can monitor air quality, check temperature and humidity, set a timer schedule for when the air purifier should work, and also be alerted when it is time to change the air filters inside. The Mi Air Purifier 3 has been launched today and is priced at Rs 9,999 in India, which is a slight expensive than its predecessor.