"The 108-megapixel Samsung sensor, developed jointly with Xiaomi, is expected to push the boundary in terms of details expected from a smartphone camera"
Xiaomi has announced the launch of its upcoming flagship smartphone, the Mi CC9 Pro, slated for November 5th. The biggest draw of this new smartphone will be its penta-camera setup, which will be headlined by the new Samsung ISOCELL Bright HMX image sensor that comes with 108-megapixel effective resolution. Now, Xiaomi's product manager for the CC line of products, Lao Wei, in a post on Weibo showed the ISOCELL HMX's size difference from standard sensors, as well as image samples purported to be from the said sensor.
Beginning with the aspect of the difference in size, the Samsung ISOCELL Bright HMX was said to measure 1/1.7 inches, at the time of unveiling. Wei's post claims to show the HMX's size in comparison to a "standard" 12-megapixel sensor, without making any allusions to the make and build of the said sensor. While this makes the comparison seem a bit ambiguous, the use of the term "standard" suggests that the comparison is with a typical mobile image sensor, which in its reference design carried 12-megapixel output resolution, and sensor size of 1/2.3 inches.
If this is indeed true, the Samsung ISOCELL Bright HMX would appear to be a shade over 35 percent larger than the "standard" image sensor, which was typically used in cameras. With the advent of pixel binning and high pixel density sensors such as the Sony IMX586 (the most used 48-megapixel sensor) and Samsung's own ISOCELL Bright GW1, smartphone image sensor sizes have gotten steadily larger with time. The aforementioned sensors measured 1/2-inch diagonally and now, with the advent of even denser sensors, this seems set to change.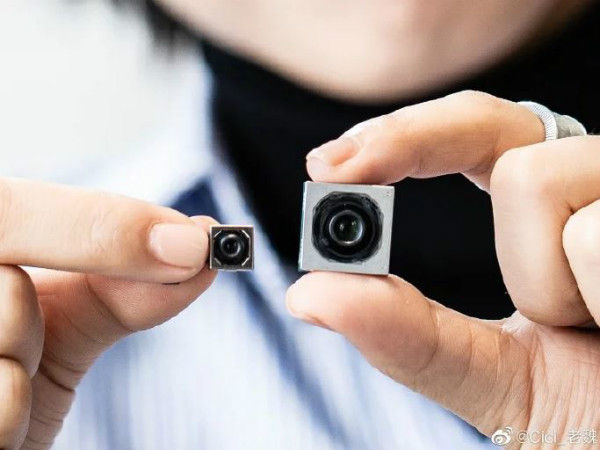 However, to state that Xiaomi's 108-megapixel image sensor is the largest ever in a smartphone seems like a misnomer. Huawei's recently introduced Mate 30 Pro features a 'Cine' sensor, with 40-megapixel output resolution and 1/1.54 inches in size. At this point, the sensor is nearly 50 percent larger than a conventional smartphone image sensor, and over 10 percent larger than Xiaomi's super high resolution sensor as well.
The reason why this matters is because in imaging, a larger sensor size (even with lesser pixel count and density) provides the light capturing diodes with bigger surface area to capture what is being shot, exposing a bigger frame to the image when the shutter is open. This inherently leads to producing crisper details, higher dynamic range of colours, textures and shadows, and most importantly, the ability to stretch the practical boundary of low light, and how much you can shoot in tricky lighting conditions. It is this that is achieved with a larger image sensor, and this leads to giving smartphone cameras, which have typically relied on computational photography techniques to make up for optical inferiority, exactly what they have missed so far.
As a result, while the image samples (claimed to be straight from the Mi CC9 Pro's camera) may look crisp, they may not be particularly out of the world in terms of details and low light shooting ability. Xiaomi's product manager also appears to have used a smaller sensor than the average 12-megapixel one, since smartphone space constraints have also led to the creation of sensors as small as 1/5-inch types.
Therefore, it seems prudent to remain cautious of how the 108-megapixel camera may impact smartphone photography, and if it really does manage to beat the likes of the Apple iPhone 11 Pro and the Google Pixel 4 at the effective output quality that they have achieved through software improvisation. Further details remain awaited, all of which should come to light when the Mi CC9 Pro launches on November 5th.