Highlights
Mi 11, Mi 10T, Mi 10T Pro, and Mi 10 Pro will be the first batch of phones getting the MIUI 12.5 update by May
MIUI 12.5 offers smooth gesture navigation, the ability to uninstall more system apps, and revamped UI
The update reduces CPU usage by up to 22 percent and power consumption by up to 15 percent
At the Mi 11 global announcement, Xiaomi has also unveiled the MIUI 12.5 and revealed the rollout details for the international markets. Mi 11, Mi 10T, Mi 10T Pro, and Mi 10 Pro will be the first batch of phones getting the MIUI 12.5 update in April or May. This will be followed by mid-range offerings such as the Mi 10 Lite 5G, Mi 10T Lite, Mi Note 10 Pro, Mi Note 10, Mi Note 10 Lite, Redmi Note 9T, Redmi Note 9 Pro, Redmi Note 9S, Redmi Note 9, Redmi Note 8 Pro and Redmi 9 in late Q2 2021, around June. More devices will get the MIUI 12.5 update in the second half of the year.
Also read: Xiaomi Mi 11 Lite launch gets closer as phone receives Bluetooth SIG certification
MIUI 12.5 rollout schedule
MIUI 12.5 features
MIUI 12.5 brings a completely revamped system UI which reduces the CPU usage by up to 22 percent and power consumption is lowered by up to 15 percent. Xiaomi says that this will enable "frictionless" performance and graphics The screen gestures are claimed to be smoother than before, thanks to a dedicated thread which is claimed to make sure no other tasks interferes with them guaranteeing instant response. In comparison, the previous iterations of MIUI's gestures and other tasks were rendered on a single thread, which resulted in a queue of tasks competing for CPU usage. This caused an overload and could cause lags.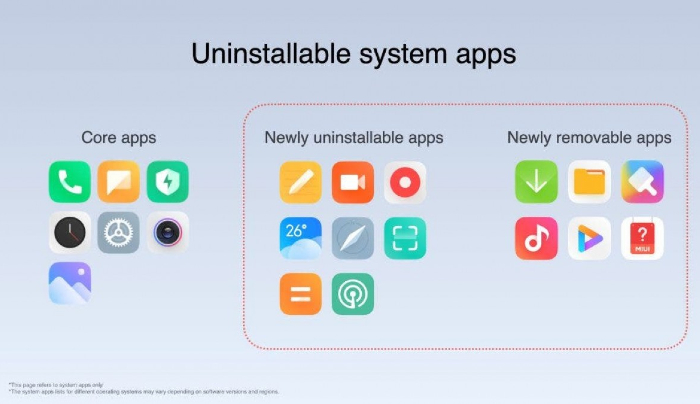 MIUI 12.5 also allows uninstalling more system apps than the previous version. Xiaomi says a vast majority of apps can now be uninstalled, including some of its native apps like notes, screen recording, weather, QR scanner, music, video, themes, file manager, among others. However, core apps like phone, message, system settings, camera, security, clock and gallery can't be removed. Xiaomi is yet to reveal the MIUI 12.5 rollout timeline for the Indian market.