Highlights
Mi Smart Upgrade buyback scheme for Redmi and Mi smartphones announced
It will make it easier for consumers to upgrade to the latest Xiaomi phone
Users can get up to 70 percent assured value by selling their old Redmi or Mi device
Mi India has announced Mi Smart Upgrade, a buyback program for Redmi and Mi devices. Xiaomi says on average users in India tend to change their devices every year and the value of the phone depreciates right after the purchase of the device, thereby resulting in low resale value. Under the Mi buyback scheme, customers can upgrade to the latest Redmi or Mi phones any time after 3 months to 15 months of purchase, with exchange value ranging from 40 percent to 70 percent of the phone's SRP. The Mi Smart Upgrade buyback scheme will be available at Mi authorised retail outlets and can be activated through an easy enrolment process with minimal documentation.
Also read: Samsung beats Xiaomi to take top spot in India; OnePlus Nord best-selling mid-range phone: Counterpoint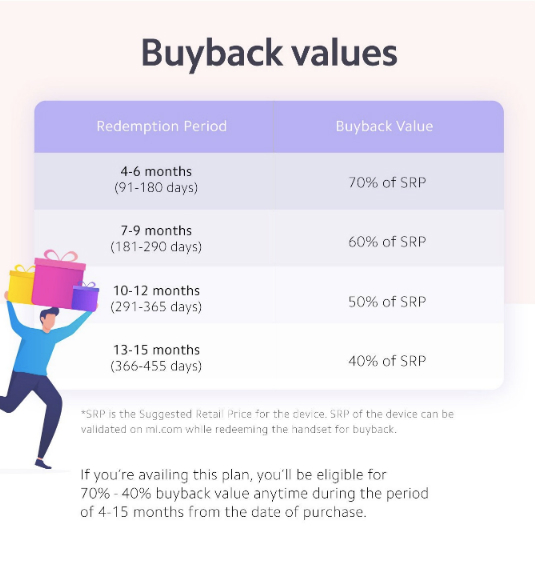 How does Mi Smart Upgrade work?
Users can get up to 70 percent of the assured value within 4-6 months, 60 percent for 7-9 months, 50 percent on 10-12 months, and 40 percent on 13-15 months from the date of purchase and final billing. Xiaomi is offering 40 percent of the suggested retail price even after the warranty expires till 15 months from the date of purchase of the old device. The Mi Upgrade plans start at Rs 399 and go up to Rs 1,999 for premium phones like the Mi 10. Interested customers can buy the 'Mi Smart Upgrade' add-on along with their smartphone purchases at all Mi outlets.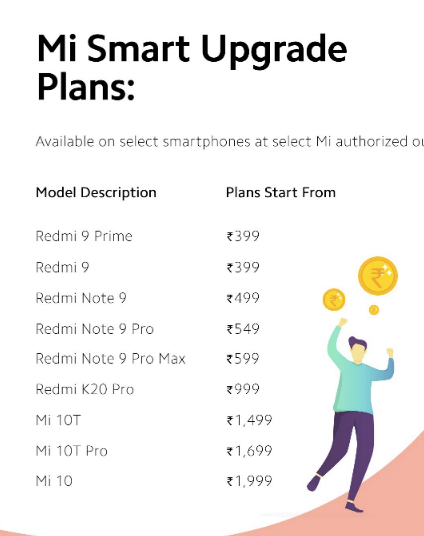 Xiaomi says for the Mi Smart Upgrade program, the device must be in fully working condition without any dents or physical damage. If any part is repaired or replaced by a third-party, the device won't be eligible for buyback. The customer also has to provide valid ID proof and the plan isn't transferable. Additionally, Rs 1000 will be deducted from the value if the box/charger/cable are missing and 10 percent for minor scratches or dents on-screen or body.