"Microsoft Surface Duo runs on a customised version of Android and works as an 8.3-inch tablet in the unfolded form"
Out of all the tech companies that you might have expected to launch a foldable phone next (cough * Motorola * cough), Microsoft would not have been one. However, the Satya Nadella-led company surprised everyone on Wednesday by announcing its foldable Surface Duo phone. Now, before you get any ideas for the return of the Windows Phone platform, we should clear right away that this handset from Microsoft runs on Android. Interestingly, Microsoft has gone ahead with a unique form factor with the Surface Duo phone, which comes with two 5.6-inch displays that can rotate by up to 360 degrees. In its unfolded form, the Surface Duo turns into an 8.3-inch tablet.
Although the Surface Duo phone runs on Android, it should be noted that stock iteration of Android is not on offer here. Microsoft has heavily customised the platform for the handset. For example, in landscape mode, you can use one display as a controller or keyboard. You can also run two separate apps on each of the displays too.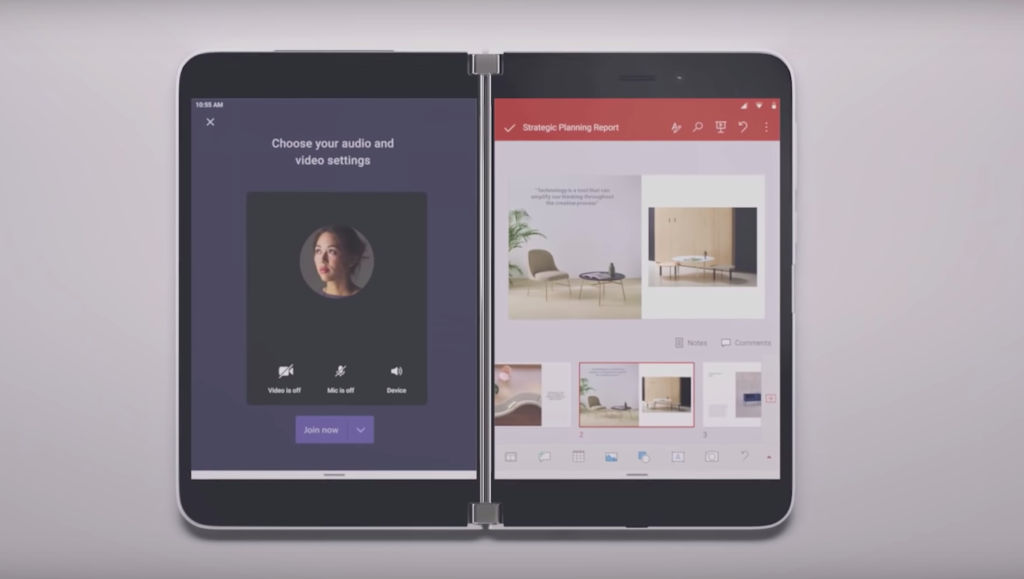 The handset is said to be powered by Snapdragon 855 chipset. This is the early glimpse of the upcoming smartphone and the brand says that it will be made available for purchase next year in the holiday season. Unfortunately, we have not even seen the full design of the handset just yet and this early showcase from Microsoft has likely been done to encourage app developers to work on smartphones with dual displays. For all we know, by the time handset is actually shipped, it might have upgraded specifications as well.
Apart from the Surface Duo phone, Microsoft also unveiled Surface Neo, which is a dual-screen tablet that features two 9-inch displays and runs the newly-announced Windows 10X operating system. This innovative device will also be made available by the company next year. From the looks of it, Microsoft is going all-in with its multi-display devices and next year, we might see more such devices being launched as well. With the next iteration of Samsung Galaxy Fold and Huawei Mate X, 2020 might be the year when foldable smartphones become a common trend in the tech industry.