"The app drawer allows the user to see all the apps installed on the phone, with the recent additions shown on top of the list"
Xiaomi recently released a new version of the MIUI launcher for MIUI 11, which brings the much-awaited app drawer feature. The update finally adds an application drawer in the launcher, which allows the user to scroll through all apps. The drawer arranges the recently installed or most commonly used at the top. The rest of the apps follow in alphabetical order. Previously, MIUI Launcher only allowed the apps to be available on the home screen, similar to iOS. With the MIUI 11 launcher, users now have the option to choose.
For those who prefer to have all their apps on the home screen, the option is still present. However, those who want to have only select apps on the main screen and a separate drawer for all the apps, similar to stock Android, there's a new option in Settings. The app drawer looks similar to the one found on the POCO launcher. To enable the new app drawer in the MIUI 11 launcher, the user will have to navigate to Settings > Desktop and enabled Desktop Mode.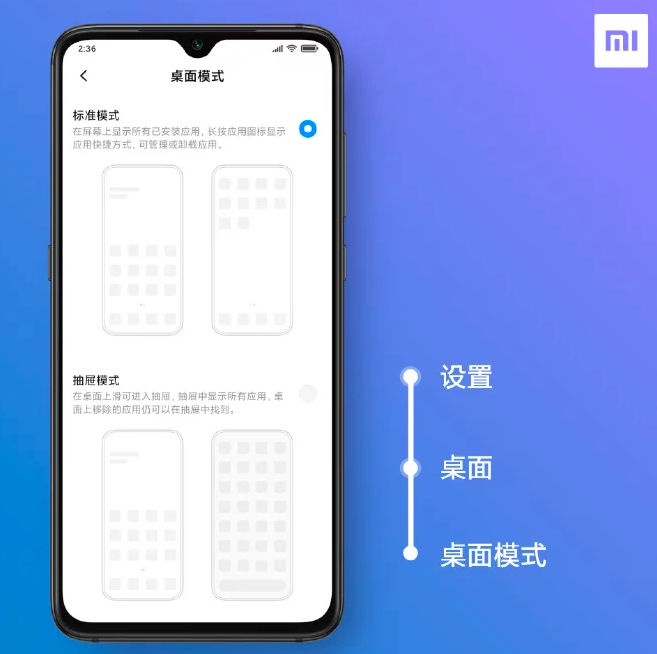 The Chinese manufacturer revealed the new feature through a post on Weibo. The updated launcher has been available for a few days now, but a previous beta had the feature for several weeks. The app drawer also contains a downward-facing arrow at the top, which can collapse the drawer. To access the application drawer, the user will have to swipe up on the display when on the main screen. The experience is similar to the stock Android, but with the design and animations of MIUI.
As of now, the new launcher is available in China along with the latest MIUI 11 version. The update should soon be available in other regions, including India. Several devices in India have been receiving an update to MIUI 11, but only the Global Stable ROM. This version doesn't include the new launcher. Xiaomi plans on adding more features to MIUI 11 in new versions.