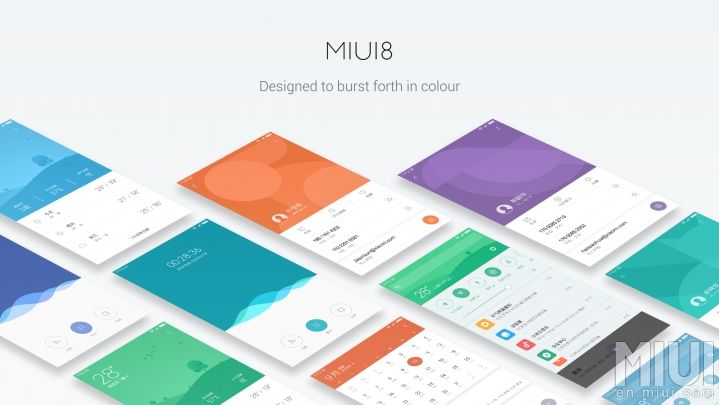 "MIUI 8 brings a ton of useful features to Xiaomi's mobile platform. Here's a closer look" Xiaomi's MIUI is one of our favourite Android-based mobile platforms, and the reasons aren't hard to see. The fact is, MIUI's repertoire of features add a lot of power and tweakability to Android, and Xiaomi has paid a lot of attention to detail when it comes to figuring out what users want on a daily basis and the features that would actually be useful in real life, rather than resorting to gimmicks just for grabbing headlines. Many of MIUI's smaller features in fact, can't be found in headlines, and users tend to discover them (to their delight) as they use their MIUI-laden devices. Take MIUI's recurring alarm feature for instance. Now you may be wondering what could Xiaomi have done to a mundane feature like that to deserve special mention. Try switching off a recurring alarm set in MIUI 7 though, and it'll ask you whether you want to just turn off the next instance or disable that alarm completely. It's a tiny feature yes, but one that highlights the effort Xiaomi puts into making users' lives easier. That feature is a boon when you have an alarm set to wake you up in the mornings on weekdays, and just need to turn it off for a mid-week holiday. With MIUI 8, things have been taken to a whole new level, and we aren't just using this phrase to sensationalise our statement. Read on as we take you through an overview of the new features in MIUI 8, and you'll know exactly what we mean. Just so you know, we tried these using a Xiaomi Mi Max (review) running MIUI 8 global beta v6.7.5 (build MMB29M).
UI changes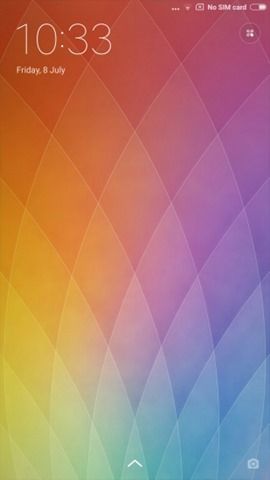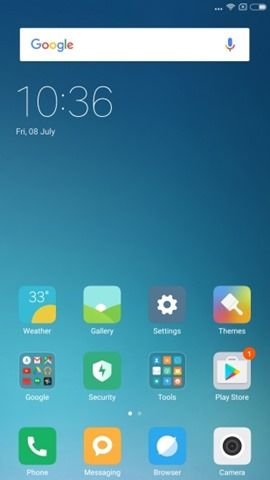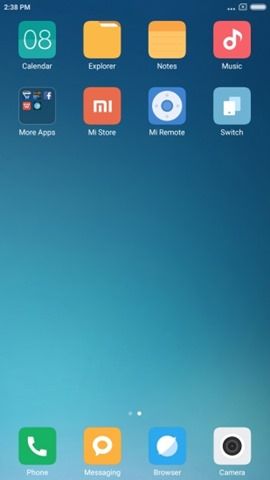 At first glance, you may not find a big change in the interface, as the home screens in MIUI 8 look pretty much the same as the ones in MIUI 7. However, swipe down on the screen to view the notification bar, and you'll see that Xiaomi has now clubbed quick settings and notifications into a single pane, as against the two-pane approach used earlier. If you still prefer your quick settings toggles and notifications in separate screens though, you have an option to change it back to the old style.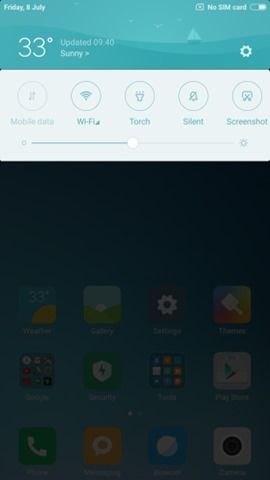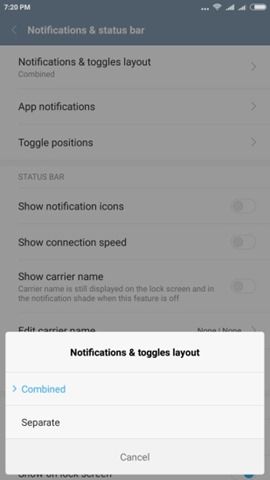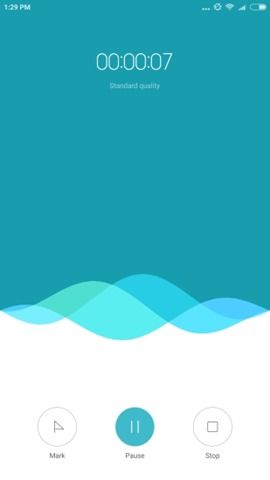 The top of the notification bar now also displays weather, and changes colours based on current conditions. Most default apps in MIUI 8, including Calendar, voice recorder etc now don different hues that appear cleaner and more youthful.
Calculator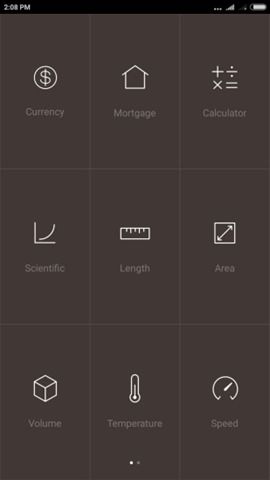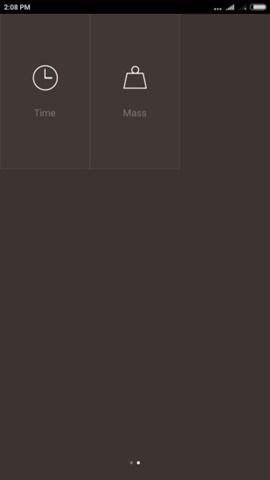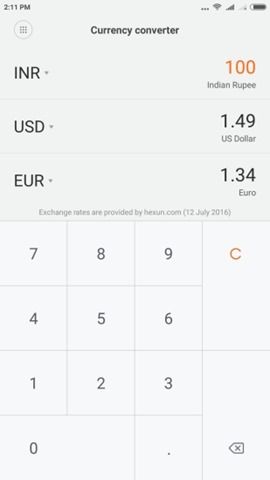 Launch the Calculator and you may not find it too different when compared to the one available in MIUI 7. However, tap the little icon on top left, and you'll be presented with an assortment of conversion tools which can be quite handy. The available converters include currency, mortgage, length, area, volume, temperature, speed, time, and mass. There's a full-fledged scientific calculator available too. The currency convertor picks up the latest exchange rates from hexun.com (needs a Wi-Fi or cellular data connection), and lets you choose a base currency, and two other currencies of your choosing. It also displays the date when the currency rates were refreshed last, so you know whether the figures you're seeing are up to date or not.
Scrolling screenshots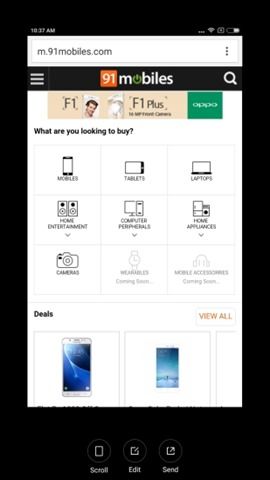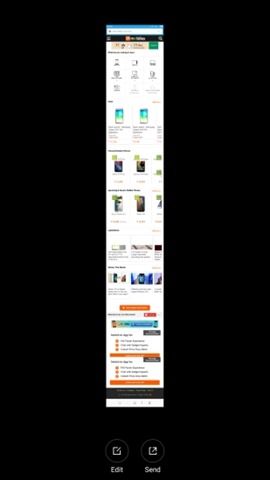 Capturing screenshots is something us reviewers do on a daily basis, but even regular users need to capture their phone screens sometimes – usually for sharing purposes or for keeping a record of something. But when one needs to capture something that scrolls over multiple screens, usually the only way to do it is to capture the first screen, then scroll to the next page and take another screenshot.. resulting in multiple files. MIUI 8 makes this simple thanks to its scrolling screenshot feature. When you capture a screenshot in MIUI 8 (using the standard volume down + power key combination), a small thumbnail of the captured screenshot appears on the top right portion of the phone's display, hovers for a bit, and then disappears. You can find it later in the gallery as usual, all saved and ready for use. However, if you tap the aforementioned thumbnail before it disappears, the screenshot is displayed and you get a few options like edit and send. However, you'll see another option that says "Scroll", and hitting that button will automatically scroll the screen on an app that displays scrolling content (a long web page in the browser for example), and capture the entire length in one single image. We haven't embedded full screenshots here to maintain readability… otherwise you'd need to scroll this page quite a bit. However, if you'd like to see how a full scrolling screenshot looks, go ahead and click here.
Dialler and calling features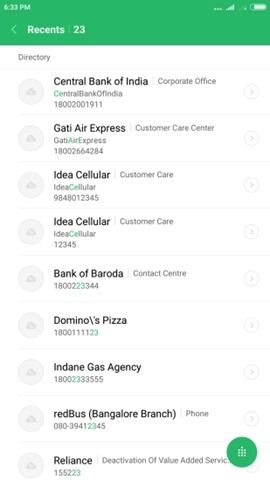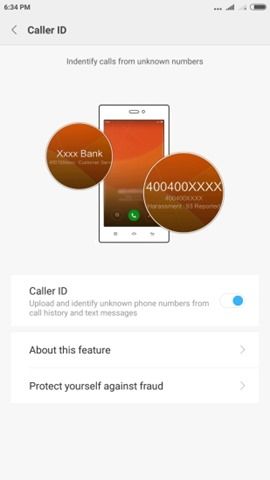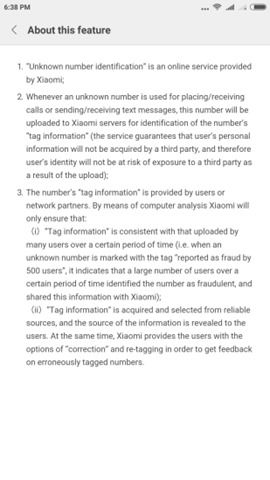 In MIUI 8, Xiaomi has added a built-in, locally stored directory of commonly-called Indian business establishments (such as banks, eateries, telecom operators etc). Xiaomi says it will be updating this directory and adding more numbers to it over a period of time, and these numbers are available to MIUI 8 users for their calling convenience as and when they need to contact any of these businesses. Since these numbers are stored locally, there's no need for an internet connection to access these. Xiaomi has also baked in a Truecaller-like caller ID functionality into the dialler, that uses crowdsourced data to identify callers. Of course, this is an opt-in service, and needs an internet connection to work.
Notes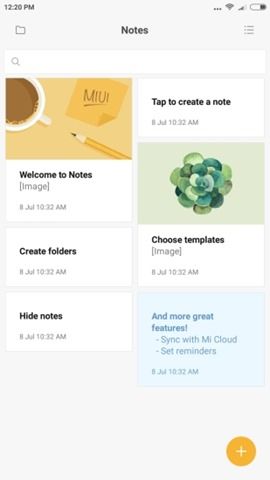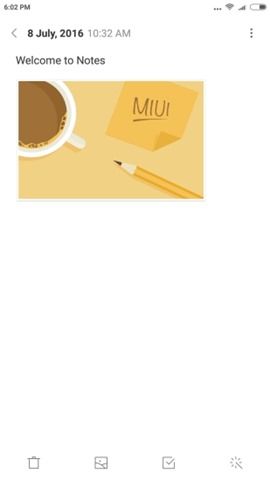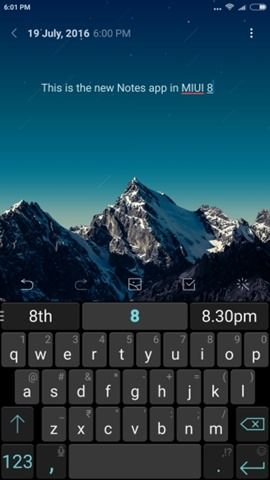 The Notes app in MIUI 8 bears a new look too, and offers a grid view for better navigation. You can use templates for new notes, or apply built-in themes to beautify them. Notes can even be shared as images with others, can be placed directly on the home screen, synced with Mi Cloud, and used to set reminders. Though we couldn't find it on our beta version, the Notes app in MIUI 8 will also let you lock specific notes with a password or fingerprint.
Mi Cloud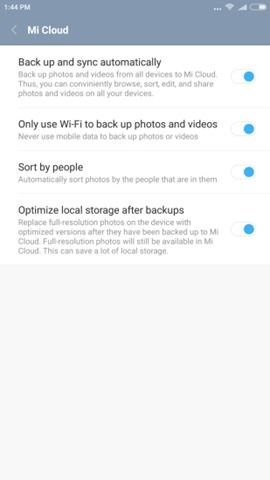 Talking about Mi Cloud, MIUI already offered the functionality to let you sync and back up your contacts, SMSes, call history etc to the cloud. MIUI 8 brings the capability of syncing photos and videos to your MI Cloud account, and this works well as a backup option. What's more, MIUI 8 even lets you free up precious storage in your device by backing up full-resolution images to the cloud, and just retaining thumbnails in the galley. Then you can 'summon' the image you need back from the cloud when you need it.
Photos and videos
There are quite a few new features in MIUI 8 meant to enhance the way you play with photos and videos. For one, the gallery will display thumbnails for special images like panoramas and screenshots in a way that lets you see them in their full width and length respectively, though presently, the feature doesn't seem to be working for panoramas. Remember this is just a beta though, so we expect to see this in the stable build when it releases next month.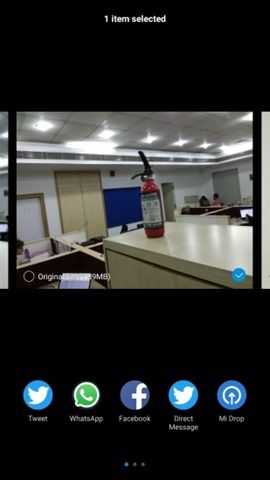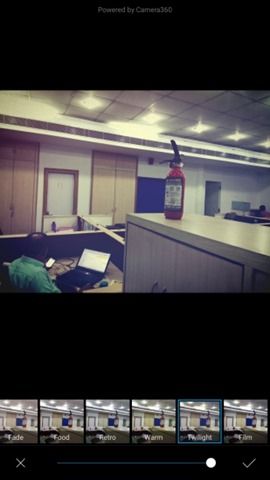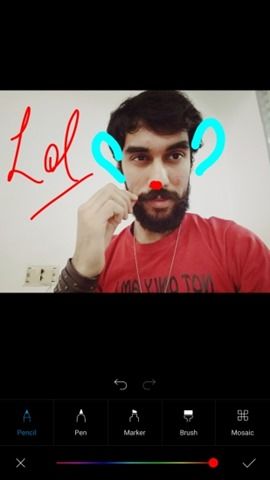 The gallery also makes it simple for you to share your images with others. Just open a photo in your gallery and swipe upwards on it to make the sharing options appear at the bottom of the screen. A row of sharing options, including installed social apps appears when you swipe up, and you can scroll sideways on the row to view more options. Selecting multiple images is simpler as well, as you can long press on a thumbnail to select a single image, and then drag your finger across others to select multiple images in one smooth gesture. If you choose to edit an image, you'll see more options like the ability to doodle on an open photo. Choosing this options puts various doodling tools like a pencil, brush, text etc at you disposal, along with a slider that lets you choose the colour. An option to add stickers to images should also be available in future updates.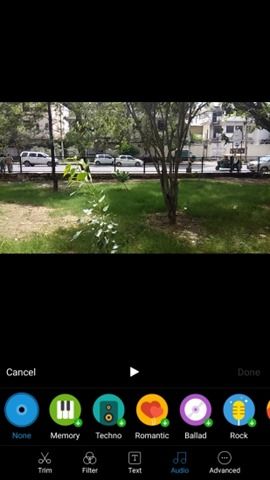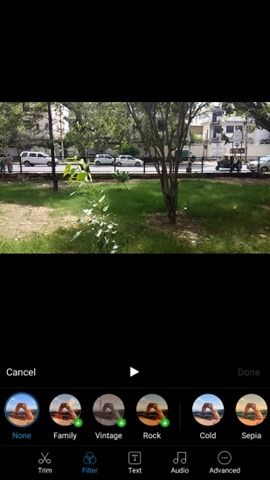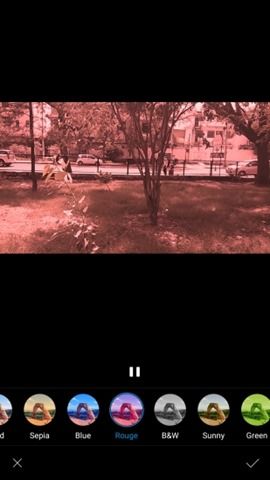 There are more options for editing videos as well, and these include filters, adding text overlays, and even adding background audio effects like techno, rock or ballad to captured videos.
Second space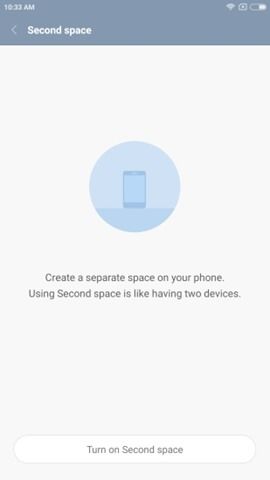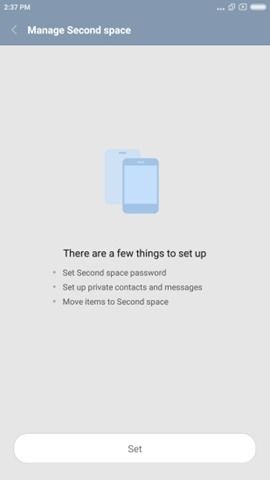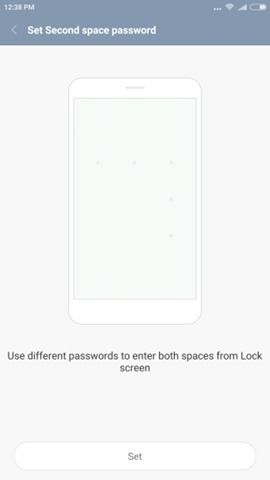 We've seen this feature on the Coolpad Max (review) before, but it's nice to see Xiaomi bringing it to the mainstream with MIUI 8. Basically, MIUI 8 allows you to create a second space in your smartphone, which acts as a separate area with its own set of apps, data, call history, accounts and images. In effect, it allows your phone to be used by two different individuals, virtually creating two different sets of user data, each with his or her own login credentials.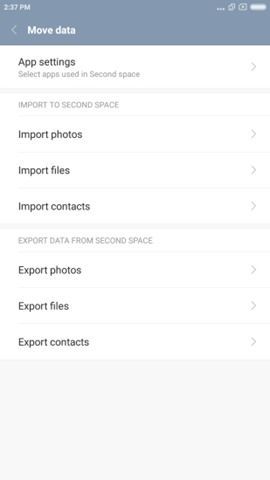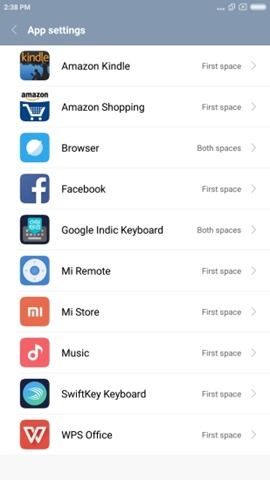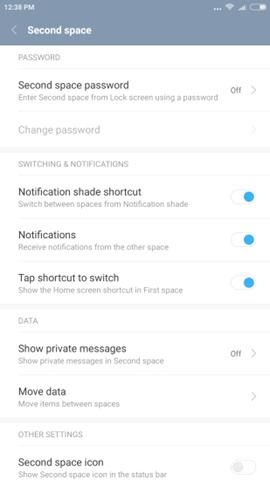 When you enable second space from settings, you get prompted to move apps and data from the first space. You can choose apps installed in the first space to either stay exclusive to that, or make them appear in the second space too. The Play Store in the second space can also be used to download apps you specifically want to use there too. A separate unlock pattern can be set for the second space, so you could jump to either space directly from the lock screen depending upon the pattern you draw.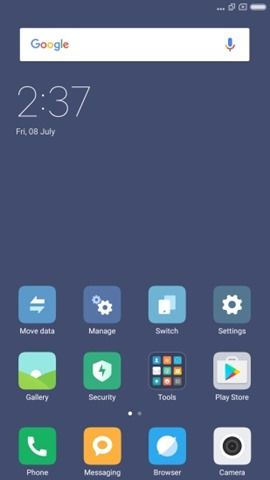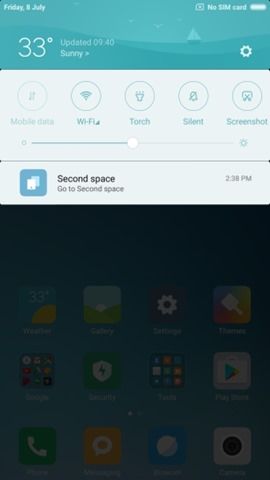 Switching between spaces otherwise can be done via dedicated icons, or via the notification shade. Notifications from the other space can be restricted and banned from appearing in the second space for added privacy. While usage of this feature by two different individuals may be a far fetched idea, it's ideal if you want to keep some content private and away from prying eyes, or just use it to separate work stuff from personal stuff. Worth mentioning that the second space feature also lets you use two different accounts for services like WhatsApp on the same device, but hang on till you read about the next feature in our list.
Dual apps
While the second space functionality we mentioned above would obviously let you use two different accounts for services like WhatsApp, you need not necessarily use second space for this. You see, MIUI 8 also has a dual apps feature, which clones installed apps in the same space and let you use two instances of it simultaneously.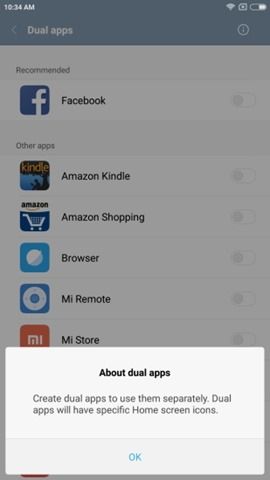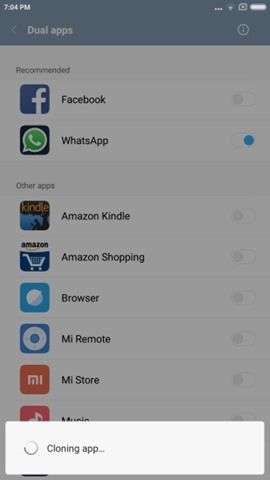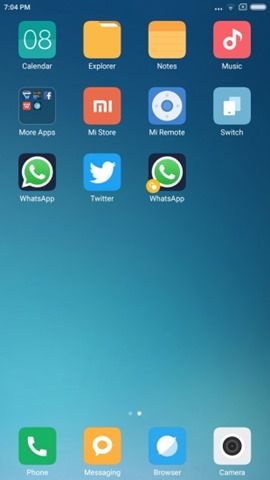 Cloned apps appear as duplicate icons on the home screens, with the second icon displaying a small orange bubble on one corner to indicate it's the cloned version. We were able to close WhatsApp successfully using dual apps in the first space of our Mi Max, and register two different phone numbers with each instance of the app. Messaging works as normal, and WhatsApp notifications are delivered for both accounts dutifully. In the beta build running on our Mi Max, we couldn't find the dual apps feature when we switched to the second space, but again, the final build could just bring that feature, theoretically letting you use four different WhatsApp accounts on a single device (two accounts in each space). Even in its current avatar, we can still use for three different WhatsApp accounts – with two cloned using dual apps in the first space, and the third one in the second space. So there you have it folks – that was an up-close, deeper look at the key new features we found in MIUI 8. These are just some of the noteworthy ones, and the list of goodies this new platform brings is quite extensive. We still haven't touched upon a few other features like the power saving mode that freezes background activity, new locks screen wallpapers, the Quick Ball shortcut menu that appears as a floating dot atop the screen, and fraud-detection in SMSes. Don't forget this is still the beta we're talking about, so it's possible that the stable builds, expected to be released in the middle of August, could bring more to the table… and also iron out the few issues we've seen so far. We're loving the new update so far, and even the beta build runs quite smoothly on our Mi Max, without any app crashes or any other red flags. With these features, Xiaomi's massive user base can definitely look forward to having more fun and squeezing more out of their MIUI 8-toting devices.