"MIUI 8 brings a ton of useful features to Xiaomi's mobile platform. Here's a closer look"
Xiaomi's MIUI is one of our favourite Android-based mobile platforms, and the reasons aren't hard to see. The fact is, MIUI's repertoire of features add a lot of power and tweakability to Android, and Xiaomi has paid a lot of attention to detail when it comes to figuring out what users want on a daily basis and the features that would actually be useful in real life, rather than resorting to gimmicks just for grabbing headlines. Many of MIUI's smaller features in fact, can't be found in headlines, and users tend to discover them (to their delight) as they use their MIUI-laden devices. Take MIUI's recurring alarm feature for instance. Now you may be wondering what could Xiaomi have done to a mundane feature like that to deserve special mention. Try switching off a recurring alarm set in MIUI 7 though, and it'll ask you whether you want to just turn off the next instance or disable that alarm completely. It's a tiny feature yes, but one that highlights the effort Xiaomi puts into making users' lives easier. That feature is a boon when you have an alarm set to wake you up in the mornings on weekdays, and just need to turn it off for a mid-week holiday. With MIUI 8,
things have been taken to a whole new level
, and we aren't just using this phrase to sensationalise our statement. Read on as we take you through an overview of the new features in MIUI 8, and you'll know exactly what we mean. Just so you know, we tried these using a
Xiaomi Mi Max
(
review
) running MIUI 8 global beta v6.7.5 (build MMB29M).
UI changes
Calculator
Scrolling screenshots
click here
.
Dialler and calling features
Notes
Mi Cloud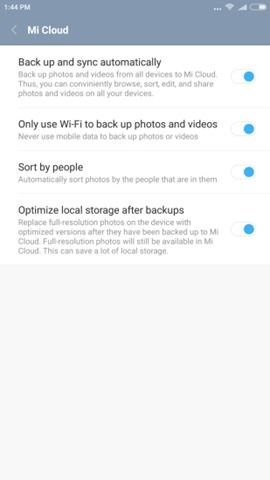 Talking about Mi Cloud, MIUI already offered the functionality to let you sync and back up your contacts, SMSes, call history etc to the cloud. MIUI 8 brings the capability of syncing photos and videos to your MI Cloud account, and this works well as a backup option. What's more, MIUI 8 even lets you free up precious storage in your device by backing up full-resolution images to the cloud, and just retaining thumbnails in the galley. Then you can 'summon' the image you need back from the cloud when you need it.
Photos and videos
There are quite a few new features in MIUI 8 meant to enhance the way you play with photos and videos. For one, the gallery will display thumbnails for special images like panoramas and screenshots in a way that lets you see them in their full width and length respectively, though presently, the feature doesn't seem to be working for panoramas. Remember this is just a beta though, so we expect to see this in the stable build when it releases next month.
Second space
Coolpad Max
(
review
) before, but it's nice to see Xiaomi bringing it to the mainstream with MIUI 8. Basically, MIUI 8 allows you to create a second space in your smartphone, which acts as a separate area with its own set of apps, data, call history, accounts and images. In effect, it allows your phone to be used by two different individuals, virtually creating two different sets of user data, each with his or her own login credentials.
Dual apps
While the second space functionality we mentioned above would obviously let you use two different accounts for services like WhatsApp, you need not necessarily use second space for this. You see, MIUI 8 also has a dual apps feature, which clones installed apps in the same space and let you use two instances of it simultaneously.