"MIUI 6 is quite different than its previous iteration and here's what's waiting in store for you"
Xiaomi's Android-based ROM, referred to as MIUI, is an integral part of brand's devices, so much so that more than a third of our review of the Mi 3 was dedicated to it. Now, The Chinese upstart is taking it to the next level with its upcoming sixth iteration. While MIUI 6 is still in beta to iron out the bugs before being made available to users, its public beta can now be downloaded by interested users from the official website. Being the curious type, we went ahead and flashed it on our Mi 4 (review | first impressions) to bring you our first impressions of MIUI 6 and how's it different from the current iteration.
The world is flat
Just one look at the lock screen and home screens and you can notice that gone are the skeuomorph-based designs and everything is flatter. Started by Microsoft's Windows Phone 8 and later adopted by Apple's iOS 7, interfaces on mobile platforms are following flat designs instead of trying to follow the design patterns of real-world objects. All the icons and screens of the default apps have also shed the flab and look extremely pleasing to the eyes. There's a wider colour palette in use, adding to the vibrancy of the interface.
Here's a look at the lock screens and home screens on the MIUI 6 compared side-by-side with the ones on MIUI 5.
A look at the incoming call screens as well as the diallers:
Settings screen in MIUI 5 and MIUI 6:
A look at the default apps in both MIUI 5 and MIUI 6:
Just like its previous version, MIUI has several other tiny yet thoughtful features such as the short visual prompt on the lock screen that the device is charging. Another interesting thing is that the notification bar doesn't show the time when you're at the homescreen, since the clock widget is already available, but in all other apps or screens, you'll be able to see the time on the notification bar.
The translucent notification shade
Apple introduced the translucent quick settings toggle in iOS 7 last year, and the upcoming version of MIUI has taken this idea and merged it with Android's usual notification panel. The method of bringing the notification menu is the same – swiping in the downward direction, but now you'll be greeted with notifications (if there are any) or various toggles in translucent form. Interestingly, you can also control music / FM Radio playback from here and unlike many other notification panels, you can scroll to access more toggles.
Access your apps quickly
iOS has inspired Xiaomi and MIUI 6 on many accounts and the feature we're talking about this time is a global search panel. In MIUI 6, not only you can visit a dedicated homescreen to search for any app, you can quickly launch the panel by an upward swipe from any of the home screen. You can search for installed apps and even the application store or the web with this method.
It must be noted that we're using MIUI 6 beta on a Xiaomi Mi 4 which is sourced from China, and hence it's not searching the Play Store for relevant apps. We believe that for devices available in India, you'll get access to the Play Store search too.
Notifications on your lock screen
Taking a leaf out of the upcoming Android L's playbook, the next iteration of MIUI will offer notifications on the lock screen itself. So whenever you unlock your smartphone, you'll see a number indicating the notifications that you may have missed. Clicking on that number will show you the exact notifications and you can also click upon the notification to open the related app directly.
Notifications everywhere
Apart from the revamped notification shade and the ability to see the notifications on your lock screen itself, MIUI 6 has more ways to show missed ones. Pop-up notifications appear at the top part of the screen to give you an idea about the message you got, but without distracting you from the task you're doing. The pop-up disappears in a few seconds or you can click upon it to view the app or simply swipe it to dismiss.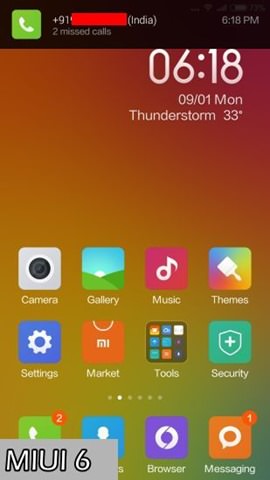 The apps will also show the number of notifications in superscript. While this functionality is available on many launchers, getting this option by default is a huge time-saver as you get to know the number of unread messages or emails without even opening the app.
Icon-based multitasking or card-based layout – what's your pick?
Unlike the traditional recent apps interface of Android, where apps are stacked horizontally, MIUI shows app icons that you can click to open a particular app or close / lock by a swipe. You can also close all the apps by a one-touch cleaner option. With MIUI 6 however, you get an option to view recent apps in the same format or pinch-to-zoom to see them in a more traditional card-based interface. Options available remain the same, it's just that the latter gives you the preview of the apps. The OS remembers your choice, so you don't need to pinch to zoom repeatedly to get this new format.
A minimalistic camera interface
Instead of confusing users with tons of options, the camera app on MIUI 6 has donned a simpler avatar. However, in doing so, it has also lost some essential features like panorama, 4K video capture (available on the Mi 4), etc. We hope that Xiaomi will be adding them in the final release of the ROM.
That said, the interface is much cleaner and it's easier to change modes like HDR or handheld twilight and access live filters such as mosaic, mirror, etc., by a simple swipe. You can also adjust exposure via the intuitive focus ring.
For the multimedia savvy
Xiaomi has also revamped the app music and video apps available in MIUI. Not only they don a flatter UI, they can also play online music or videos (though the Indian version might lose this feature, unless the brand ties up with Indian content providers).
More control over battery drain
MIUI's Security Suite is already one of its strongest points and it allows you to have more control over your device through the cleaner, virus scanner, permission manager, battery manager and more. The upcoming release of MIUI offers the same feature set, but with more options for conserving your battery. You can choose between Marathon and Sleep mode along with the default mode. While Marathon mode disables Wi-Fi and cellular data only, Sleep mode disables everything including calls, except for alarm clock. Not only that, you can also create your own mode with its own set of rules.
Performance improvements
Xiaomi has also tweaked a lot of things under the hood to offer better performance. With numerous techniques like Smart CGroup, ZRAM, Bitmap Cache and TrimHeaps, MIUI 6 efficiently utilises the available processor and RAM. We will not delve in the geeky part to explain what these things are (you can head to this post to understand them, if you're interested), but it's important to see whether they help in actual performance. It's obvious that we can't notice the improvement with some games or processor-intensive tasks as the Mi 4 is a very powerful device and even with MIUI 5, we never noticed any lags. So we turned to synthetic benchmarks and see what they say compared to the already mind-blowing results shown by MIUI 5 on the Mi 4.
We must say that even we were surprised to see such a jump in performance. In AnTuTu Benchmark, the smartphone scored 44,130 compared to 34,914 with MIUI 5. However, in Vellamo which tests the processor's capability with respect to its single-core performance as well as multi-core performance, the results dropped from 1675 to 1591 and 1685 to 1502 respectively. In GeekBench, we got the score of 955 (for single-core) and 2634 (for multi-core) which also saw some drop. We also ran GFXBench to see if graphic abilities of the phone got any boost and there wasn't much difference between the two.
Benchmarks are only indicative of the true performance, plus they depend upon a variety of things and perhaps that's we're seeing the difference in scores. Moreover, MIUI 6 is still in beta and things can only be expected get better in the final release. We believe that the performance optimisation techniques adopted by Xiaomi are the real deal and you can expect to get better performance on your smartphone with the upcoming build of MIUI.
There are more such useful features and interface changes waiting in store for you and your Xiaomi device with MIUI 6. As we noted previously, there are more reasons to be excited about MIUI 6, and we must say that we aren't disappointed at first glance. But we do hope that some features which are available in MIUI 5 are brought to the new version as well.