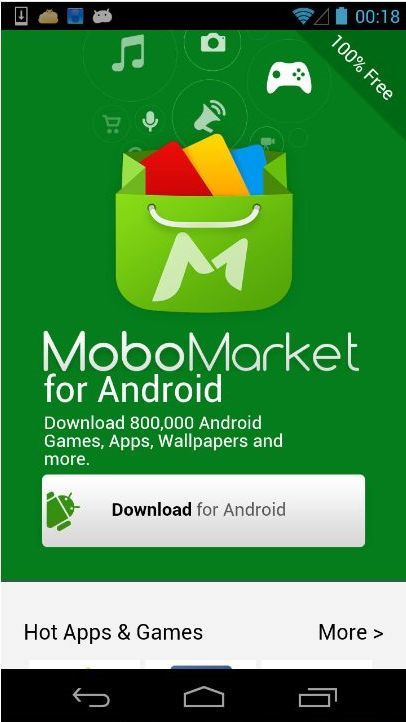 "A look at the features and benefits offered by MoboMarket"
The all new version of MoboMarket is hot off the presses. The combined Android app store and manager boasts a shiny new interface and lots of great features. MoboMarket has over half a million apps for download, and 4 million active users. Started in 2012, the app has seen great traction and adoption as the go-to solution for apps and other mobile content.
First off, installing the app is a breeze. Download the APK, and grant all the permissions, you won't regret it. The first screen tells the user which apps to download in a convenient pop-up. One click and you can install all the selected apps in one fell swoop, without having to download each one individually.
Next, we checked out the categories. Here, content is clearly king, with the maximum real estate going to the apps themselves. Each listing has the name, the star rating, the number of active users, and the download size. The download icon is alongside, with the app's price tag. The apps can be downloaded from the home screen itself, which is a useful thing to have, if you want to install a series of apps quickly. Compare and review apps easily, and find what you are looking for without wasting any time.
We skipped past the categories to check out the Exclusive tab. This tab has content not available on any other Android market – exclusive indeed! This content has been carefully curated to provide users with excellent suggestions for their phones. MoboMarket has teamed up with app developers directly for the exclusive distribution rights of their apps – definitely a compelling reason to use that feature.
Our next destination was the toolbox in the top right corner. This is the manager part of the app, where you can check out the status of your installed apps and whether they have updates available. There is an uninstall manager, if you need to clear out space, and package clean, for scrutinising packages for malware. There is a transfer option to move data seamlessly from one phone to another. We were particularly impressed with the clean option right at the top of the tool screen. It sped up memory and removed junk such as contents of the cache, system trash and useless APKs.
The user interface is pleasant and well-designed, clearly with user experience firmly in mind. The transitions between screens are smooth, and in spite of being a workhorse app, it does manage to load quickly. The colours are bright and cheerful, and the mascot is adorable. Most importantly, the app is very easy to use, with advanced search functionality and the convenient app manager.
There is an option to create an account, where apps are backed up, and should anything untoward happen to your device, you won't lose your purchases or app data. Each user can earn points on their accounts, which are redeemable against a whole host of prizes. Use the account to access more exclusive content, attend events, and generally make your app shopping experience more interactive and fun.
Interestingly, there is a forum for users added to this update. Here the users can congregate to discuss their favourite apps, look for answers to issues with apps, or just hang out with other like-minded individuals.
Finally, MoboMarket also can suggest content specifically tailored to your interests through a quick scan of your phone and your location. This intelligent search function is fantastic for people who don't want to spend time looking for new apps to download, but want to try them out quickly.
One of the great features of MoboMarket is the tie-in to its desktop version. Each app has a fully fleshed out page, with user reviews and in-depth details about the app. Many of the apps are distributed solely by MoboMarket, and so it proves to be a useful resource for users.
Check it out at www.mobomarket.net, you won't be disappointed.