"Facebook, Messenger, WhatsApp, and Instagram – all owned by a single company – were the four most-downloaded apps of the decade"
There are literally millions of apps on Google Play Store, and Apple's App Store and a few more are being added every day. There's no end to the number of apps you can download (or upload if you are a developer). At this stage, we have an app for every cause; right from getting food delivered to your doorstep to booking movie tickets and more. No matter how smartphones and their form factors evolve each day, it's the apps and software that make all the difference. Now, as we inch closer to the end of a decade (2010-2019), we take a look back to see the list of top ten apps that really stayed with the end-user. The list is compiled by App Annie, a global provider of mobile market data. However, they haven't shared the downloads count of each app individually.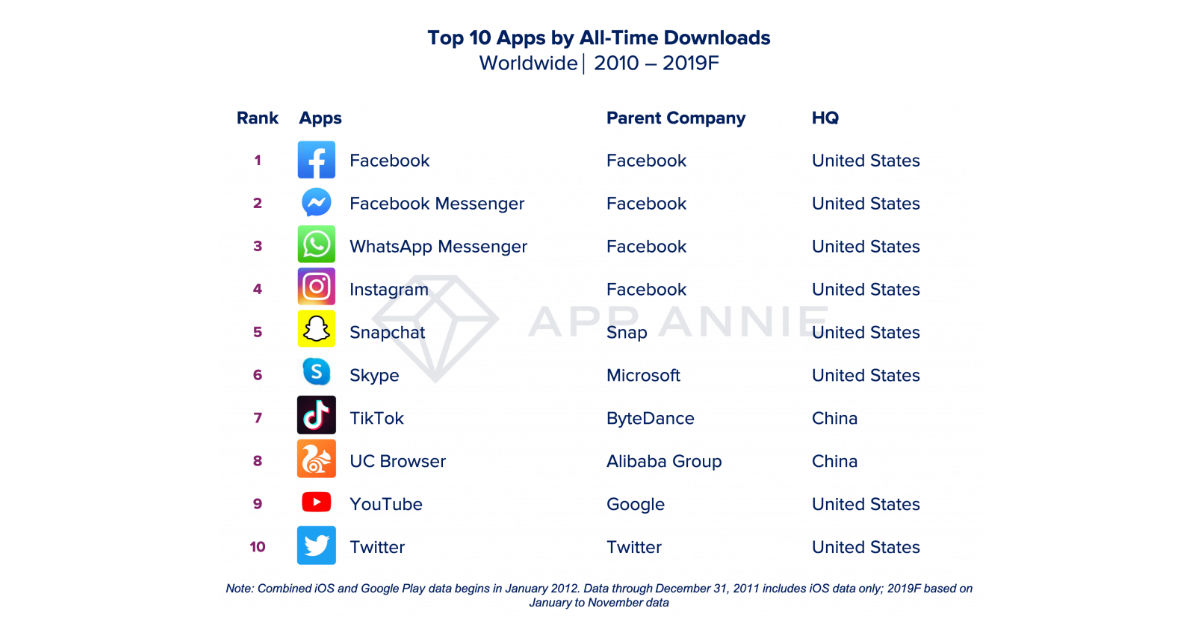 Facebook: Being the top social media platform, its anyone's best guess that Facebook would be the top-most downloaded apps of the decade. Despite the Cambridge Analytica scam and privacy concerns off late, Facebook is still being used by millions across the globe. It allows users to stay connected with friends and family, share photos, create a community through groups and also the Market place.
Messenger: This too is a product of Facebook Company and is second in the list. It allows users to have private conversations and thanks to stickers, face masks, and more, using the app is fun. It was launched as a standalone app for iOS and Android back in 2011.

WhatsApp: When we talk about the top most downloaded apps of the decade, you saw this coming. It's easily the best free messaging app that's private, easy-to-use, and is also feature-rich, all of which contribute to making it the third-most downloaded app.
Instagram: This is the fourth consecutive Facebook product in the top 10 and a well-deserved one too. Instagram has been a go-to photo and video-sharing social networking app that was launched in October 2010 by Kevin Systrom and Mike Krieger. It quickly evolved into a platform that allowed photographers, small businesses, and others to reach a wider audience.

Snapchat:

Snapchat is a multimedia messaging app used by millions globally. The app is primarily popular for its unique filters and privacy controls. The app's features include 'chat with stickers', Bitmoji, Status updates and more.

Skype: Probably one of the early movers to offer voice calls and video chats across computers, tablets, and mobile devices via an internet connection. The app allows users to have conversations, send videos, audio, and images. Various business organisations still use Skype for Business platform.
TikTok: Launched by

ByteDance in 2017, TikTok is a video-sharing platform that has become a rage among the youth in 2019.

It allows users to create short lip-sync videos.

UC Browser: It is a web browser that is

developed by the Singapore/China-based mobile Internet company UC Web, which is owned by t

he Alibaba Group. The app is apparently more popular than Google Chrome in fast-growing markets like India and Indonesia.

YouTube: This Google-owned video-sharing platform had to be in the top ten most downloaded app globally, all thanks to its free to use and open nature. Be it an informative or an entertainment video, YouTube has been a goto platform for creators and users alike.
Twitter: Last on the list is Twitter, which is a

microblogging and social networking platform. It has been one of the most popular apps in this decade, justifying its place in the top ten most-downloaded apps of the decade.