"The Moto 360 looks great, and gets Google to your wrist. What's not to like?"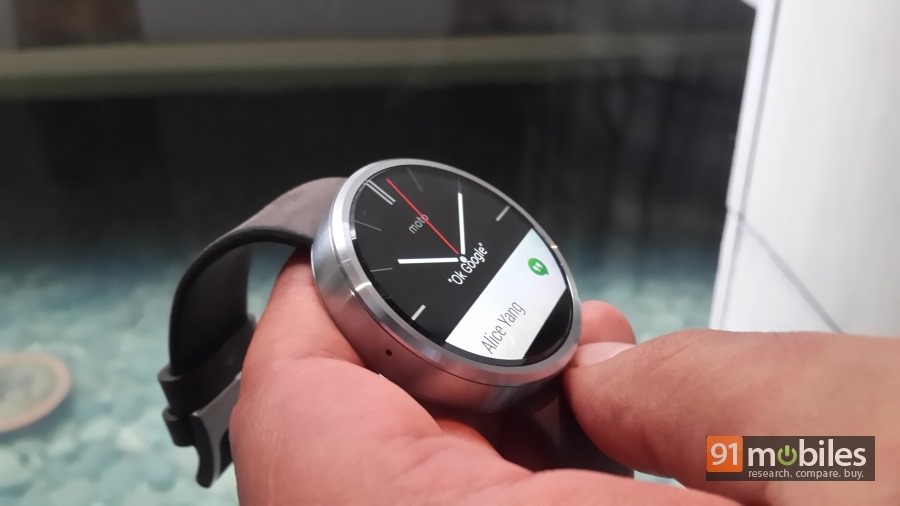 'Gadget lust' is something us gizmo aficionados are only too familiar with. And one device that has been responsible for evoking the very same feelings in recent times is the Moto 360, a smartwatch that has piqued our interest ever since it first appeared. Leaks, rumours, listings, reveals and a long wait later, it has now arrived, hoping to take the smartwatch world by storm. It wears Android Wear inside, and judging by its looks, doesn't look our fascination with it is going to wear off very soon. We've been itching to get our hands on it, or rather get it on our wrists, and the opportunity presented itself at the official unveil in Delhi. So without further ado, and before we go OTT with adjectives… here's a quick unboxing, followed by our first drool-laden impressions.
One of the mainstays of the Moto 360's lovely design is the circular dial, though LG's G Watch R has now stolen some of its thunder. It's only apt that the circular Moto 360 comes in a circular box, and even the box looks great – something that's bound to attract the eyes of many if lined up on a store shelf. Popping the lid open, we let our eyes roam lustily over that mesmerising body, before lifting the cardboard tray on which it rests out, and peeking inside to see what's included.
A wall charger with a fixed cable that ends in a micro-USB connector is included, and so are a few small leaflets containing the standard user guide and warranty info. The charging dock is also part of the pack of course, since like most smartwatches, the Moto 360 doesn't have a charging port. Of course, this not only helps keep the aesthetics intact, but also helps in ensuring that things that can throw a spanner in the works can't get in into the device – water for example.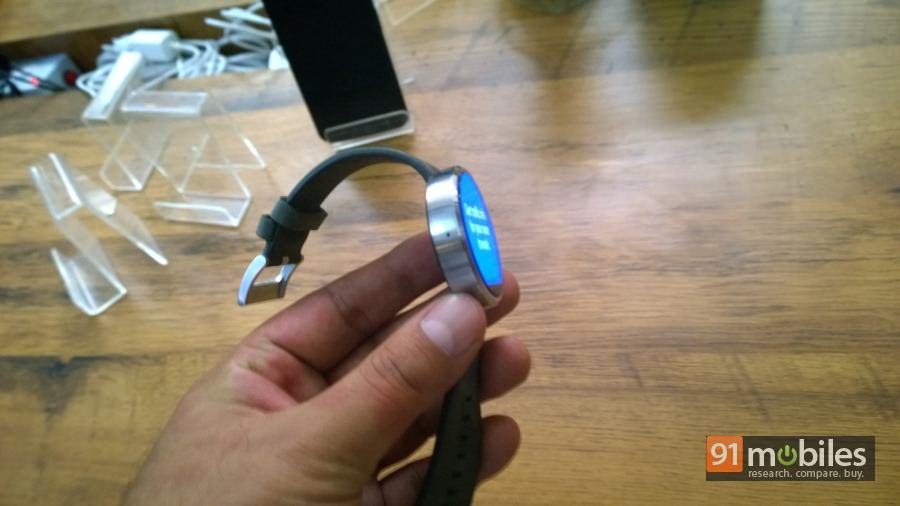 While we didn't really get it on our wrists, we did spend a fair bit of time getting touchy feely with it. That chunky circular dial finished in brushed chrome does look rather good, and its attached to a genuine leather strap in grey. There's another variant that comes with a black casing and a black leather strap too.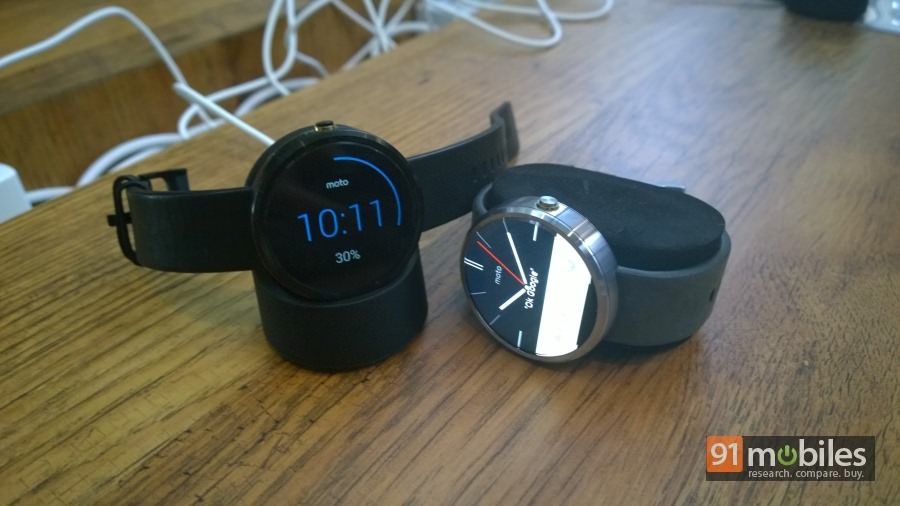 Delving into the specs for a bit, the Moto 360 faces the world with a 1.56-inch backlit LCD touchscreen, offering a resolution of 320 x 290 pixels at 205 pixels per inch. The display is covered with Corning Gorilla Glass 3, so hopefully, even gorillas can't scratch it. Inside ticks a TI OMAP 3 processor, which runs the show along with 512MB of RAM and 4GB of flash storage. The smartwatch uses Bluetooth 4.0 LE to mate with your smartphone running Android 4.3 or higher. The device also features a built in pedometer and an optical heart rate monitor so it can track your health and physical activities, and you'll be glad to know that it's IP67-certified for resistance to water. A 320mAh battery holds the fuel, and is rated to last a day with mixed use.
Said battery can be charged wirelessly, and therefore, the charging dock included offers this very functionality – you just need to place the watch into the dock's cavity and the device will start juicing up. In fact, the charging dock with the Moto 360 docked can also be used as a clock on the desk or the bedside.
The Android Wear functionality is the same we've seen on the LG G Watch, but event though we've seen it in action before, still manages to amaze. Android loyalists swear by the power of Google Now, and the Android Wear platform brings the same capabilities to your wrist, being just a voice command away.
You can perform all the actions you can using voice commands on your 'droid, including checking weather, settings alarms or reminders and launching navigation. A variety of lovely-looking watch faces are built in, and many of them add even more oomph to the Moto 360's classic circular design. Fitness tracking functions, step count, music control, and the other standard Android Wear features are in the offing, along with the range of apps that have joined the ecosystem.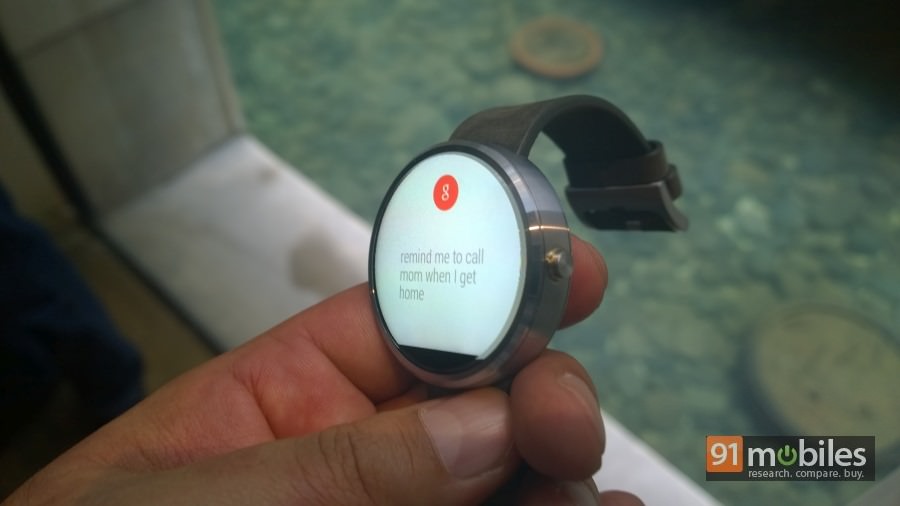 The wearables segment is evolving blazingly fast, and others in the wearables space haven't really been twiddling their thumbs – the LG G Watch R also takes the breath away in terms of looks, while ASUS's ZenWatch brings dollops of style too. However, these are likely to land in India only later, if at all. The Moto 360 however, would be available to buy as early as end of this month, though the Indian pricing hasn't been divulged just yet. Google's wearables platform also seems to be shaping up well, but it remains to be seen whether the Moto 360 can do justice to it. Apart from pricing and real-world usage, battery life is also going to be a key deciding factor. All that will form the crux of our full review when we get the Moto 360 for review though, but for now, we'll just go back to our oohing and aahing.